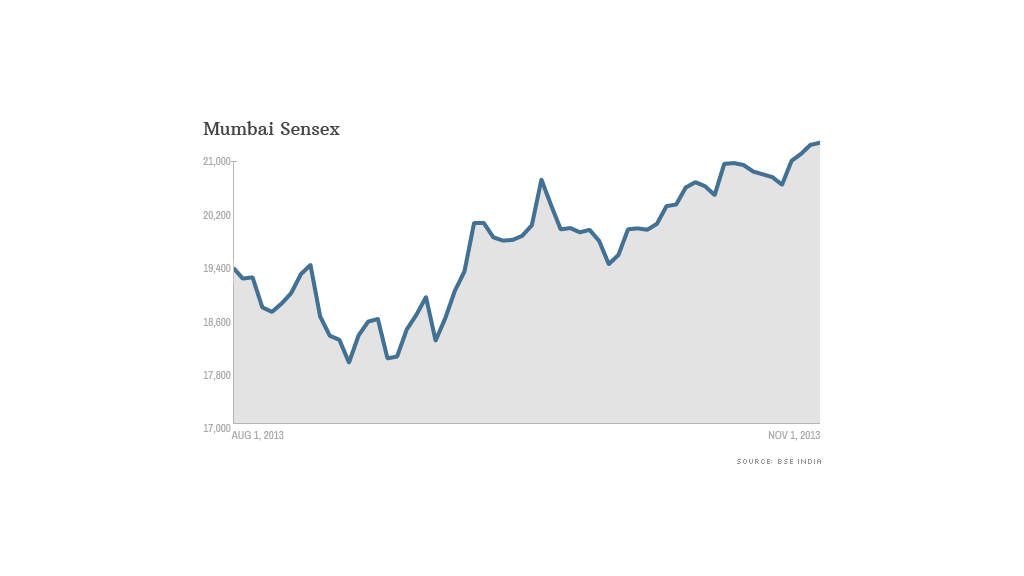 India's benchmark Sensex index has staged a remarkable comeback since August, rallying by nearly 16% to an all-time high Friday.
Investors in India have pushed stocks higher in recent weeks on renewed optimism that the U.S. Federal Reserve will keep the money supply flowing over the near term. The Fed's $85-billion-per-month stimulus program has kept global markets awash with liquidity.
This cheap money has helped support Indian stocks, as investors bet on getting a higher return from the emerging country over developed markets.
Back in August, the Indian market had been in sell-off mode -- losing 11% over the course of a few weeks -- as investors worried that the Fed would start reigning in its stimulus measures. Investors figured they should start pulling their money out ahead of time. But when the Fed didn't make a move, markets began climbing.
Related: Trial by fire for India's new central banker
While the Mumbai Sensex has now surpassed the last peak set in January 2008, the country is still struggling with long-standing economic problems.
Eye-watering inflation, slower-than-expected economic growth, and a challenging political environment are among some of the larger issues weighing down India's economy. And a large current account deficit, which reflects the nation's tendency to import many more goods than it exports and leaves it heavily reliant on foreign capital, isn't helping matters.
Thankfully, there's more confidence in the markets since the Indian central bank welcomed a new head. Raghuram Rajan is a former IMF chief economist best known for predicting an impending financial crisis in 2005.
"He's gained some respect from international investors," said Gareth Leather, an Asian specialist at Capital Economics. "[Rajan]'s been showing signs that he's going to take a stance against inflation. He's prepared to sacrifice growth in order to bring down inflation in the short term."
Related: China's Craigslist soars in IPO
Furthermore, portfolio manager Tim Orchard from Fidelity Worldwide Investment recently pointed out that economic growth could start to pick up soon.
"Growth appears to be bottoming as the rural economy is expected to benefit from a likely good monsoon," he wrote in a note.
But the cheap money won't last forever. The Fed's eventual tapering of its stimulus efforts still looms.
"People are just accepting that quantitative easing in the U.S. will continue until March. This gives India and other countries with big current account deficits more time to get their houses in order," said Leather.