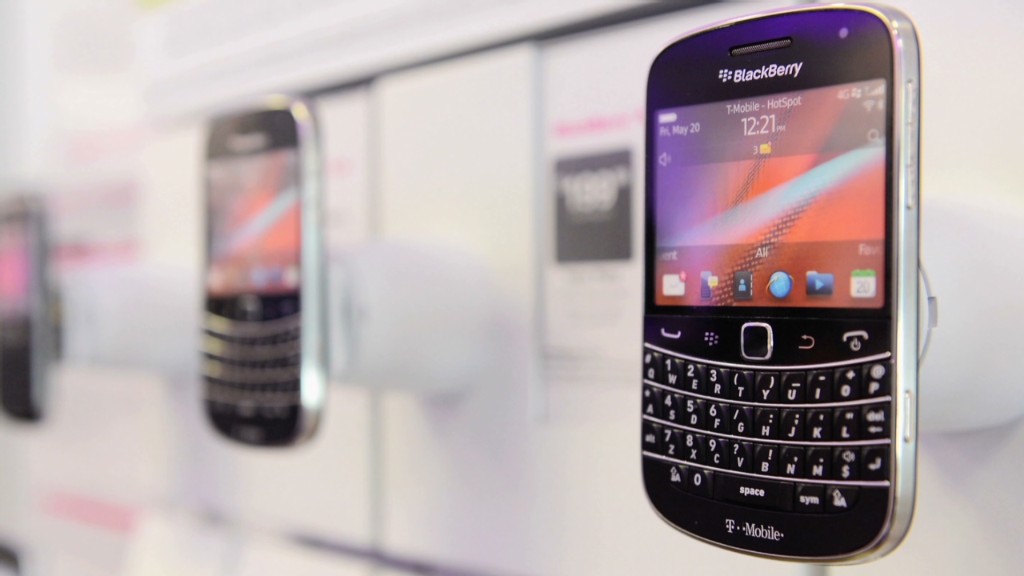 Shares of BlackBerry plunged more than 16% on Monday after the company abandoned plans to sell the company and fired its CEO.
BlackBerry's (BBRY) potential suitors had until Monday to produce plans to buy the struggling smartphone maker. Instead, BlackBerry's largest shareholder, Fairfax Financial, said it would invest $1 billion in the company.
Fairfax, which controls 10% of BlackBerry's shares, announced in late September that it intended to buy the rest of the company for $4.7 billion. BlackBerry was reported to have met with several other technology companies about a buyout of all or parts of the firm since then, including Google (GOOG), Cisco (CSCO), SAP (SAP), Intel (INTC), Facebook (FB), LG, Samsung and Lenovo.
BlackBerry co-founders Mike Lazaridis and Douglas Fregin also said they were interested in taking BlackBerry private a month ago in conjunction with mobile chip leader Qualcomm (QCOM) and private equity firm Cerberus.
The company declined to say why it didn't accept any offers, but it's possible that potential suitors either couldn't come up with the funding or were no longer interested after taking a look at BlackBerry's books. BlackBerry is a deeply troubled company with sinking sales, mounting losses and a user base that is increasingly defecting to rival smartphone makers, such as Apple (AAPL) and hardware companies making phones that run on Google's Android.
It has also been hemorrhaging cash as steep writedowns and losses threatened the company's future. BlackBerry also announced plans to lay off 4,500 employees by the end of the year in September and said last month that those job cuts will cost $400 million -- four times as much as the company had previously expected.
Related: BlackBerry's hometown vows to survive
BlackBerry also announced Monday that CEO Thorsten Heins will be leaving the company and step down from the board. Heins is due $13.25 million in severance, according to BlackBerry's most recent proxy statement. In March, BlackBerry revised the CEO's pay package "in recognition of Mr. Heins' outstanding performance."
But since then, BlackBerry released two new smartphones that were designed to turn around the company -- and instead were gigantic flops. BlackBerry was forced to write down nearly $1 billion of inventory for the keyboardless Z10 smartphone.
John Chen, former CEO of Sybase, will serve as interim CEO and executive chairman of the board. Prem Watsa, CEO of Fairfax, will head up the committee to search for a permanent successor to Heins.
Chen's past experiences make clear why BlackBerry would want him to take the helm ... even if it is just on a temporary basis. Chen successfully turned once-struggling Sybase around before selling it to SAP in 2010.
In its announcement on Monday, BlackBerry said it will no longer be seeking "strategic alternatives." The company first announced in August that it was seeking a buyer, but BlackBerry now believes that the $1 billion Fairfax investment will solve its near-term problems.
Barbara Stymiest, chairwoman of BlackBerry's board, said in a prepared statement that the "financing provides an immediate cash injection on terms favorable to BlackBerry." Fairfax and other investors are buying debt securities that can convert into stock over the next seven years.
BlackBerry did not announce any strategic plans as part of its announcement, but a breakup could still be on the table. Many tech analysts believe that while the future does not look good for BlackBerry's smartphone business, the company's software business is still viable and could be valuable to other tech firms. The same may be true for BlackBerry's mobile technology patents.