Tesla will be in the spotlight Tuesday afternoon when the electric car company releases its third-quarter earnings report.
For Tesla bulls, the results can't come soon enough. Tesla's (TSLA) high-flying stock price has lost some momentum recently, although it rebounded 8% Monday.
Tesla is expected to report earnings of 11 cents per share for the third quarter, according to analysts surveyed by Thomson Reuters. The company reported a loss of 92 cents a share in the same quarter last year.
Sales are expected to increase tenfold to $535 million.
It's been a banner year for Tesla. The company reported its first-ever quarterly profit in May, and followed that up with another strong performance in the second quarter.
Tesla's stock price has gone through the roof, gaining some 400% this year.
But the rally stalled in October. Tesla shares fell 17% in October, the first month that the stock finished lower since February.
Analysts said the selling last month was due largely to profit taking by investors who were sitting on spectacular gains, rather than a significant change in the company's fortunes.
"When a stock is pricing in future performance and strong execution, volatility is to be expected," said Andrea James, an analyst at Dougherty & Company.
Even after the recent slide, Tesla shares are still very expensive.
Related: Is Tesla trap for small investors?
At more than $175 a share, the stock trades above 100 times next year's earnings forecasts. By comparison, General Motors (GM) trades at about 15 times next year's earnings forecasts while the price-to-earnings ratio for Ford (F) is 9.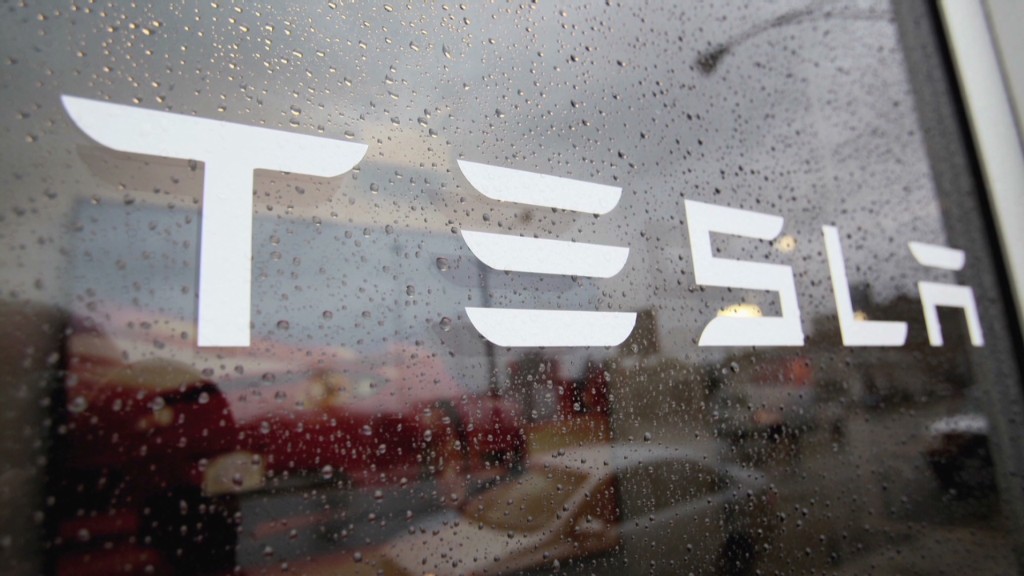 Tesla CEO Elon Musk, who co-founded PayPal, is chairman of solar panel company SolarCity (SCTY) and heads the commercial space travel firm SpaceX, warned last month that investors are getting carried away.
Speaking at one of the company's retail outlets in London, Musk said the Tesla's stock price "is more than we have any right to deserve." That's the second time in the past few months that he has made cautious comments about the company's stock price.
There is little consensus among Wall Street analysts on what Tesla's shares will be worth 12 months from now. Price targets range from a low of $45 a share to $240 a share on the high end.
To some, Tesla is on the cutting edge of a technology that will revolutionize the auto industry for years to come. The bulls think Tesla deserves a rich valuation because of the company's growth potential over the long run
"Tesla is being appropriately rewarded for their technology approach, and their success," said Craig Irwin, an analyst at Wedbush Securities.
But bears believe Tesla's stock price is based on overly optimistic assumptions for a company that only recently became profitable. Skeptics also point out that Tesla has limited production capacity and a relatively small network of retail outlets. Analysts at BofA Merrill Lynch have said Tesla shares are "vastly overvalued."
Related: iCar? Analyst says Apple should buy Tesla
Tesla said in August that it expects to deliver 5,000 Model S vehicles in the third quarter. It delivered 5,150 in the second quarter, and plans to roll out 21,000 vehicles worldwide this year.
The Model S, for which prices start at $70,000, is currently the only car Tesla sells. The company is now developing an SUV known as the Model X that will begin delivery in late 2014.
Tesla announced plans in May to expand its network of "supercharging" stations, aiming to have more than 100 locations across the country by the end of this year. It also recently unveiled a system that allows drivers to swap out Model S batteries in about 90 seconds.
The Model S has so far received wide acclaim, winning "Car of the Year" honors in 2012 from both Motor Trend and Automobile Magazine. Consumer Reports called it the best car it had ever tested.
However, there have been some recent concerns about safety following an online video showing a Model S on fire after an accident. Musk defended the company in a blog post after the crash. And last month, federal regulators said they would not launch an official investigation of the crash.
CNNMoney's James O'Toole contributed to this report.