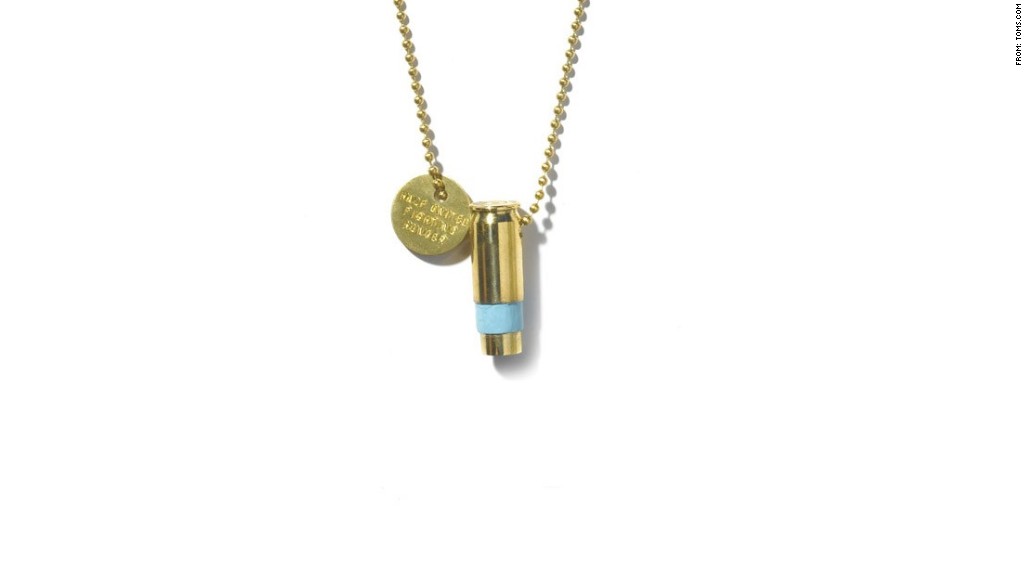 A Wizard of Oz tote bag, plus a donation to education in Africa. A pair of handcrafted headphones, and some money for the hearing-impaired. A hand-loomed alpaca blanket whose proceeds support job creation in South America.
Those are a just few of the gifts in the newly opened TOMS Marketplace, a virtual showroom of products sold by small businesses pushing for social change.
TOMS has sold millions of its canvas shoes, but it has become synonymous with doing good because of its "one for one" program. The company donates a pair of shoes for every sale; it says it's given 10 million pairs since its 2006 launch.
Now, TOMS is giving a platform to 30 small companies with similar missions. The marketplace, launched Tuesday, includes hundreds of products that support causes ranging from education and health to nutrition and clean water. From candles to backpacks to ear buds, the products cost anywhere from $5 to $500.
"We believe social entrepreneurship is a movement that is here to stay, and the TOMS Marketplace is our way of bringing awareness to so many amazing companies, causes and products," TOMS founder Blake Mycoskie said in a statement.
Related: Americans were much more charitable last year
Many of the companies have roots overseas, like Della, a textile company in Ghana. The company says its 55 employees make bags using locally made fabrics. Proceeds fund literacy and personal finance classes, as well as high-interest savings accounts for the workers.
Others are based in the United States but looking to make a global impact. Carmin Black started Half United with her brother in 2009. They only had $200 but wanted to help fight hunger worldwide.
"We were like, 'Ok, we only have a little bit of money, but we're not going to let that limit us from doing something,'" she said.
Based in Wilmington, N.C., the company sells necklaces with charms made of recycled bullet casings, representative, Black said, of the fight against hunger. In the last four years, she said the company has partnered with charities around the world to donate more than 85,000 meals.
Falling Whistles, another company in the marketplace, was started by Sean Carasso after visiting the Democratic Republic of Congo in 2008. Horrified by armed conflict in the region, he started making and selling whistles, reminiscent of child soldiers who were too small to carry guns but were still sent to the front lines carrying only whistles.
Five years later, the company's site says it's sold 100,000 whistles. The company invests some of its profits in businesses run by Congolese entrepreneurs, including one building hospitals and another fighting malaria.