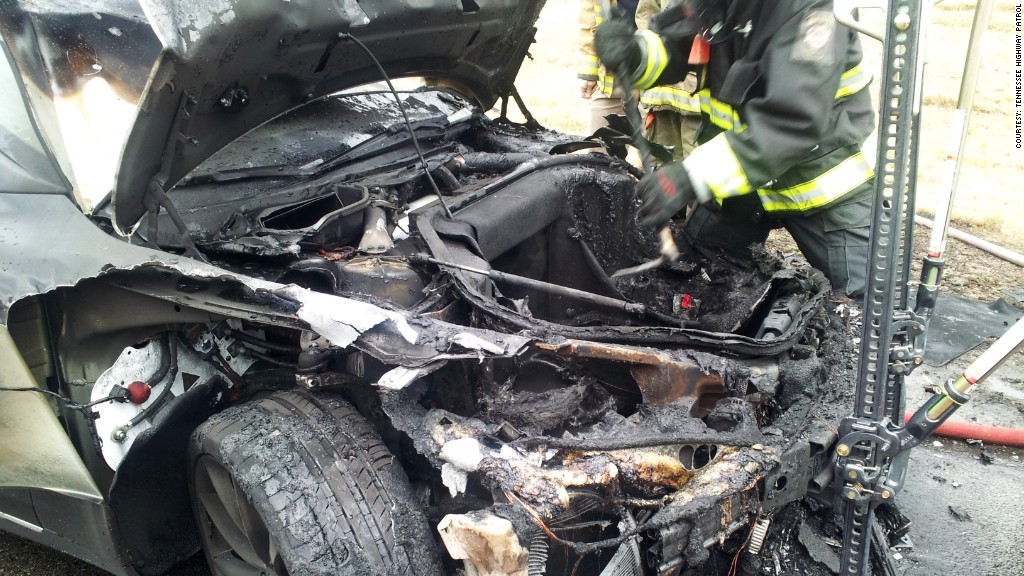 "I would buy another one in a heartbeat," reads a weekend post to the Tesla blog attributed to the driver.
Juris Shibayama lavishes praise on Tesla and the Model S, which is powered by a battery pack installed below the vehicle. The fire started after the undercarriage of Shibayama's car hit a trailer hitch, according to his account on the Tesla blog and one from the Tennessee Highway Patrol.
His was the third Tesla Model S fire in 5 weeks, and the second sparked after the car drove over a metal object. None resulted in injuries.
The company has defended its vehicles. Tesla CEO Elon Musk wrote after the first fire "there should be absolutely zero doubt that it is safer to power a car with a battery than a large tank of highly flammable liquid."
Related: Is Tesla a bubble or bargain?
Shibayama wrote in the post that dashboard messages notified him the car needed service and that he should pull over. "I was able to fully control the car" while pulling over, he wrote.
Then "smoke started to come from the front underbody of the car ... and about two minutes after I walked away, the front of the car caught on fire."
"Had I not been in a Tesla, that object could have punched through the floor and caused me serious harm," he wrote. Firefighters put out the flames, which did not reach the passenger compartment, he said.
Related: Tesla Model S gets Consumer Reports recommendation
CNNMoney's attempts to contact Shibayama on Sunday independently and through Tesla were unsuccessful.
The National Highway Traffic Safety Administration said Friday it is in "close communication" with Tesla and local authorities about the incident. It did not open an investigation after the earlier fires.
Tesla says there are about 19,000 Model S cars on the road worldwide. The Model S earned the highest possible crash test score from the traffic safety agency in August.