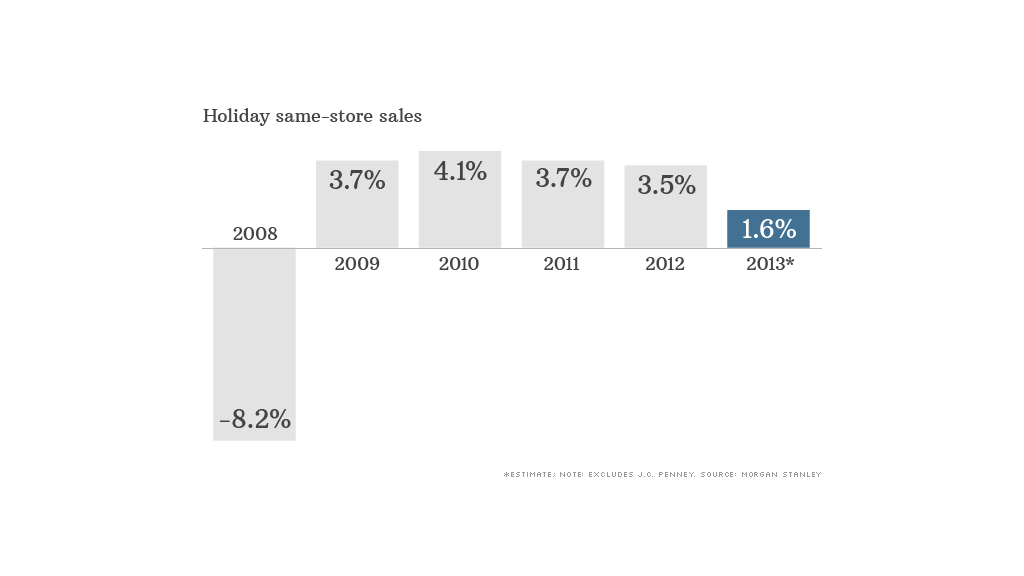 The holidays may not be so merry and bright this year ... for retailers.
Sales growth during the fourth quarter is shaping up to be the weakest since 2008, according to predictions from Morgan Stanley.
Same-store sales, a key metric that measures sales at store locations open at least a year, are expected to grow a mere 1.6% from a year ago during the fourth quarter, Morgan Stanley estimates. Last year's holiday sales were up 3.5% from the fourth quarter of 2011.
The 1.6% figure excludes sales at troubled J.C. Penney (JCP). That's because J.C. Penney is expected to offer deep discounts to try and get back on track after a disastrous drop in sales last year. As a result, J.C. Penney may not have that tough a time beating last year's low bar. And its results could skew the overall sales figures for the industry.
Related: Outrage over Kmart's Thanksgiving decision
Why will sales be sluggish this year? The culprit appears to be weak consumer confidence. While Americans have more to spend thanks to a rising stock market, higher home values and low gas prices, they're not so willing to part with their cash.
"Concerns over future income linger and the government shenanigans have dampened confidence on the cusp of holiday shopping," Morgan Stanley analysts said.
In order to attract more customers, retailers are expected to roll out steep price reductions. In fact, Morgan Stanley expects the season to bring "the most intense promotional holiday environment since 2008."
The calendar isn't helping retailers either. Since there are six fewer shopping days between Thanksgiving and Christmas compared to last year, retailers may hit the "panic button" earlier than necessary to ensure sales growth.
While lower prices are good news for cost-conscious consumers, they will put pressure on what are already low profit margins for many retailers.
Teen retailers can't catch a break: Any LFO summer girls still out there? Stores like Abercrombie & Fitch (ANF), American Eagle (AEO) and Aeropostale (ARO) will likely face another difficult quarter, as teens continue to abandon these once-hot retailers in favor of less expensive and fashion-forward outlets like Forever 21, H&M and Zara.
Last week, Abercrombie & Fitch said its third quarter same-store sales tumbled 14%, and that it expects fourth-quarter sales to also drop.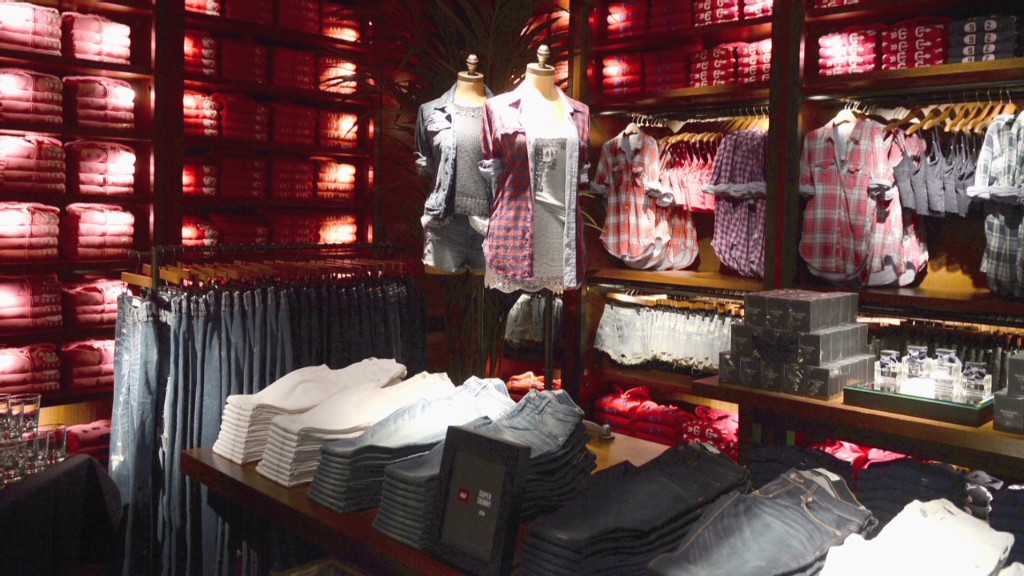 While some stronger competitors like Gap (GPS) reported upbeat October sales and strong guidance, Sterne Agee analyst Ike Boruchow remains cautious about the apparel industry.
Boruchow said "tepid" sales, rough competition and heavy promotional discounts could further hurt teen retailers during the holidays.
Plus, teens are just going to the mall less often in general. A recent survey from Piper Jaffray showed that American teens visit the mall about 28 times a year, down almost 30% from the peak in 2007.
Instead of frequenting the mall, teens are "browsing increasingly on their mobile devices, engaging with brands on demand," said Piper Jaffray analyst Stephanie Wissink.
Related: Cyber Monday to be busiest day ever for FedEx
The bright spots: Though the broader holiday forecast for retailers is weak, some retailers could be getting more than just a lump coal in their stockings.
The Morgan Stanley analysts think that online commerce companies will benefit as "time strapped and value conscious consumers" increasingly choose convenience and comparison shopping over waiting on line in stores during Black Friday.
Last year, e-commerce sales represented about 11% of total retail sales during the holiday period. This year, they could reach between 12% and 13%, according to Morgan Stanley.
The continued shift to online shopping should help Amazon.com (AMZN), as well as digital coupon site RetailMeNot (SALE).
The Morgan Stanley analysts also expect Michael Kors (KORS) will continue to post strong sales growth as women buy more accessories. L Brands' (LTD) Victoria's Secret and Bath & Body Works are also likely to boast solid sales during the holiday season, as they are able to attract shoppers without having to offer "irrational promotions," Morgan Stanley said.
Discount retailers like Ross Stores (ROST) are also likely to steal market share from department stores as consumers seek out brand name goods at lower prices, Morgan Stanley said.