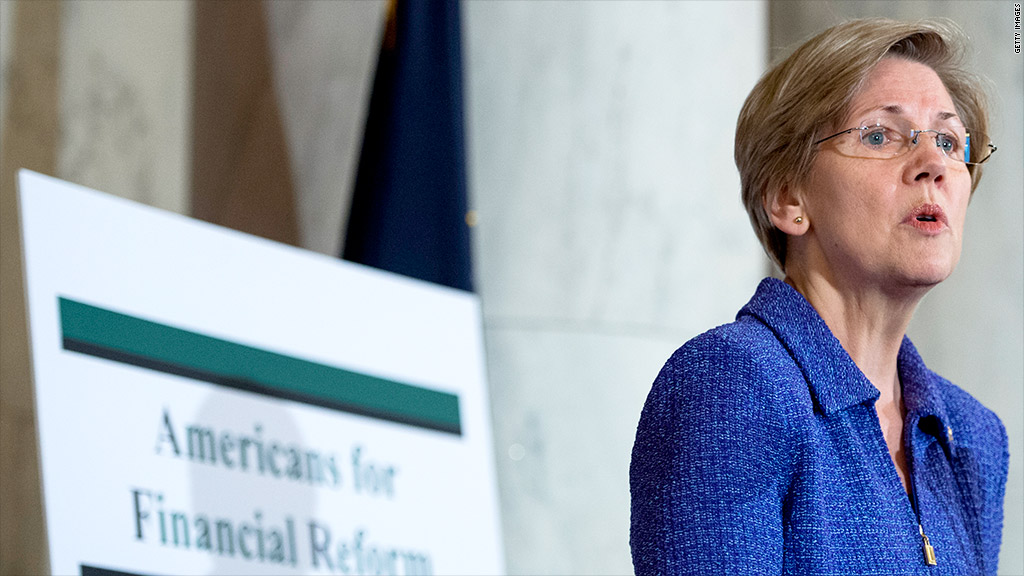 Elizabeth Warren is staying on the offensive against Wall Street, as Washington chatters about her as a possible challenger for the Democratic presidential nomination.
Speaking on Tuesday at a financial reform event, the Massachusetts senator called for the Obama administration to set a timeline for ending the "too big to fail" status of the nation's largest banks.
It was just the latest example of the progressive advocacy that has made her a darling of the left.
Warren lauded Treasury Secretary Jack Lew in her remarks Tuesday for suggesting that policymakers consider other options if the "too big to fail" problem isn't adequately addressed by year's end. The aim is to prevent a repeat of 2008, when the struggles of a few giant firms imperiled the entire financial system.
But more than three years after the enactment of the Dodd-Frank financial reform law, federal regulators still haven't implemented some key provisions.
"I applaud Secretary Lew for laying out a timeline, and I'd like to see other administration officials and regulators follow suit," Warren said. She bemoaned an ineffective regulatory system "besieged by lobbyists for the big banks."
Warren's remarks come amid speculation this week, stoked by a cover story from The New Republic, about her potential as a presidential candidate for 2016.
The former Harvard professor has said she's not interested in running. But that hasn't stopped speculation that Warren could challenge the presumed Democratic frontrunner, Hillary Clinton.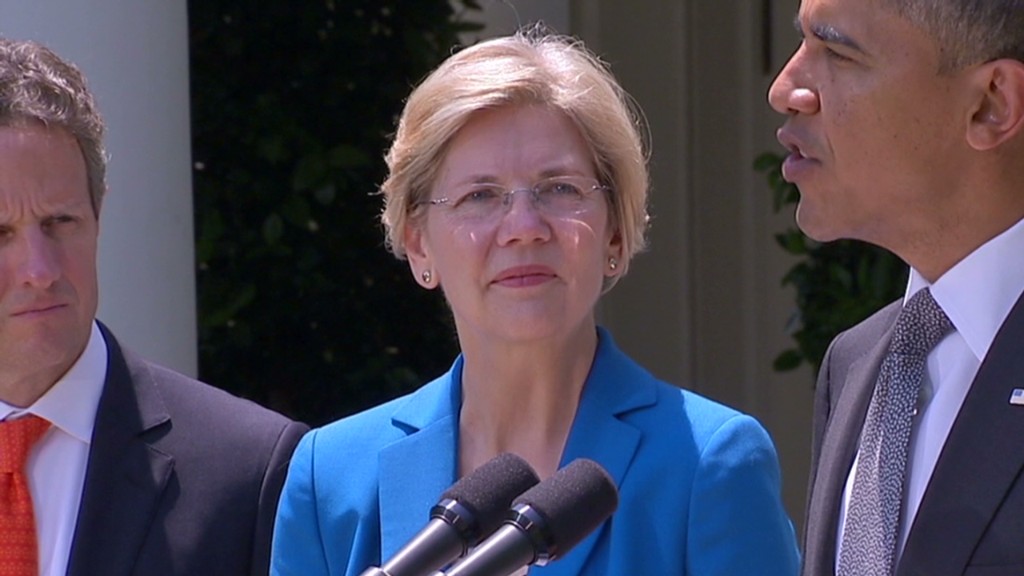 Warren, an expert in bankruptcy law, played a key role in establishing the Consumer Financial Protection Bureau and has been one of Capitol Hill's loudest voices against inequality and corporate excess since her election last year. That could allow her to stake out ground to the left of Clinton in a primary match-up.
Bill Clinton's administration was stocked with Wall Street-friendly officials who backed the deregulation of the financial industry that preceded the financial crisis. Hillary's top campaign contributors during her career as a New York senator came from Citigroup (C), Goldman Sachs (GS) and JPMorgan (JPM), according to the Center for Responsive Politics.
The former first lady isn't exactly an archconservative, of course. She has called for higher taxes on the rich and was a longtime advocate for universal health care.
But with inequality and the sluggish economy likely to remain central concerns in the years to come, Warren's progressive credentials could make her a compelling alternative for frustrated Democrats.
Related: Federal cuts slash hundreds of programs
Warren has partnered with Republican John McCain and other Senate colleagues on proposed legislation to reinstate provisions of the 1933 Glass-Steagall Act. That law, repealed under Bill Clinton, banned deposit-taking banks from engaging in risky financial activities.
Wall Street firms, Warren said Tuesday, "have fought to delay and hamstring the implementation of financial reform, and they will continue to fight every inch of the way." The country's four largest banks, she noted, are now 30% larger than they were five years ago.
"We should not accept a financial system that allows the biggest banks to emerge from a crisis in record-setting shape while working Americans continue to struggle," she said.