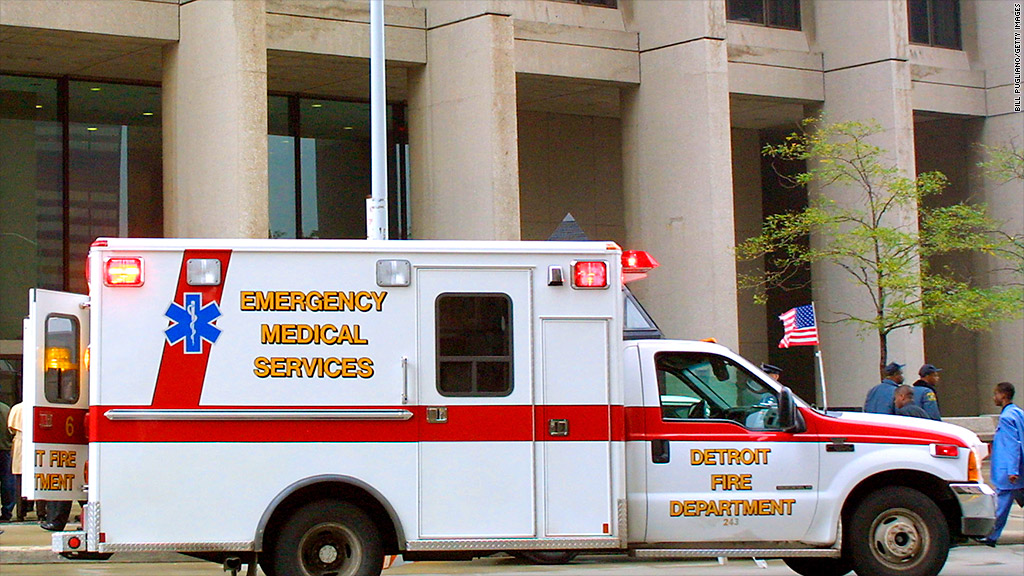 The emergency manager overseeing Detroit's finances has reached a tentative labor deal with the union that represents its emergency medical technicians. It's the city's the first union agreement since it filed for bankruptcy in July.
The five-year deal still needs to be approved by other authorities, including Michigan Treasurer Kevin Clinton and Bankruptcy Judge Steven Rhodes, who is ruling on the city's reorganization efforts.
The deal includes 2% annual raises in July of every year starting next year and running through 2018, said to John Barr, business agent for the union representing the EMTs. The EMTs had their pay cut by 10% in July 2012, a year before the bankruptcy filing, and have not had a raise since.
Barr said the ranks of EMTs have been depleted as many of them leave for private ambulance services. Only about 175 EMTs are now on staff, although the city has budgeted for 220 positions.
The deal was reached Tuesday after about three weeks of negotiations, and was presented to membership at a meeting Wednesday, Barr said.
"I think the membership wasn't happy, but they're relieved there's some stability now," he said.
Related: Time for Detroit to put pride aside
The deal is important in that it shows that an agreement is possible, despite the city's dire financial condition and the proposal by Emergency Manager Kevyn Orr to make deep cuts in pension benefits and retiree health care coverage.
Orr said the union has agreed to freeze the pensions and transition all employees to a defined contribution plan similar to a 401(k).
"This five-year agreement shows that unions and the city can work cooperatively to reach a positive solution that moves Detroit forward, even in bankruptcy and under an emergency manager," said a statement from Orr. "This is an important first step between the city and its represented workforce, and I hope it serves as a model for contract discussions with our other union partners."
All of Detroit's unions have been in discussions with the city about possibly freezing the pension plans, according to Lynn Brimer, attorney for the Retired Detroit Police Members Association. But she said that even if every union agreed to the same deal as the EMTs, that would only solve the problem of pension contributions going forward. The issue of what to do about the billions of dollars already owed to active employees and retirees would remain a central problem in the city's bankruptcy case.
Related: Detroit delays retiree health care cut due to Obamacare site woes
The EMT union's Barr said that the city's negotiators told him they had made the same offer to all the public safety unions to try to reach new labor deals.
"We're the ones that took advantage of it," he said.
Officials with the other major unions representing city employees had no immediate comment on the EMT's labor deals. Attorneys for those unions, and lawyers representing the city's pension funds, have been arguing in bankruptcy court in recent weeks that the city did not negotiate in good faith with them before it filed for bankruptcy in July.
The argument is important, because for the city to be allowed to reorganize its debts in bankruptcy court, it must not only be deemed insolvent. A judge must also determine that the city made a good-faith effort to reach a deal with its creditors, or that it was impractical to do so.
Rhodes is expected to rule sometime later this month on whether Detroit did negotiate in good faith and whether its bankruptcy case can proceed.
-- CNN's Chris Boyette and Poppy Harlow contributed to this report.