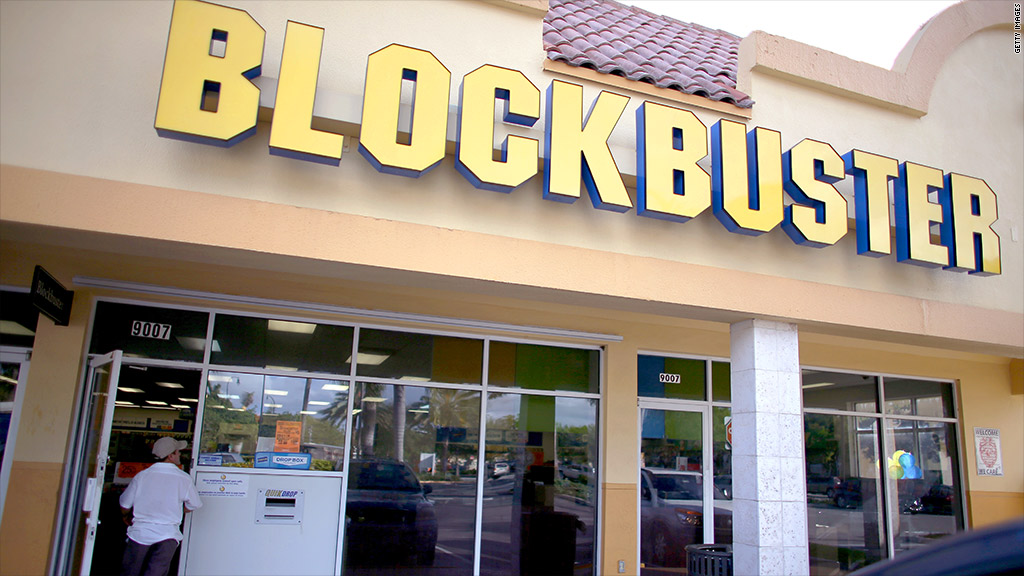 Blockbuster's closing signals the end of an era, but it also means there's a lot of retail space to fill.
Last week, Blockbuster announced plans to shutter its remaining 300 U.S. locations. It was the final nail in the coffin of a steadily declining brand, which was bought by Dish Network (DISH) in 2010 after the retailer went bankrupt.
But Blockbuster's demise could mean opportunity for small business franchises looking to obtain its prime retail space.
Workout Anytime, a Georgia-based 24-hour gym chain, already has 20 locations that were former Blockbuster stores and is looking to add 10 more, according to vice president Randy Trotter.
Related: Grow your small business the right way
Trotter said the locations are ideal, usually found in shopping centers with high visibility, great parking and access to busy metro areas. Converting the spaces is easy -- after buying the equipment, all they have to do is add locker rooms, offices and they're "good to go."
"The locations are usually in high-traffic centers with great drive-by traffic," said Jeff Cercy, who owns a Workout Anytime franchise outside of Chicago. If people aren't sure where it is, he just tells them "where the old Blockbuster used to be."
Trotter said Workout Anytime was already looking to add locations -- last week's news just means that there will be more empty spaces on the market.
It's becoming common for franchises to look for chains that are going out of business, said Matthew Haller, vice president of the International Franchise Association. Blockbuster already did the work scouting out ideal locations; now, the franchises can reap the benefits of its labor.
Because of the prime location, the leases don't come cheap, said Alan Hixon, vice president of Mooyah Burgers, Fries & Shakes, which currently occupies four former Blockbusters and is negotiating for one more. But Hixon said the ex-Blockbuster stores are a "better opportunity" than other spaces on the market, as they're relatively easy to move into.
The Dallas-based chain has locations in 11 states, but is looking to expand further across the U.S. and hopes former Blockbusters will continue to come on the market.
Related: Vet turns military training into $50M fitness company
Hand & Stone Massage and Facial Spa is a franchise that took over two Blockbuster stores in the past year and is currently negotiating for two other spots, according to CEO and President Todd Leff. The only downside is that Blockbuster locations average 5,000 to 6,000 square feet, while the spa chain just needs about 3,000. They're working with the landlords to split up the space between several tenants.
"Blockbuster was very good in finding prime real estate and capturing strong demographics," said Leff. "The locations are in very visible neighborhoods that match the demographics we're looking for."