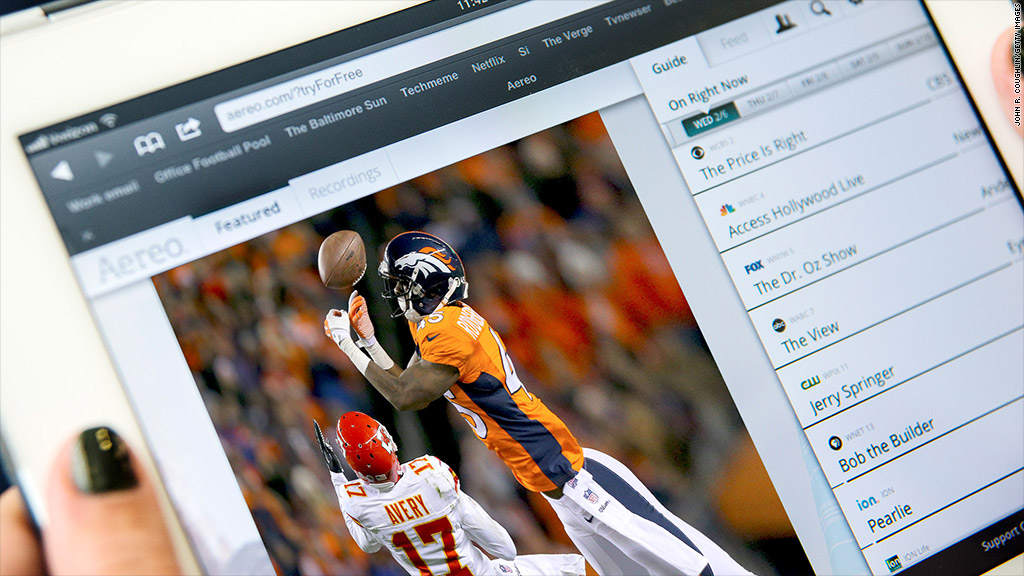 Broadcast television networks now have two big allies in their fight against Aereo: the National Football League and Major League Baseball. The two sports leagues said Aereo could even cause them to stop airing games on free TV.
TV broadcasters want the Supreme Court to rule on the legality of Aereo, a startup that lets users stream or record live broadcast TV content for $8 a month. The NFL and MLB filed a legal brief to the court in support of the petition last week, as Variety first reported.
The NFL and MLB warned in their brief that if Aereo isn't shut down, they could be forced to air games on cable channels like Disney-owned ESPN or TNT -- instead of the free networks -- "where Aereo-like services cannot hijack and exploit their programming without authorization." (TNT is owned by CNNMoney parent company Time Warner (TWX).)
Twenty-First Century Fox (FOX)made a similar threat in April, saying it would make Fox a pay-TV channel if Aereo stays in business.
Aereo's lack of authorization from broadcasters -- and whether the startup legally needs that approval -- is at the heart of the controversy.
Related story: Aereo CEO: We'll be in 25% of homes in a few years
Aereo houses thousands of tiny antennas in its data centers. It assigns each customer a unique antenna -- which the startup says works just like a DVR and makes Aereo legal. Broadcasters say that's an unfair dodge, and that Aereo should have to pay them to retransmit their programming just like cable and satellite companies do.
The networks -- including ABC parent Disney (DIS), CBS (CBS), Twenty-First Century Fox and Comcast's (CMCSA) NBC Universal -- have filed lawsuits against Aereo in various states since its launch, but the courts have favored Aereo so far. The networks filed a petition to the Supreme Court last month.
The NFL and MLB reiterated the networks' request for the Supreme Court to hear the case, saying that a ruling from the high court would "restore clarity and certainty in this area." The leagues also wrote that Aereo is employing "technological chicanery" to erode the rights of content owners.
NFL games are aired on a variety of networks. CBS and Fox split the majority of games on Sundays, while NBC airs the Sunday-night game. The only two weekly games not aired on a broadcast network are Thursday-night games on the NFL's own network and Monday Night Football on ESPN.
Many baseball games already air on cable channels in local markets. But Fox airs a "game of the week" on Saturdays as well as some playoff games. TNT and fellow Turner network TBS also have broadcast agreements with MLB.
The debate over retransmission fees bubbles up frequently in the TV industry, as it's typically at the crux of battles between cable companies and broadcasters. Time Warner Cable (TWC) yanked CBS from the air for a month in August, and the cable company revealed last month that some of the 306,000 subscribers it lost during that quarter fled due to that blackout.