J.C. Penney reported a larger-than-expected quarterly loss Wednesday, but the ailing retailer said there will be continued improvement in sales during the current quarter.
Shares of J.C. Penney (JCP) jumped more than 8% in early trading.
J.C. Penney said it lost $1.81 a share, excluding certain items. Analysts had expected a loss of $1.71 per share, according to Thomson Reuters.
Revenue was $2.78 billion in the quarter. That's down from last year, but roughly in-line with expectations.
J.C. Penney said earlier this month that same-store sales, a key metric in the retail industry, rose 0.9% in October. It was the first time same-store sales grew since December 2011.
The company is "encouraged" by the sales trends in the early weeks of November, CEO Mike Ullman said.
"The turnaround at J.C. Penney is taking hold," Ullman told analysts in a conference call. "It's hard work with no quick fixes, but our customers tell us they love the changes."
Related: Hedge funds bet on J.C. Penney comeback
Ullman said the company is focused on "winning" the holiday season, which is when retailers earn the bulk of their profits for the year. J.C. Penney will open at 8 p.m. on Thanksgiving Day this year for the first time in the company's history, he said.
But there are concerns about J.C. Penney's profit margins, which shrank in the third quarter.
J.C. Penney has been cutting prices as it clears the shelves of inventory that did not resonate with customers.
"Margins are not improving as much as sales, but we are making progress," said Ullman.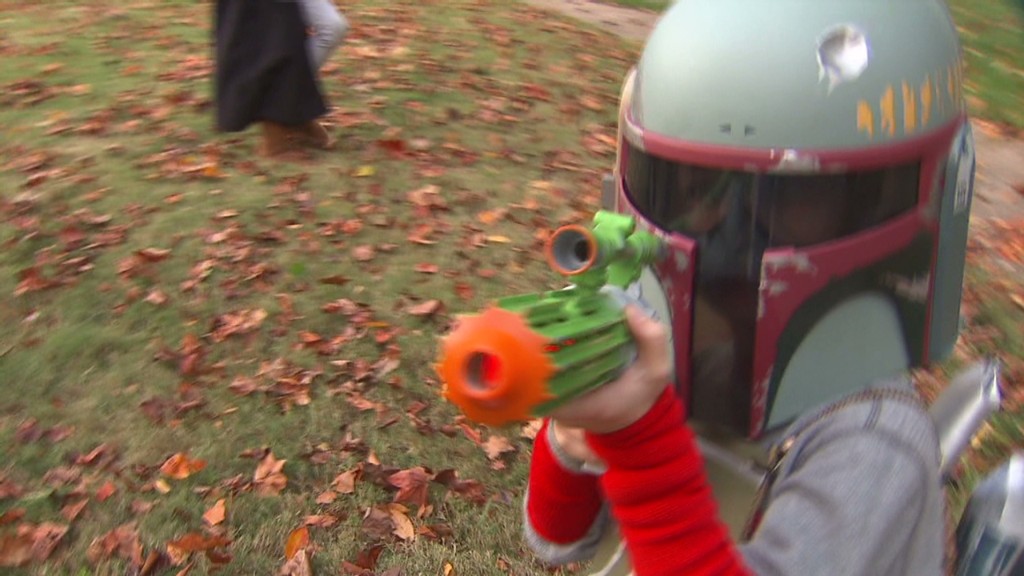 J.C. Penney has pushed back against persistent market rumors about a bankruptcy and credit crunch. It said last month that the speculation is "unequivocally false" and amounts to "market manipulation" by investors who stand to profit from a drop in the stock price.
Related: J.C. Penney shares recently hit a 33-year low
The company raised about $800 million in September through a secondary stock offering. It ended the quarter with $1.2 billion in cash and has $1.7 billion in available credit.
"The company's financial position is strong," said Ullman.
The results come near the end of a difficult year for the more than 100-year old retailer.
Ullman has been rebuilding store inventory and bringing back discount brands in an attempt to lure back customers that were turned off by changes made by Ron Johnson, who stepped down as CEO in April.
Johnson, a former Apple (AAPL) executive, took J.C. Penney in a very different direction, but the promotions and cosmetic changes he instituted fell flat with customers. Hedge fund Bill Ackman, who helped lure Johnson to J.C. Penney, stepped down from the company's board earlier this yea and subsequently sold his stake in J.C. Penney at a loss.
J.C. Penney's stock is down more than 50% so far this year, making it the worst performing stock in the S&P 500. But a number of other top hedge funds have recently disclosed stakes in the company, suggesting that some investors may be willing to bet on a J.C. Penney turnaround.