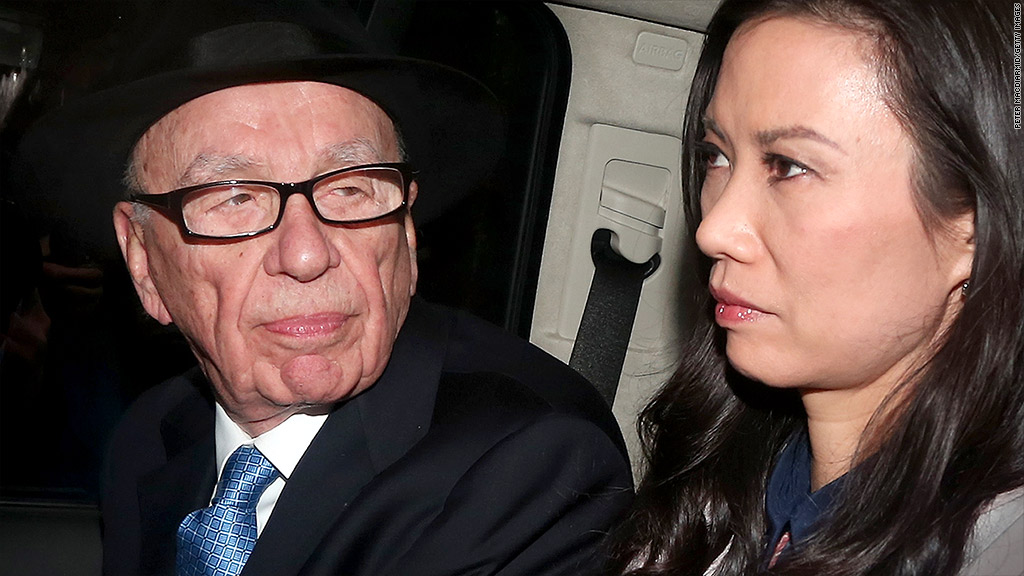 The divorce of News Corp founder and CEO Rupert Murdoch from his third wife, Wendi, was finalized in New York on Wednesday, according to the Murdochs.
"We are pleased to announce that we have reached an amicable settlement of all matters related to our divorce," said Rupert and Wendi, in a statement provided by News Corp. "We move forward with mutual respect and a shared interest in the health and happiness of our two daughters."
The settlement for the "amicable" divorce was finalized in New York Supreme Court in Manhattan.
Lawyers representing the Murdochs would not discuss whether any prenuptial agreement exists.
The Murdoch family is worth $13.4 billion, according to Forbes. The divorce is not expected to impact News Corp (NWS). Their daughters are Grace, born in 2001, and Chloe, born in 2003.
Related: Murdoch refused to step down amid hacking scandal
The divorce was announced in June, just days after News Corp announced its split into two publicly traded companies. The television and film properties were spun off into a company called 21st Century Fox (FOX), while the print media part -- which was mired in a phone hacking scandal -- retained the name News Corp.
Wendi stood by her husband throughout the scandal, even slapping a protester who hit him with shaving cream during a British Parliament hearing.
Murdoch, 82, married Wendi Deng, who is about half his age, in 1999. She had just graduated with a masters degree from Yale. She went to work for Star TV, a Murdoch-owned entity in Hong Kong.
Murdoch divorced his second wife, Anna Torv Murdoch, the same year he met Wendi. Murdoch and Torv were married in 1967, the same year that he divorced his first wife, Patricia Booker Murdoch, who he married in 1956.
Related: Fortune's interview with James Murdoch
Murdoch, a U.S. citizen who is originally from Australia, has six children, including James and Lachlan, who are both in their early 40s and hold positions on the News Corp. board of directors. James is the head of International 21st Century Fox and Lachlan leads another Murdoch holding, DMG Radio Australia.
There were reports of tension between Wendi and the Murdoch sons early in the marriage over concerns of a potential power shift within the company.