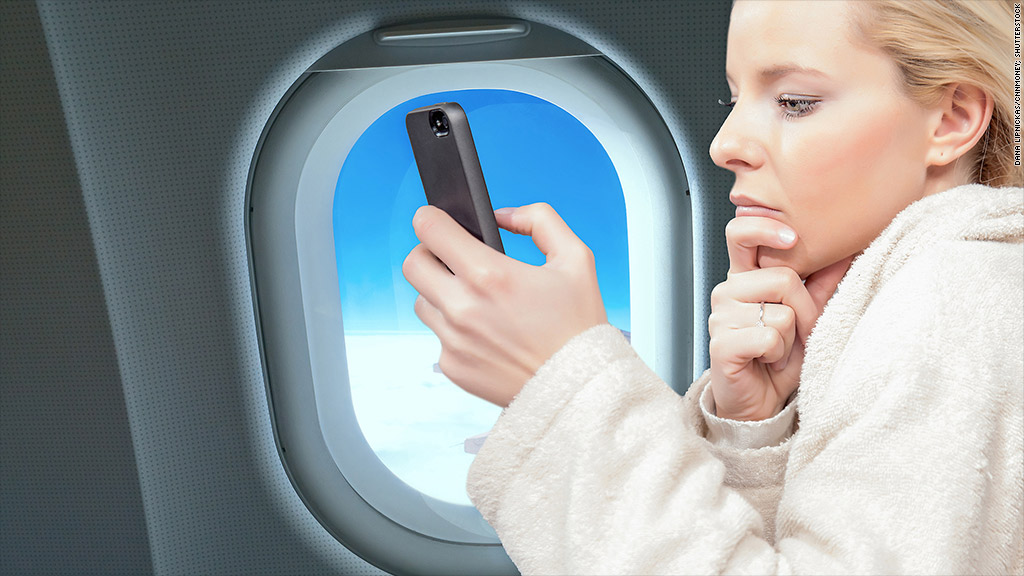 You might soon be allowed to make cell phone calls while flying, but prepare to pay extra for it.
Keeping customers connected to mobile networks in-flight would be a major opportunity for U.S. carriers -- potentially worth $2.4 billion plus a year, according to Akshay Sharma, a wireless network analyst at Gartner.
Now that the federal government is considering an end to its in-flight phone call ban, these companies might finally have a chance to dip into untapped potential revenue.
But it will cost cell phone companies millions of dollars to install the proper equipment on planes, so analysts expect carriers to recoup those costs with a per-flight fee similar to how in-flight Wi-Fi is used today. Wireless carriers could also charge hefty per-minute voice fees and roaming charges could apply if your cell phone company's network isn't supported on your flight.
Related: FCC to consider allowing cell phone calls on flights
"It's a huge coup for the telecom carriers; this opens up a massive market for them," said Ari Zoldan, CEO of communication technology firm Quantum Networks.
Zoldan's company would be among those retrofitting jets with satellite technology. To keep calls crisp and uninterrupted, the plane would need to be connected constantly, even as it travels at 39,000 feet going 550 miles per hour. That would mean installing a large, powerful, computer-like device that can transmit signals to satellites in space and antennae on the ground.
Installing that technology costs between $3 million and $4 million per plane, Zoldan said.
AT&T (T), T-Mobile (TMUS) and Verizon (VZ) didn't respond to requests for comment. Sprint (S) declined.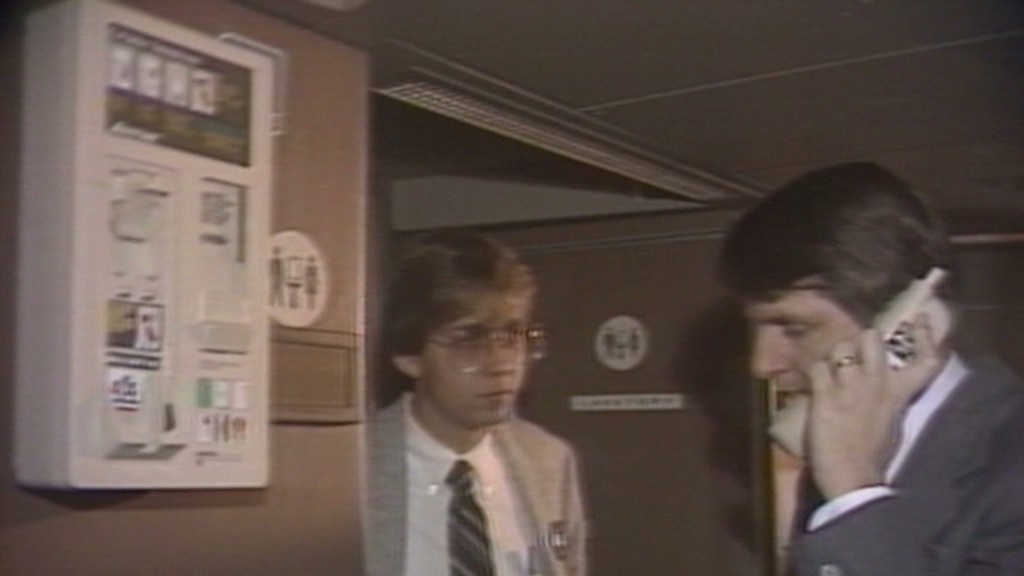 Meanwhile, the Telecommunications Industry Association, made up of high-tech manufacturers and suppliers, said it supports overturning the ban.
"Already, substantial manufacturer and vendor interest exists in this space, and our members are investing in related opportunities for growth internationally," said group president Grant Seiffert, in a statement.
If the ban is lifted, the United States would join a number of other countries that allow in-flight cell phone calls. About 30% of Brazilian passengers use their cell phones on wirelessly equipped planes, according to the U.S. Federal Aviation Administration.
But even if the Federal Communications Commission lifts its phone call ban, the airlines might clamp down with their own "no talking" rules.
Related: Speaking out against cell service on planes
Gogo (GOGO), the company that offers in-flight Wi-Fi for most big U.S. airliners, says it's already approached the in-flight calling possibility with companies like Delta (DAL), American, United (UAL) and Virgin Atlantic. All have said no.
"None of our airline partners are interested in the talk piece of this," said Gogo spokesman Steve Nolan.
That's mainly because passengers would find it annoying.
"The overwhelming sentiment is to continue with a policy that would not allow voice communications while in flight," said Paul Skrbec, spokesman for Delta.
A 2012 Delta survey showed 64% of passengers say in-flight calls would negatively impact their onboard experience.
But business is business, and the industry will adapt with customer preferences. JetBlue (JBLU) and Southwest Airlines (LUV) both say phone conversations would be disruptive to passengers -- but it's not set in stone.
"Our customer feedback indicates people may not want that policy, but of course tastes and desires change," said JetBlue spokeswoman Tamara Young. "We would prioritize making the cabin comfortable and welcoming for all -- for those who want cell service and for those who like peace and quiet."
"No talking" sections of the cabin perhaps?