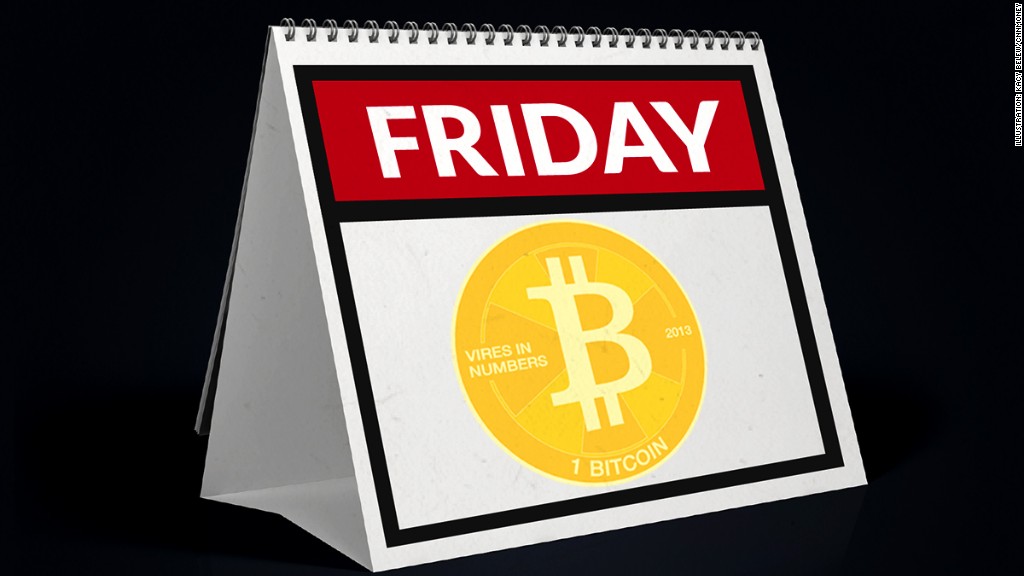 The Bitcoin community is gearing up for a holiday shopping spree by hosting its own Black Friday event.
Hundreds of merchants will be joining "Bitcoin Friday" on Nov. 29, selling everything from Christmas trees to clothes, to web domains.
Bitcoin Friday deals include unlocked phones from GSM Nation and discounted plane tickets from Cheapair.com. OKCupid, which has been accepting bitcoins since April, will be participating as well.
Media outlets are jumping into the Bitcoin deals bandwagon too: GOOD Magazine is giving away $5 discounts for subscriptions and the Free Press is slashing shipping costs. Reddit is also offering a deal on "Reddit Gold."
Gyft is also selling gift cards to Amazon (AMZN), Target (TGT) and Marriott (MAR) hotels. And people can also make charity donations with bitcoins.
"Good companies that really get technology and the potential of Bitcoin are joining," said Holmes Wilson of Fight for the Future, an organization backing Bitcoin Friday. Wilson noted that the participating companies so far are offering "high quality special gifts."
Related: Virgin's space passengers can pay with Bitcoin
Another bitcoin perk: transaction fees are considerably less than with credit cards -- typically a fraction of a penny. That means the deals for Bitcoin Friday, in comparison to Black Friday or Cyber Monday, could be 3% to 5% cheaper than conventional deals, noted Jon Holmquist, co-founder of Bitcoin Friday.
This Friday will mark the second Bitcoin Friday, though last year's event took place a few weeks before Thanksgiving. Bitcoin gained enough notoriety over the past year that Holmquist said the digital shopping event was ready to make the jump to the big stage.
"I think we're big enough to take on Black Friday," he said.
About 150 businesses have agreed to participate in Bitcoin Friday this year, up from 75 businesses that participated in last year's event. Holmquist ultimately expects 500 merchants to participate this year.
He also anticipates a much larger consumer turnout this year. The website's email sign-up form has reached over 2,500 emails so far. Last year, fewer than 500 people purchased goods with bitcoins.
In addition to Fight for the Future, Bitcoin Friday is being backed by the Bitcoin Investment Trust. BIT founder Barry Silbert says his organization is supporting the shopping event "to spread the word and promote Bitcoin adoption."
"We wanted to show Bitcoin is going mainstream," said Fight for the Future's Wilson. "Black Friday is the biggest shopping day of the year and it's a great way to start."