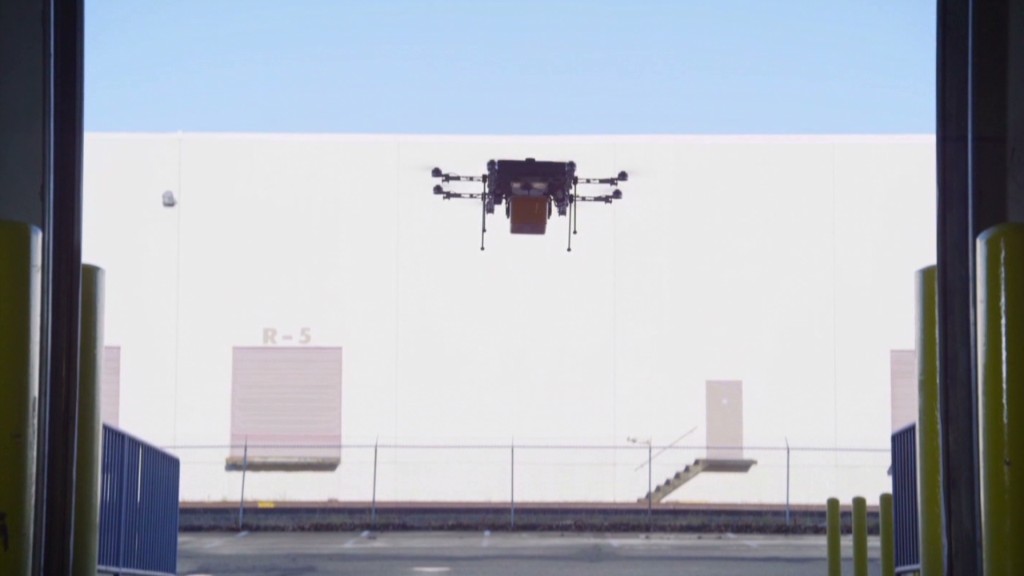 The world isn't ready for Amazon drone deliveries.
Having robots fly themselves to your doorstep is currently illegal. The sensor technology to avoid collisions isn't there yet. And turning Amazon distribution centers into mini airports is too expensive to make business sense.
Amazon (AMZN) CEO Jeff Bezos' plan to have "octocopters" deliver packages to your door in 30 minutes is exciting, but the basic idea is nothing new. Sending fleets of unmanned commercial drones to perform deliveries is something the aerospace industry has been pushing for years.
But deploying a fleet of drones is an idea even the nation's largest defense contractors have shelved away as untenable for now.
"This is not an easy problem to solve," said Cyndi Wegerbauer, who leads the drone program at defense company Northrop Grumman (NOC).
Related: Amazon says drone deliveries are the future
Regulations: The first hurdle is the Federal Aviation Administration, the government agency that regulates the nation's skies. Amazon won't be able to airdrop a single package until the FAA writes safety rules for unmanned aircraft.
There's little hope it'll do that anytime soon. The FAA has been reviewing commercial drones since 2009, but it has not given them the thumbs up yet.
To speed up the process, Congress passed the FAA Modernization and Reform Act last year, giving the agency a strict 2015 deadline to integrate drones into its books. But the FAA has failed to reach multiple milestones imposed by the bill since its passage.
Even if the FAA approves drone usage by 2015, there are signs that the agency isn't open to self-piloting drones. The FAA's recently published five-year plan says small unmanned air systems must operate "exclusively within visual line-of-sight of the flight crew." Amazon would be limited to operating like your neighborhood remote-controlled plane enthusiast.
However, some say that law is open to interpretation and mounted cameras would allow for remote flights.
Tech: Why is the FAA dragging its feet? In part because drones can't be trusted to safely fly in a densely populated urban area on their own.
Currently, most of them rely on GPS satellites to know where they are. But those signals can be off by a few feet, which could spell disaster for a tiny helicopter flying around buildings, over trees and under bridges.
A drone could use sensors to dodge objects, much like a slow-moving robot vacuum cleaner uses lasers to avoid hitting your table. But sensors might not recognize a transparent window. Radar won't notice a power line. And equipping a drone with multiple sensors -- lasers, infrared and more -- also makes it heavier, less efficient and more expensive.
As the FAA put it in its recent report: "Sense-and-avoid technology development is immature."
Related: 7 crazy drone concepts
Logistics: Commanding a fleet of drones would also require Amazon to convert its distribution centers into quasi aircraft control towers.
Engineers would have to monitor drones at all times to ensure any mechanical issues are caught in real time. Secure, streaming data links would need to be established. A dedicated maintenance technician would have to change a drone's battery every time it returns to base. And airborne deliveries would be impacted by weather, noted Peter Cosyn, who leads research at Belgian drone maker Gatewing.
Jordi Santacana, an executive with CATUAV, a drone manufacturer in Spain, noted that the cost of a drone fleet would be prohibitively expensive.
The hurdles are so numerous that several drone industry experts accused Amazon of doing nothing more than a public relations stunt.
Dave Kroestch, president of drone maker Aeryon Labs in Canada, said Bezos has stepped far beyond the feasible realm.
"Science fiction is always ahead of science," he said. "You need something that drives the vision. And that's what this is."