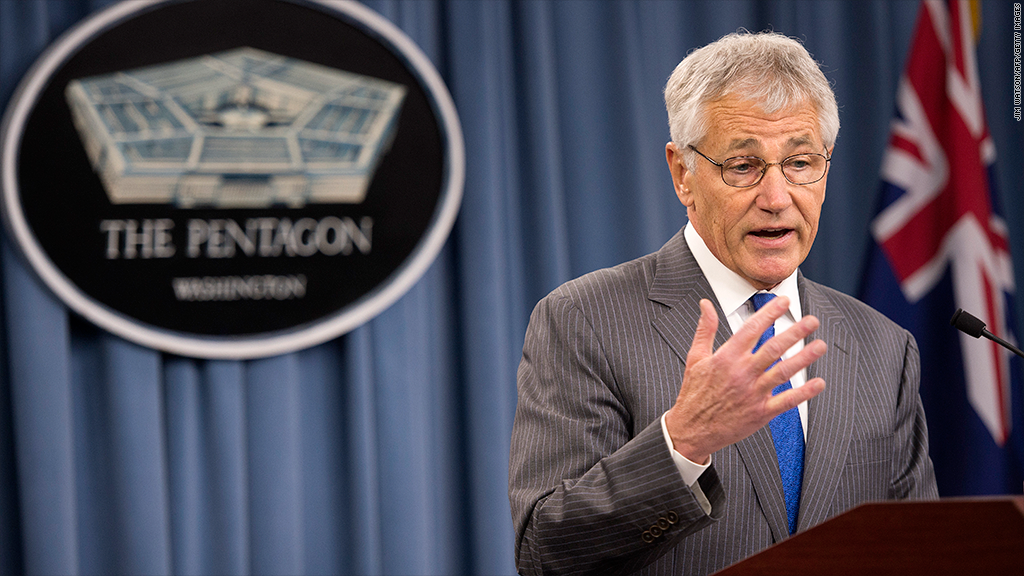 Defense Secretary Chuck Hagel on Wednesday announced he's trimming the Pentagon headquarters' budget by 20%, starting in 2014. It will result in jobs cuts and reduction in contracts with private companies.
The budget cuts will happen even if Congress ends sequester, according to the defense agency. Hagel said the time is right to "pare back overhead and streamline headquarters," after the fast growth of the agency in the wake of the September 11, 2001 terrorist attacks.
Related: Fewer FBI agents, fighter jets from 2014 cuts
"These reductions are only a first step in DoD's efforts to realign defense spending to meet new fiscal realities and strategic priorities," Hagel said.
The cuts would trim $1 billion from 2014 through 2019. Hagel said the first jobs to be cut will about 200 workers from his own team of 2,400.
Savings would come mostly by cutting back some contracts with private companies, but the agency said there would be "significant reductions to civilian personnel."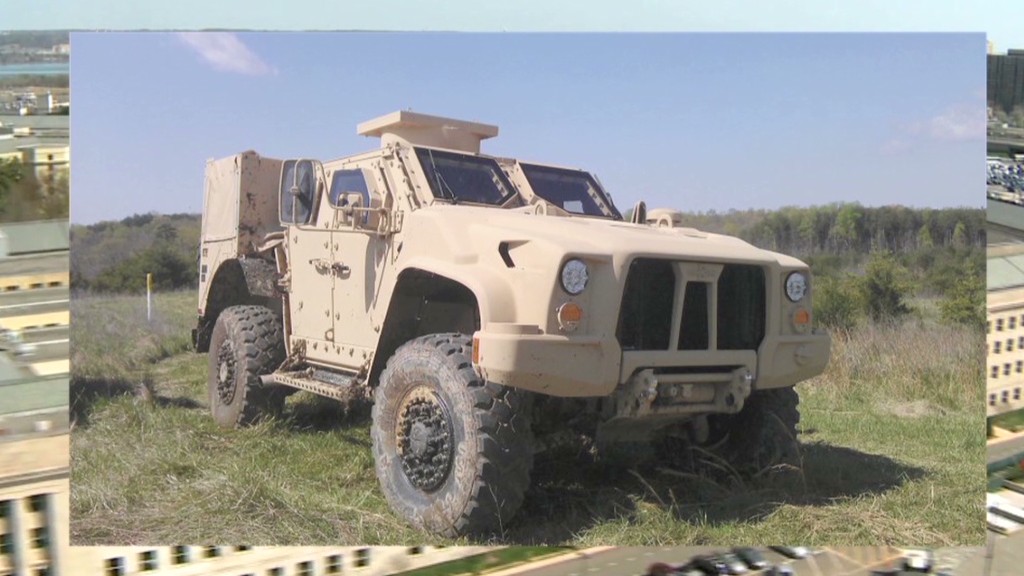 He stopped short of detailing other potential cuts, like those to commissaries -- military grocery stores -- and military pay, saying "difficult but necessary choices remain ahead for the Department on compensation reform, force structure, acquisitions and other major parts of DoD."
The Pentagon has had to cut $40 billion this year since March from the sequester. That led the agency to furlough workers for six days over the summer.
The $1 billion in savings announced Wednesday is only a tiny fraction of the $500 billion in defense cuts mandated over the next 10 years by the sequester. Still, Hagel said "every dollar that we save by reducing the size of our headquarters and back-office operations is a dollar that can be invested in war-fighting capabilities and readiness."
If the sequestration cuts are not reversed it is likely that more job cuts will be necessary, Hagel said.
The announcement is likely to have wide repercussions, especially for defense companies that rely on government contracts such as Boeing (BA), Northrop Grumman (NOC), Lockheed Martin (LMT) and Raytheon. (RTN)
The Defense Department is one of the largest federal agencies with a budget of $526 billion and a civilian work force of 800,000.
-- If you're a military family and would be affected by cuts to pay or commissaries, we'd like to talk to you. Email us with your contact information and your story could be included in CNNMoney's coverage of budget cuts.