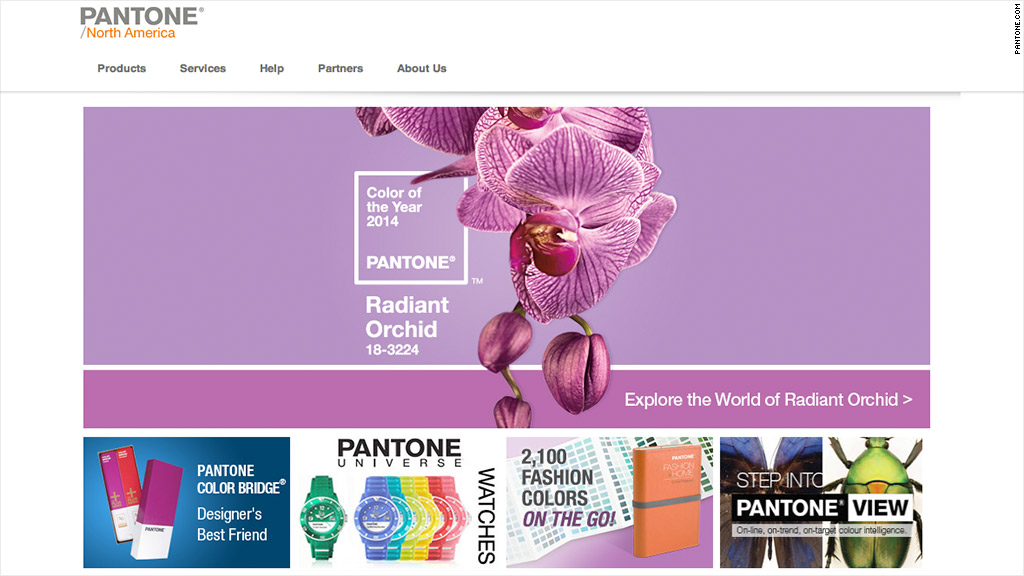 Pantone, the company that considers itself the authority on colors in consumer trends, announced Thursday that the color of 2014 is .... radiant orchid!
For those who don't know what radiant orchid is, Pantone describes it as a captivating, magical and enigmatic purple. So get ready to see store shelves stocked with everything from hot-pink kitchen appliances to lipstick and sneakers in the new year.
Pantone makes its annual pick by surveying fashion executives as well as trends in travel, music, movies and even technology to deduce the coming year's big color.
Then manufacturers of all stripes tend to jump on the bandwagon and slap the year's hot, new color on their products in an effort to punch up their line ups.
Keurig, for instance, plans to unveil its MINI Plus coffee maker in the color of radiant orchid in February 2014, according to spokeswoman Lizzie Manganiello.
Related: Economy shows strength, but can it last?
Marshal Cohen, fashion and retail analyst with the NPD Group, said this is a common tactic for companies that want to add a new sheen to their products to make them seem more exciting.
"The easiest way for the brands and retailers to create something new, is just to create color," said Marshal Cohen, fashion and retail analyst with the NPD Group. "As we enter into a new era for consumers that have higher demands and higher expectations, color plays a very important role."
"Half the people don't even know how to turn the [appliance] on, but it comes in a radiant color, so they buy it anyway," Cohen added. "Don't be surprised if a vacuum cleaner comes out in this color."
The color for 2013 was emerald, which "served as a symbol or growth, renewal and prosperity."
Based in Carlstadt, N.J., Pantone is a subsidiary of X-Rite, which sets industry color standards.