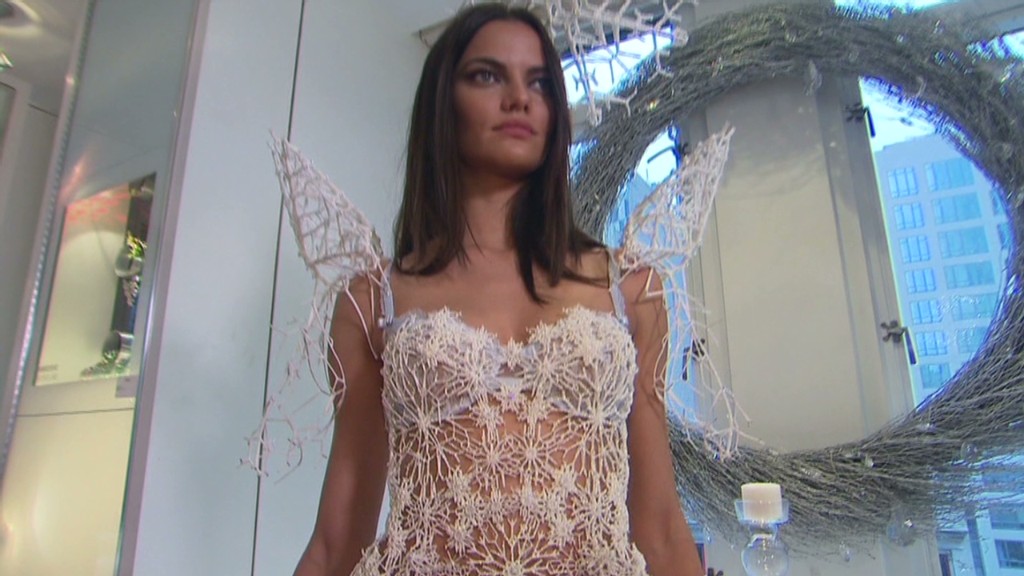 Leggy models and lingerie aren't generally associated with 3-D printing technology. But that's changing as the gap between technology and fashion narrows.
This year, as part of the annual Victoria's Secret Fashion Show, one of the most elaborate costumes was a pair of "angel wings" created with a 3-D printer. Model Lindsay Ellingson wore the costume at the show, which airs Tuesday night.
Victoria's Secret, a division of Limited Brands (LB), partnered with 3-D printing service Shapeways to create the wings. Architect Bradley Rothenberg designed them.
Shapeways scanned Ellingson's body using a 3-D scanner and printed the wings layer by layer with nylon plastic. They were then encrusted with millions of Swarovski crystals.
Runway model Barbara Fialho, whose measurements match Ellingson's, helped the design team perfect the costume by standing in during the fittings. Fialho, who also walked the runway at the show, says she expects technology to play a larger role in high fashion.
Related: Inside the 3-D portrait studio
"It's great to see all these barriers being broken, new ideas, new ways to design. It's amazing," she said
Shapeways designer evangelist Duann Scott said fashion designers and jewelers are increasingly adopting 3-D printing.
"It's perfect because in fashion and jewelry, there are seasons -- every season there's something new, and with 3-D printing you can do something very new in a short period of time," said Scott. "Because everything's on demand ... with 3-D printing supply exactly meets demand."
Manufacturers have used 3-D printing for decades, but over the last few years, a number of company's have set out to make 3-D printing accessible to the masses. They have lowered prices and are making affordable 3-D printers for consumers. As a result, the technology is being used everywhere from hospitals to schools to the kitchen.
This isn't even the first time 3-D printing technology has made its way to the runway. In 2012, fashion designer Asher Levine used Makerbot's 3-D printers to print multicolored glasses for his models.