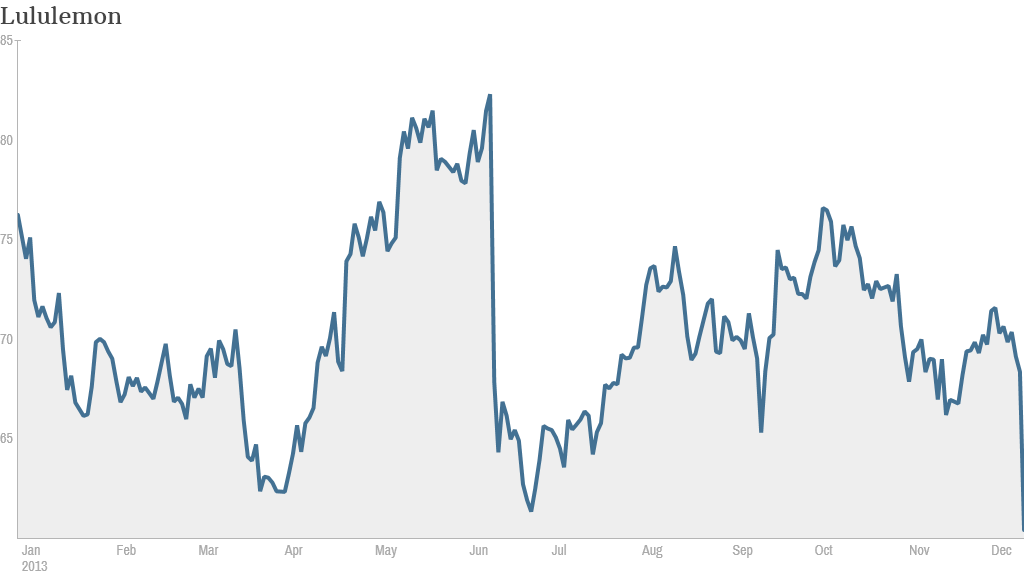 The bottom fell out of Lululemon stock Thursday.
Shares of Lululemon (LULU) fell more than 11% after the yoga apparel maker lowered its earnings and sales outlook.
Lululemon expects to earn between 78 cents and 80 cents per share in the current quarter, while revenue is estimated between $535 million to $540 million. Analysts had been expecting earnings of 84 cents per share on revenue of $572 million. The company also gave earnings and sales guidance for the upcoming fiscal year that was below Wall Street's consensus estimates.
Store traffic has been slow in November and December. The company is also expecting same-store sales to be flat in the fourth quarter, said Lululemon chief financial officer John Currie in a conference call with analysts. The company has also been experiencing supply issues as it beefs up quality controls, he added.
Lululemon has been a fast-growing success story over the past few years. But the company has had several setbacks this year.
In March, Lululemon announced a recall of yoga pants that were unintentionally see-through. The episode hurt Lululemon's bottom line. CEO Christine Day also announced plans to step down, making investors even more nervous about the company's future.
This week, Lululemon said Laurent Potdevin, who had been the president of shoe company TOMS, would replace Day next year. In a surprise move, the company also said founder and non-executive chairman Chip Wilson will resign in June 2014.
Related: Lululemon in an uncomfortable position
Wilson came under fire last month for saying in an interview that "some women's bodies just don't actually work" for Lululemon's pants.
Currie acknowledged that Wilson's comments and the quality issues may have contributed to the recent sluggishness in sales.
"Let's face it, we've had a lot of PR issues this year," he said. "There is undoubtedly some impact on traffic and therefore the business."
Day said in a written statement that 2013 "has been a year of challenges, learning, and growth" for the company. But she argued that the investments Lululemon is making will ultimately pay off.
Lululemon said it earned $66.1 million, or 45 cents per share, in the third quarter. That's up from last year and better than analysts' had predicted.
The company's stock, which has soared more than 1,700% over the past five years, has missed this year's rally. Including Thursday's big drop, Lululemon shares are now down nearly 20% so far in 2013.