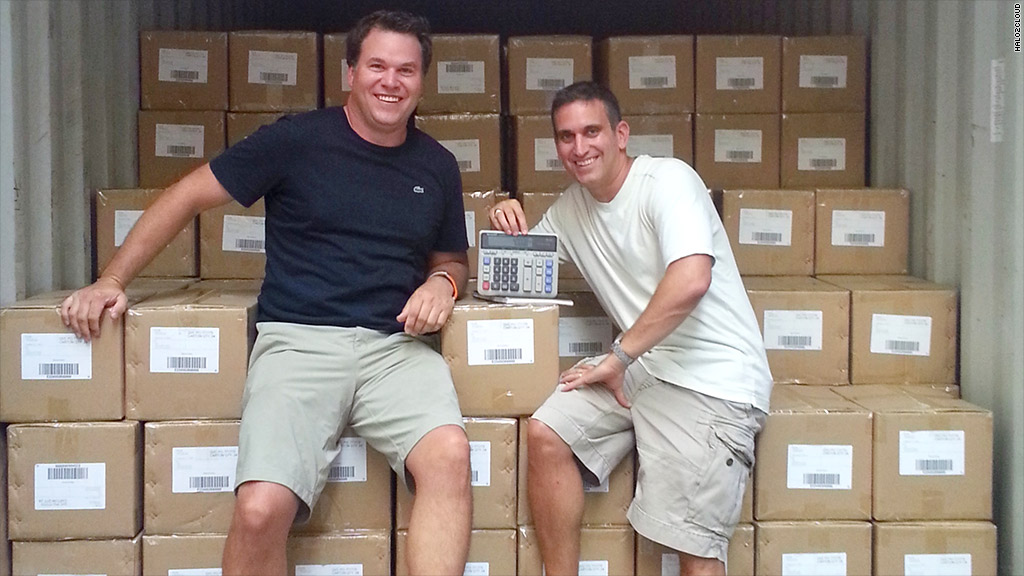 Talk about beginner's luck. Halo2Cloud, a startup that's just three years old, hit a home run with its first product: a pocket charger for mobile devices.
Co-founders Garold Miller and Dan Weinstein debuted the gadget on QVC on Nov. 27, 2011. The device, which comes in multi-colored metallics and animal prints, set a network record for most units sold in a day.
"We sold 305,000 chargers on the first day," said Miller.
Fast-forward to Dec. 1, 2013, and they did it again. The company's newer, more powerful Halo charger became QVC's biggest one-day seller ever with 380,000 chargers for a total of $19 million in sales.
The startup, which became profitable in 2012, logged $90 million in sales this year, up from just $1.6 million in its first year.
The Glastonbury, Conn.-based company has already sold millions of its chargers and is constantly ramping up production to meet demand, said Miller. While the chargers are manufactured in China, Halo2Cloud is also adding more jobs in the U.S. The firm currently has 18 employees, and Miller said they expect to hire 30 new people next year.
Related: 6 ways you can use 3D printers
Miller and Weinstein said they wanted to launch a product that makes life easier at a time when the proliferation of cellphones has "created a huge need for portable power."
"Let's face it. There are probably more mobile devices in America than there are people," said Miller.
In 2010, Weinstein, an engineer by training, and Miller, who had previously launched a jewelry design firm, got to work on inventing a portable charger that was "not just a plain square box."
"We wanted it to be a powerful product that was simple to use, sleek and could become a fashion statement," said Miller.
Related: It's crunch time for this 93-year-old candy maker
The original $30 Halo charger is the size of a lipstick tube and offers a six-hour charge for cellphones, e-readers, Bluetooth headsets and gaming devices. The charger itself can be repowered in a car or on a computer via any USB port.
The newest models include the slightly larger $66 Halo Pocket Power 5500, which can charge a phone and iPad simultaneously, and the Starlight 3000, which comes with a built-in LED flashlight. 90% of Halo2Cloud's sales come through QVC, although the chargers are also sold through Staples (SPLS), Amazon (AMZN), SkyMall and the company's website.
While the entrepreneurs are stunned at how quickly their chargers have captured consumers' attention, they're very aware that tech products can become obsolete just as fast.
So they're seeking out licensing deals with big brands like Disney (DIS) and the NFL to expand the market for Halo chargers. They're also trying to break into the luxury market through partnerships with high-end brands.
"We have to keep innovating," said Weinstein. "We're doing what we can to stay ahead of the curve."