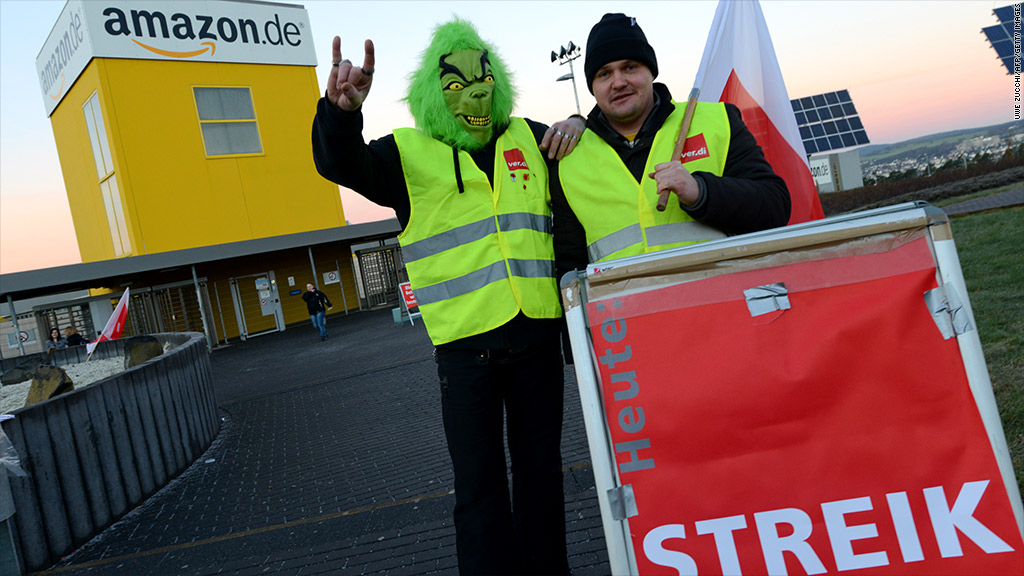 Hundreds of Amazon staff in Germany have walked off the job this week in a long-running dispute over pay.
The strike began Monday at three of Amazon (AMZN) Germany's nine distribution centers. It was called by the Verdi labor union, which wants the company to negotiate.
"The workers want to get paid fair wages and they want to be treated decently by their employer," said Verdi Chairman Frank Bsirske. "We are not going to let a big American company come here and play Wild West. This is a clash of cultures."
Verdi claims Amazon employees are paid one third less than staff doing comparable jobs at German companies because the U.S. firm treats them as logistics workers, rather than retail or mail-order employees.
Amazon Germany had its busiest ever day last December 17, processing 2.7 million orders across its distribution network.
Amazon sought to reassure customers that they would still receive their shipments in time for December 24. Germans traditionally hold their main holiday celebration on Christmas Eve.
Related: I work 4 jobs and I'm still struggling
In a statement Tuesday, the company said fewer than 1,120 people stayed away from work Monday, and that customer shipments were unaffected. Local media cited Verdi officials as saying as many as 1,800 workers had walked out.
Amazon has 9,000 permanent employees in its German distribution centers, plus 14,000 temporary workers hired for the holiday season.
The entry wage for an Amazon Germany employee is 9.55 euros ($13.15) an hour, plus bonus, insurance and pension pay. That rises to more than 10 euros after a year, and after two years, employees get shares in the company.
Related: Jeff Bezos isn't the next Steve Jobs
The company has resisted union pressure to negotiate a collective pay agreement. It says its wages are near the upper end of the scale for logistics firms and that it treats its staff fairly.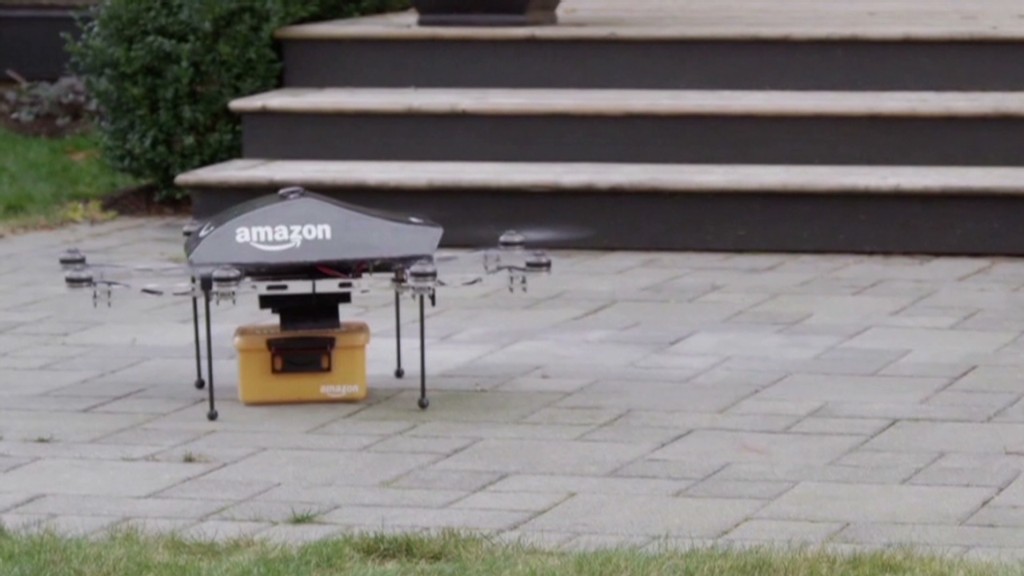 Verdi and its members disagree. Some of them took their protest to Amazon headquarters in Seattle Monday, where they were joined by representatives of U.S. labor unions including the Communications Workers of America and Teamsters.
Germany will introduce a statutory national minimum wage of 8.50 euros per hour in 2015. Currently most wages are set in negotiations between companies and unions, often within the framework of industry agreements.
The dispute widened Tuesday to include a fourth distribution center, and Verdi has said it could continue until Saturday.