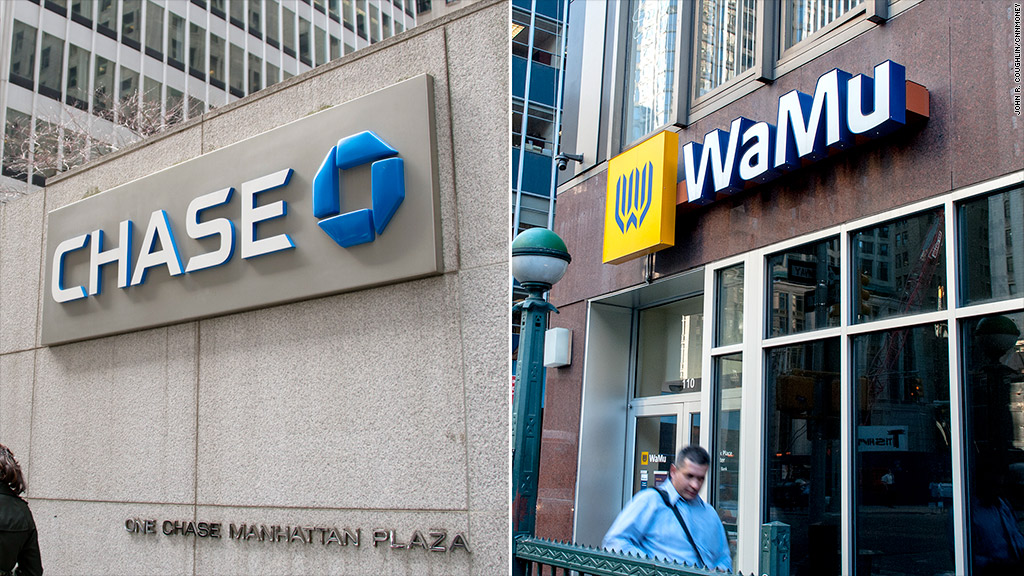 JPMorgan Chase has paid out tens of billions of dollars to the government this year to settle numerous lawsuits. Now, the nation's largest bank is seeking money in its own legal claim against a federal agency.
JPMorgan (JPM) sued the Federal Deposit Insurance Corp. in federal court Tuesday, charging that the agency should be responsible for more than $1 billion in costs JPMorgan now faces over its purchase of Washington Mutual from the FDIC in 2008.
Washington Mutual was the nation's largest thrift and one of its largest home lenders when it failed during the height of the financial crisis.
At the time, the FDIC and other federal agencies urged JPMorgan to purchase WaMu as a way to help stabilize the teetering financial and housing markets.
The FDIC is best known as the federal agency that backs deposits made in U.S. banks. It also comes in and takes over troubled banks and thrifts, seizing their assets and trying to find buyers for the institutions in order to maintain customers' financial transactions.
Some of JPMorgan's legal woes and fines this year have revolved around bad mortgages that Washington Mutual sold to investors, as well as government-backed mortgage finance firms Fannie Mae and Freddie Mac.
JPMorgan agreed to a $13 billion settlement with the Justice Department in November to settle claims related to the sale of mortgage-backed securities it made, as well as those made by WaMu and Bear Stearns, another failed financial firm JPMorgan purchased in 2008 at the urging of the Federal Reserve.
As part of the settlement, JPMorgan agreed not to seek funds from the FDIC for costs associated with WaMu.
However there was a separate $1.1 billion that JPMorgan agreed to pay to Fannie and Freddie to repurchase bad home loans. Much of the current lawsuit revolves around getting money from the FDIC to make that payment.
The bank also wants the FDIC to help pay for lawsuits it faces from private investors who bought mortgage securities from WaMu, along with more conventional lawsuits, such as those from customers who may have been hurt when they tripped on steps of a WaMu branch. JPMorgan argues those are also the responsibility of the agency.
Related: Tab for big banks could top $100 billion
According to the suit, JPMorgan is not seeking funds from the FDIC's operating budget, only from a pool of WaMu assets still held by the FDIC. JPMorgan's suit claims those assets -- worth about $2.75 billion -- should be sufficient to pay its claims.
The FDIC declined to comment. A JPMorgan spokesman said the bank would let the suit speak for itself.