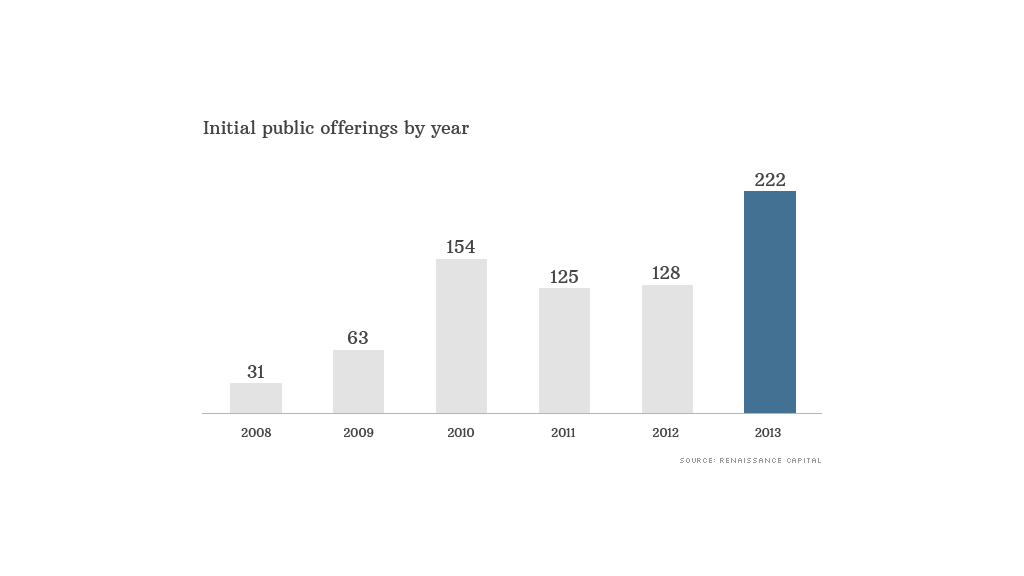 It's been a banner year for the IPO market, and analysts expect the boom in initial public offerings to continue next year.
In 2013, a total of 222 companies went public in the United States, the largest number of new listings since 2000, according to Renaissance Capital, a firm that specializes in IPO research.
While it was the biggest year since the technology bubble burst, the IPO market is still a far cry from 2000, when more than 400 companies went public.
The number of public listings this year is "only slightly above average," said Kathy Smith, principal at Renaissance. "We're not setting any records."
This year's IPO class raised more than $54 billion, compared with nearly $100 billion for the new stocks in 2000. Still, the IPO market has come a long way since the dark days of 2008, when only 31 companies went public in deals that raised a mere $24.5 billion.
Smith expects the market to stay hot in the first quarter of 2014, based largely on how well newly issued shares have performed after their first day of trading.
The average IPO has gone up more than 30% this year from its offering price, the best rate of return since 2004. And 23 companies have doubled from their IPO price. Twitter (TWTR), the most talked about IPO of the year, is one of them. The social network raised $1.8 billion when it went public in November.
Related: Investors cheer Hilton's IPO
So what's in store for next year? Tim Keating, chief executive of Keating Capital, a fund that specializes in making pre-IPO investments, said investors can expect "more of the same" in 2014.
Keating said regulatory changes under the JOBS Act have helped remove some obstacles for smaller companies to go public. But the bull market and lack of volatility have been the most important factors behind this year's IPO bonanza.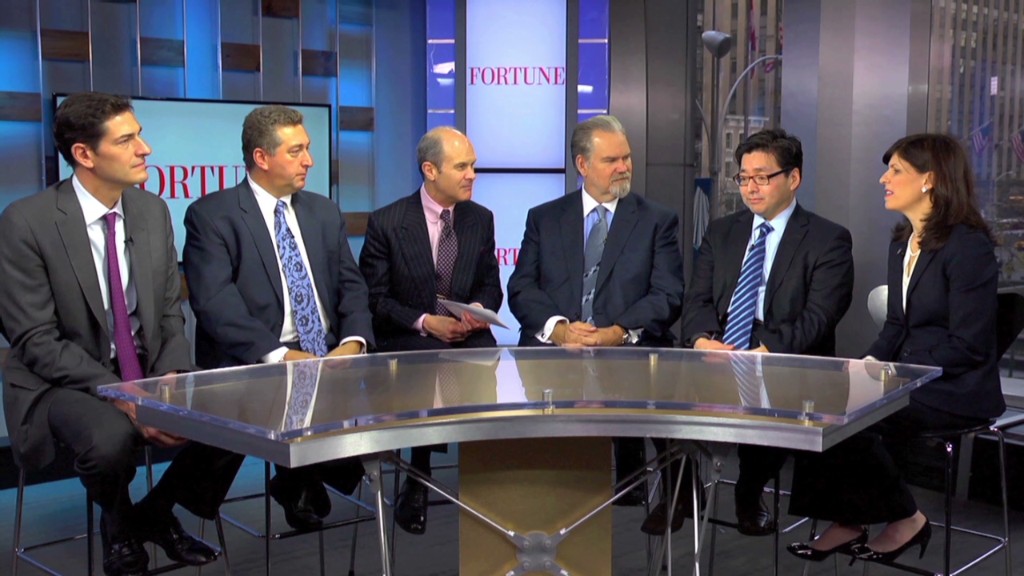 Companies want to sell shares when stocks are surging and investors are hungry for those new companies that have big growth opportunities. So as long as the broader market doesn't tank, IPO issuance should remain strong.
Related: AMC offers stock to loyal movie fans
What's in the pipeline? The cream of next year's IPO crop could be Chinese e-commerce giant Alibaba. However, it's unclear where the company will trade.
Alibaba is in talks with officials in Hong Kong to list on Asia's second-largest stock market. But the company has also explored a potential listing in New York or London.
IPO activity in China is set to take off in 2014, after the market had been frozen for most of 2012, according to Ringo Choi, Asia Pacific strategist at Ernst & Young.
Related: China's bad debt breaks Hong Kong IPO logjam
In the United States, Chrysler is expected to return to the public market sometime in the first quarter. The third-largest U.S. automaker, which went bankrupt in 2009, could have a market value of about $30 billion, according to Smith.
Investors are also looking towards Silicon Valley for hot IPOs, said Keating. Specifically, he mentioned mobile payments provider Square, as well as file storage companies DropBox and Box. Photo-sharing website Pinterest is another tech company that some think may look to go public.
But IPOs are often very risky. And this year's new stocks seem more speculative than the IPOs of recent years. While many newly public companies are not yet profitable, there was an unusually large number of money-losing companies that made their debut this year.
Nearly two-thirds of this year's IPO class have posted losses in the 12 months before going public, according to research from IPO expert and University of Florida Professor Jay Ritter. That compares with an average of 47% over the past decade.
So it will be interesting to see if investors continue to embrace IPOs that offer a lot of potential but little in the way of profits. That didn't end well in 2000.