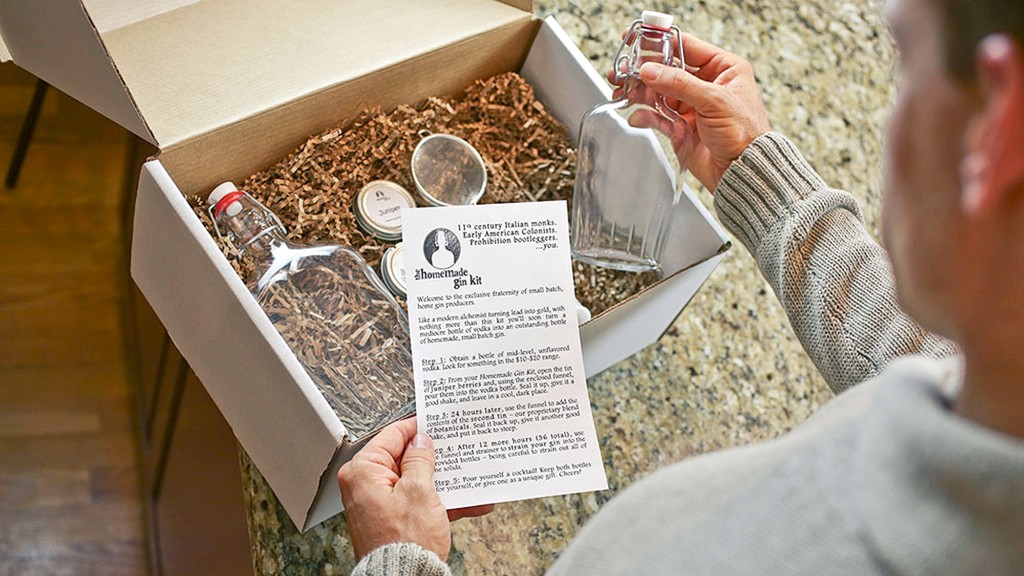 Joe Maiellano and Jack Hubbard have lofty ambitions: They want to create a gin-soaked DIY empire.
In just the past year, they've taken a giant step toward it with their HomeMade Gin kit, which lets you craft your own spirits in the comfort of your home.
Maiellano and Hubbard, both 29, launched their business last November, assembling 250 packages in Maiellano's tiny kitchen in Arlington, Va. Their $50 kit includes a unique blend of spices and flowers, a tin of dried juniper berries, two Italian glass bottles, a strainer and a funnel.
"The first three orders came from an uncle and our dads," said Hubbard. "So we thought, 'Maybe this isn't a good idea.'" But when lifestyle blogs like UrbanDaddy and Thrillist started featuring the kit, holiday orders came pouring in.
"In a matter of weeks, we went from three sales to hundreds," he said. By the time the holiday season wrapped up, the startup had sold thousands of kits and outgrown its makeshift setup. They quickly rented out a warehouse facility and contracted with a fulfillment firm to speed up delivery.
Related: Buy a beer share, invest in local brewery
HomeMade Gin Kit has already sold more than 14,000 kits and logged over half a million in sales. The kits are sold through sites like Red Envelope and Uncommon Goods, stores like Anthropologie and Total Wine, as well as their own website.
Making your own batch of gin is legal, but first you need a bottle of vodka, said Maiellano. All gins use a neutral spirit like vodka as a base. Pour the kit's juniper berries into the bottle of vodka, shake it and leave it for 24 hours.
"Juniper berries are the backbone of all gin," said Maiellano. Next, add the proprietary blend of spices and botanicals to the bottle and let it rest for another 12 hours. The vodka strips the essential oils and the liquid retains the flavors of the berries and spices.
Then, strain the liquid into the kit's bottles and pour yourself a drink. Because it's a home-made concoction, Maiellano warns that it will have a slight color, but it won't affect the taste.
In fact, a recent Thrillist taste test ranked the HomeMade Gin Kit's finished product higher than top-shelf brands like Bombay Sapphire.
Related: This startup turns illegal guns into jewelry
Maiellano said a "perfect storm" of trends has helped their kit take off so quickly. "It's an exciting time in the spirit world," he said.
Micro-breweries and craft distilleries are booming as states amend liquor laws to let small-scale makers sell directly to consumers.
Another catalyst is the growing local and DIY food movement. "People are caring much more about what they're eating and drinking," he said.
And while there are plenty of home-brew beer kits, it's still rare to be able to make your own spirits.
"We're successful because we're one of the first to market a homemade gin kit," said Maiellano.
Not only have Maiellano and Hubbard recouped their $10,000 in startup captial, the business is debt free and profitable.
With a year under their belts, the partners are now focused on keeping the momentum going and hope to expand internationally.
Their ultimate goal is even bigger.
"We want to open our own distillery," said Hubbard. "We couldn't afford it yet, but we're not giving up on that dream."