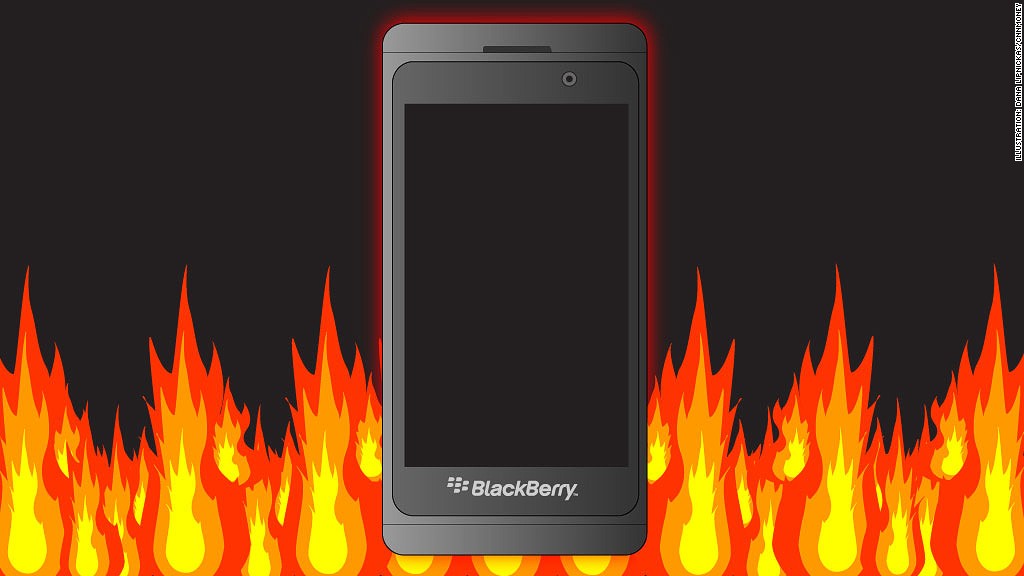 BlackBerry said goodbye to its terrible 2013 with yet another awful quarterly financial report -- but interim CEO John Chen was able to talk the stock higher.
Shares of BlackBerry (BBRY) initially fell more than 7% in premarket trading after the struggling smartphone maker said Friday that it posted a whopping $4.4 billion loss during the quarter that ended in November.
Excluding one-time costs, BlackBerry reported a loss of 67 cents a share. Sales fell 56% over the year to $1.2 billion. Both of those figures were worse than what Wall Street expected.
But the stock shifted gears once Chen kicked off BlackBerry's conference call. The stock rose nearly 1.5% in early trading after the market opened.
"The market has spoken and we have listened," said Chen, who took the interim CEO spot at BlackBerry last month after the company abandoned its plans to sell the company and ousted CEO Thorsten Heins.
The closed up more than 15%, possibly because more than a quarter of BlackBerry shares are held by short sellers: investors who borrow shares and immediately sell them with the hopes of buying them back when the price drops.
A surprise jump in a stock's price can force short sellers to cover their positions quickly, buying back the stock en masse in order to cut their losses -- and sending shares higher in the process. It's a phenomenon known as a short squeeze.
Chen stressed on the call that despite a lot of bad publicity and the mounting losses, the company has "a very solid base." In particular, he cited BlackBerry's engineering talent and its cash position -- which now stands at $3.2 billion, up from $2.6 billion in the previous quarter.
He used the word "turnaround" several times, though he warned that parts of that process could take a while. Chen is no stranger to uphill battles: As CEO of the once-struggling software company Sybase, he turned it around before selling it to SAP (SAP) in 2010.
Chen also talked up BlackBerry's new five-year strategic partnership with Foxconn, the world's largest manufacturer of electronic parts. Under the terms of the deal announced Friday, Foxconn will develop and manufacture certain BlackBerry devices and manage that inventory itself.
The BlackBerry chief praised Foxconn's "world-class supply chain," its access to emerging markets and its ability to both design and manufacture hardware. BlackBerry's internal design teams will focus on software and high-end phones, Chen said, adding that the rest of the hardware development would be left to Foxconn.
The partnership will first focus on a smartphone for Indonesia and other emerging markets, which is set for early 2014. Foxconn is the Apple supplier that has made headlines over the past few years for myriad labor violations in China.
S&P Capital IQ analyst James Moorman was ho-hum on the announcements. In a note to clients Friday, he said the Foxconn partnership "makes sense" and will help the company better manage its costs. But it wasn't enough to outweigh the drop in sales. Moorman kept his rating on the stock at "hold."
Related story: BlackBerry: Not dead yet! Seriously
BlackBerry's brutal 2013: The company kicked off the year by finally launching its long-delayed BlackBerry 10 operating system in January. But its first device on the platform, the keyboardless Z10, fared poorly.
BlackBerry took a nearly $1 billion writedown on unsold Z10 phones in September -- and Chen alluded to that when talking about the Foxconn deal, saying the partnership will reduce BlackBerry's exposure to that kind of risk.
The new phones still aren't catching on with customers though. The company said Friday it sold about 4.3 million phones during its most recent quarter -- but 3.2 million of them were devices on the older BlackBerry 7 operating system.
Faced with declining sales and market share, the company also announced in September it would cut 4,500 jobs -- or 40% of its workforce -- and that it would seek a buyer to take it private.
But just last month, BlackBerry abandoned its plans to sell the company and got rid of Heins.
Related story: BlackBerry's hometown vows to survive
Chen faces a daunting task. Experts criticized Heins' failure to prioritize BlackBerry's business-focused customers. Instead, BlackBerry tried to replicate the mass consumer success of Apple (AAPL) and Google's (GOOG) Android.
BlackBerry changed gears in September and said it would focus on corporate customers and so-called "prosumers." It also said it would scale back its device offerings from six to four. But analysts said it was too little and too late. Chen, unsurprisingly, is more hopeful.
"I know there has been a lot said about BlackBerry, but let me remind you that at BlackBerry, we are not dwelling on the past," Chen wrote in a company blog post a few days after his appointment. "We are looking towards the future."