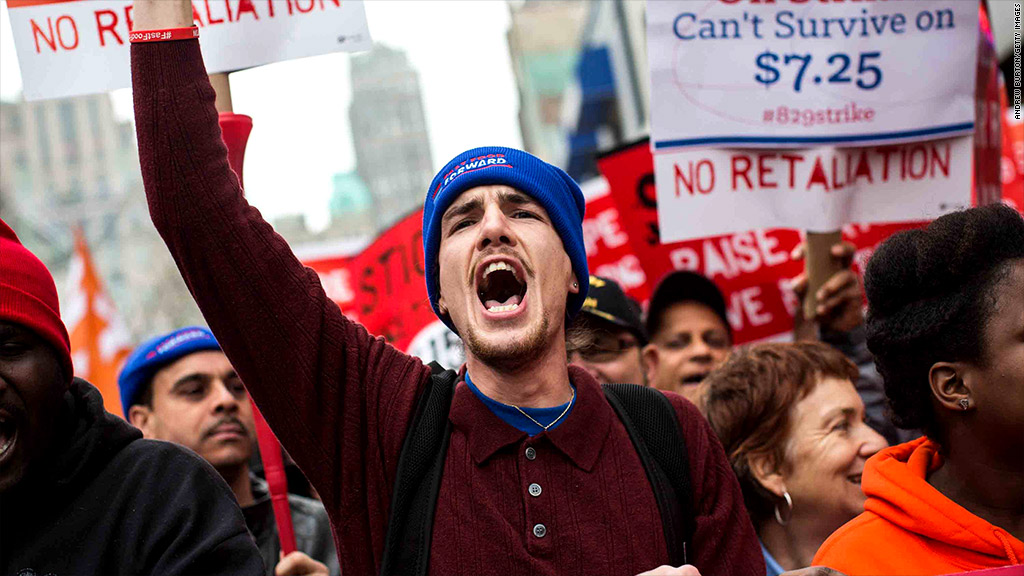 Starting January 1, minimum wage workers in 13 states and four cities will see higher paychecks.
While most of the increases amount to less than 15 cents per hour, workers in places like New Jersey, Connecticut, New York and Rhode Island will see a bigger bump.
Earlier this year, New Jersey residents voted to raise the state's minimum wage by $1 to $8.25 per hour. And lawmakers voted to hike the wage by between 25 cents and 75 cents per hour, to $8.70 in Connecticut and $8 in Rhode Island and New York.
Residents in Arizona, Colorado, Florida, Missouri, Montana, Ohio, Oregon, Vermont and Washington will see a higher wage floor due to annual cost of living adjustments.
The Economic Policy Institute, a left-leaning think tank, used Census data to estimate that the increases will boost the incomes of 2.5 million low-wage American workers next year.
Related: 2013 minimum wage, state by state
Currently, 19 states have minimum wages set higher than the federal level of $7.25 per hour. Once the changes take effect on Jan. 1, the number rises to 21.
Wage increases are also set to take place at the local level. Voters recently approved a raise to $15 per hour for many workers in SeaTac, a tiny town centered around the Seattle-Tacoma airport in Washington. A judge ruled this past week that parts of the measure were not valid: The city could impose the minimum wage for some of the affected workers, the judge said, though not all. Supporters of the increase plan to appeal.
The push for $15 an hour could soon move beyond the one small town. Seattle's mayor-elect has said he plans to also raise the city's minimum wage to $15. Washington currently has the highest state minimum wage at $9.19 per hour.
Workers in San Francisco, San Jose and Albuquerque will also see wages go up.
Later in 2014, several other locales, including two counties in Maryland and Washington D.C., will raise their minimum wages. California is set to raise its minimum wage to $9 in July.
The piecemeal increases at the local level are occurring amidst a national debate over low wages and income inequality. Fast food and retail workers have been staging protests and walking off work for more than a year, calling for better pay and more hours.
Currently, fast food workers nationally earn an average of about $9 per hour. In September, Bill Simon, president and chief executive officer of Wal-Mart U.S., said that less than half of the company's U.S. employees make more than $25,000 per year.
Related: Half of fast food workers need public aid
Workers from McDonald's (MCD), Wendy's (WEN), Burger King (BKW) and other fast food joints are calling for $15 per hour. Wal-Mart (WMT) workers organizing as part of the union-backed OUR Walmart aren't asking for a specific dollar amount increase, but they say it's impossible to live on the wages they currently receive.
The workers have the backing of some lawmakers in Washington. Senate Democrats have proposed legislation to raise the minimum wage to $10.10 per hour and index it to inflation.
President Obama has been throwing his weight behind the issue. Earlier this month, the President said in a speech that it's "well past the time to raise the minimum wage that in real terms right now is below where it was when Harry Truman was in office."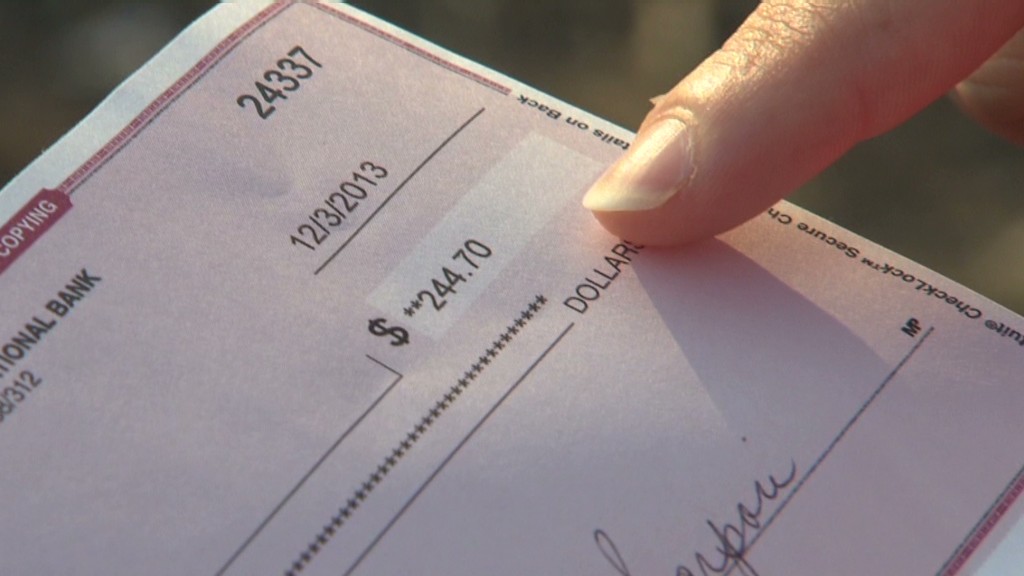 But such legislation has a bleaker outlook if it reaches the Republican-led House of Representatives. House Speaker John Boehner has said that raising the minimum wage leads to a pullback in hiring.
Several recent polls, however, show that the vast majority of Americans are in favor of a federal minimum wage hike. A new ABC/Washington Post poll out last week shows that two-thirds of Americans support raising the minimum wage. More than one-third of respondents said they supported an increase to $9 per hour, while a quarter more were in favor of a boost to $10.
A CBS poll conducted last month found nearly identical results.
-- If you're seeing your wages increase on Jan. 1, or if we've missed naming your town among those raising minimum wages, we'd love to hear from you. Email us.