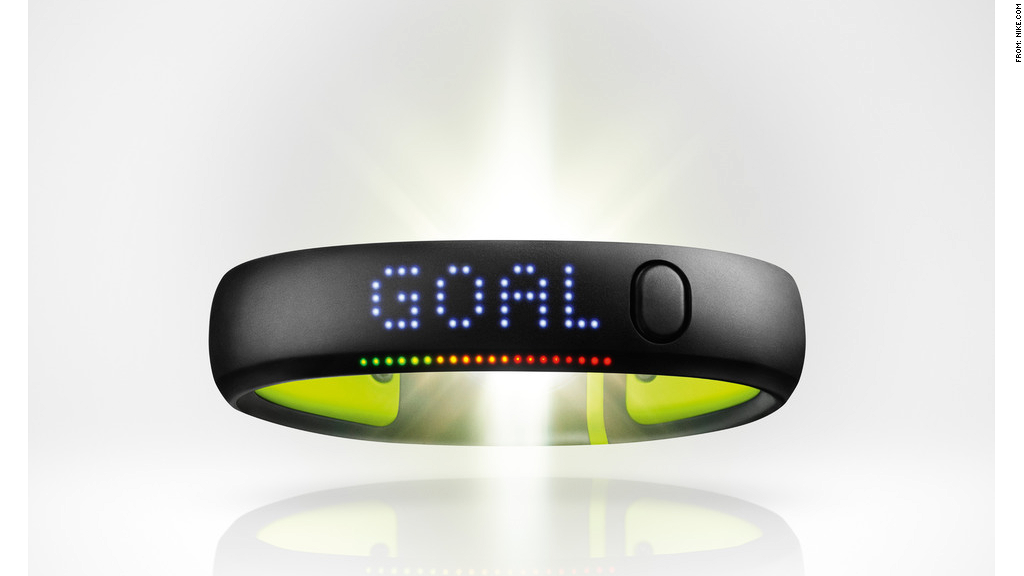 The Nike+ Fuelband SE isn't perfect, but the activity tracker is the closest realization yet of what a wearable device should be.
The Fuelband is a simple, rubberized black band that you wear around your wrist. It records your movements and tells you how active you are (or aren't) by displaying your "Nikefuel" number. Nike (NKE) won't say how it calculates the Nikefuel number, but the higher it is, the more active you've been during the day.
You can set a daily Nikefuel goal -- say, 2500 -- and see how close you're getting to that number throughout the day.
The Fuelband is also able to track steps and estimate the number of calories you've burned.
The Fuelband SE is the second-generation model of the Fuelband. It's more water resistant, has an improved display and has more durable materials than its predecessor. The Bluetooth technology has also been updated to make pairing with iPhones easier. But if you already have the first-generation Fuelband, there's no pressing reason to upgrade.
Related: Sony files patent for a 'SmartWig'
The simplicity of the Fuelband is one of its greatest virtues. Its minimal and low key design makes it something you won't be embarrassed about wearing all the time. It lies somewhere between futuristic and utilitarian, but it is still very attractive in a modern sort of way. And provided you get the fit right, it's pretty comfortable and you often forget you even have it on. Over the past six weeks, I've only taken it off to charge it.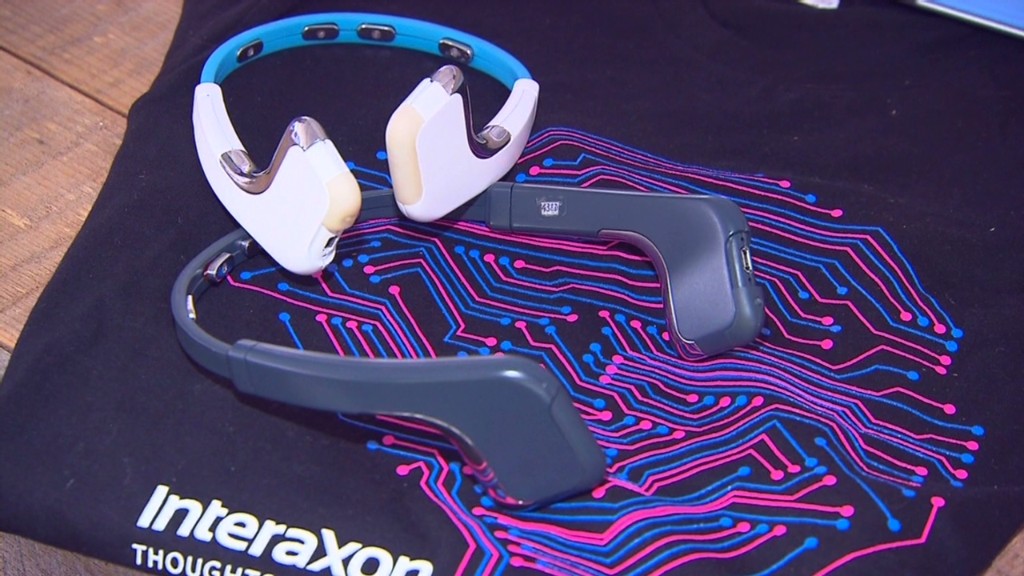 It's easy to use too: One tap brings up the last stat you checked. Press again and you rotate to the next stat. Two quick taps brings up the time. Long press and you start a new activity session. There's no time wasted waking the device, unlocking it, and swiping through menus to get to what you want.
The Fuelband's battery will last as long as eight days between charges. That isn't amazing, but given the fact that it has a display and is relatively thin and small, that's not terrible either.
The iPhone app (Nike doesn't support Android) is decent but not groundbreaking. It shows you your daily Nikefuel number, along with weekly and monthly reports of your activity. It will give you awards for meeting certain milestones or challenges. And it will even do some basic analysis, such as telling you what your most active days of the week are, or how much Nikefuel you earn on an average day or week. But much of that data feels superficial.
The real killer Fuelband feature isn't about hardware or software; it's psychological. There's a little meter under your Nikefuel score egging you on to meet your goal. If you are meeting your daily goal with ease, the app will challenge you to raise it. And there's a social component, which lets you compare scores and awards with friends and even challenge each other to be more active.
Related: Google Glass may save firms $1 billion
After wearing it for several weeks, I'm more aware of and more interested in how active I am on a daily basis.
However, the Fuelband does have some room for improvement. Every so often, the Fuelband fails to connect with its iPhone app via Bluetooth. The problem always resolves itself, but that sometimes takes hours, which is annoying. Nike's sleep tracking feature is also a disappointment, requiring you to manually start a session. It's a battery suck, and all you get in return is a glorified diary of how long you're sleeping on average.
Fuelband isn't for everyone. If you're interested in tracking performance-based stats like heart rate or mile times, a full-fledged sports watch is probably the better purchase. If you're still undecided (and have an iPhone 5S), try out the free Nike Move app. It's significantly more limited in function than the Fuelband, but it offers a taste of what an activity tracker can do.
It's easy to see how a future Fuelband could have a GPS tracker and a heart rate monitor, or how it could pass along basic notifications from your phone. But one of the best features of the Fuelband is that it intentionally tries not to do everything. Unlike Samsung's bloated Galaxy Gear smartwatch or Google's (GOOG) still very experimental Glass, the Fuelband mostly knows what it can and can't do while still delivering a good experience.
For now, the Fuelband remains a fairly polished work in progress, making it an excellent blueprint for future wearable devices.