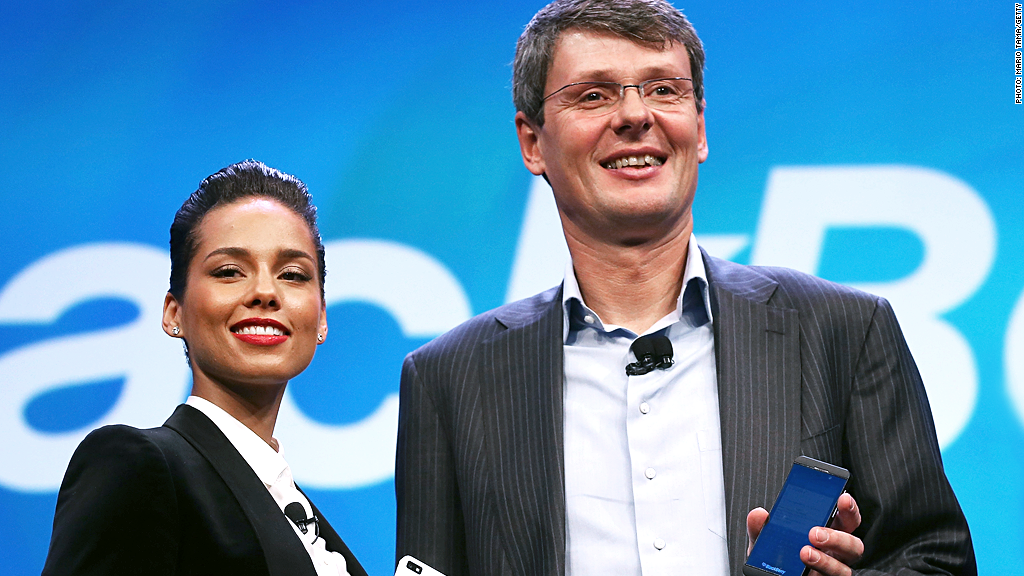 Alicia Keys, we hardly knew ye as Blackberry's "creative director." The singer and the smartphone maker are parting ways after just one year.
BlackBerry bestowed Keys with the creative director title in January 2013, at a big launch of the company's new BlackBerry 10 operating system. But on Thursday, the company said it had "completed our year-long collaboration" with Keys.
BlackBerry (BBRY) declined to comment specifically as to why the relationship came to an end. Her stint officially wraps up on January 31.
Lately it's become popular for tech companies to sign on celebrities as "creative directors," which some see as glorified spokespeople. Lady Gaga holds the position at Polaroid, while will.i.am holds that title at Intel (INTC).
In addition to the BlackBerry 10 launch, Keys also backed company initiatives including the "Keep Moving Project," in which the singer invited fans to send photos of themselves to be used in one of her music videos. BlackBerry also highlighted Keys' work with the BlackBerry Scholars Program, a scholarship for women studying science, technology, engineering and math.
Related story: New BlackBerry CEO optimistic despite loss
But Keys made few public appearances beyond those initiatives, and the struggling BlackBerry got into even more trouble as the year wore on.
BlackBerry 10 phones sold poorly, and the company was forced to take a nearly $1 billion writedown on unsold devices in September. That same month, the company announced it would cut 4,500 jobs -- or 40% of its workforce -- and that it would seek a buyer to take it private. But in November BlackBerry abandoned its plans to sell the company and ousted CEO Thorsten Heins.
With such serious issues at hand, BlackBerry seemed to have little need for a celebrity creative director.
Keys herself landed in hot water after sending a tweet from an iPhone (AAPL) instead of a BlackBerry just days after her appointment to creative director; she later said her account was hacked.