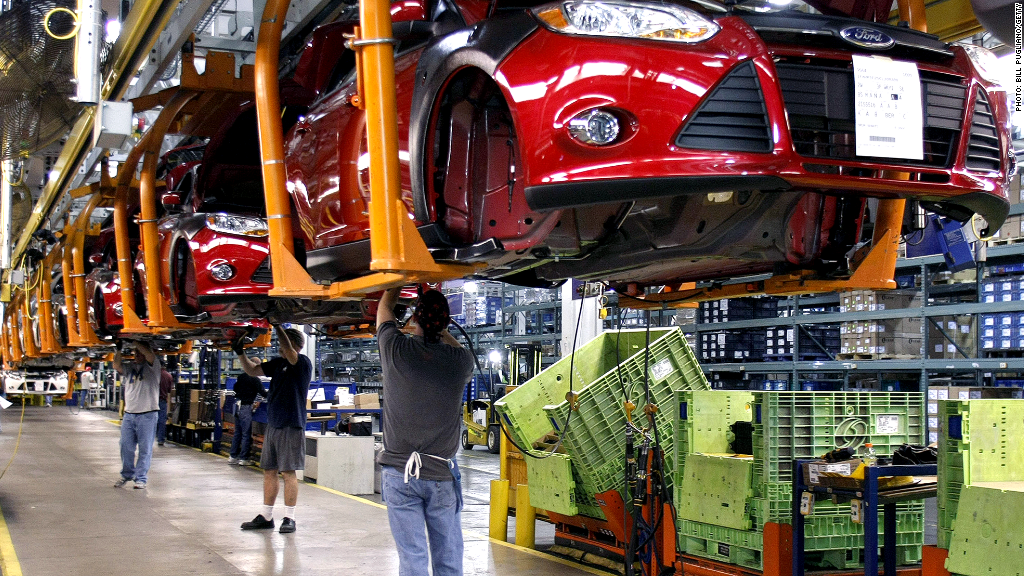 Workers at General Motors, Ford Motor and Chrysler Group are likely to pocket a record amount of profit sharing after the automakers report final 2013 earnings in a few weeks.
A year ago, the average profit-sharing checks from the three Detroit automakers totaled $17,300. This year, the North American pretax profits used to calculate the payments are expected to be higher, with the sum of the three average checks coming in around $18,000.
Related: Ford gets ready to unveil the aluminum F-150
GM (GM), which paid workers an average of $6,750 to the 49,000 UAW members at the company for 2012, reported an increase of $329 million in North American pretax profits over the first three quarters. That, by itself, could lift the worker payout by nearly $300.
Ford (F) paid an average of $8,300 to its 45,800 UAW workers last year. Its North American profit for the first three quarters is $608 million ahead of year-earlier results, which could lift checks by about $600.
Related: Car sales make strong comeback in '13, even with disappointing December
Chrysler Group paid $2,250 to its UAW members. It does not break out North American results in its financial reporting, but the lion share of its results are in North America. Its overall results were down slightly over the first three quarters.
The automakers pushed the United Auto Workers union to accept profit-sharing payments in their most recent round of labor negotiations, rather than taking an increase in base pay. The rising base pay of past contracts was a factor in the ballooning cost structure of U.S. automakers, contributing to the 2009 bankruptcy of GM and Chrysler.
Various media reports suggest that the record for profit-sharing checks in the industry came in 1999, when the three average checks totaled $17,875. That total certainly seems within reach given results reported so far for 2013.