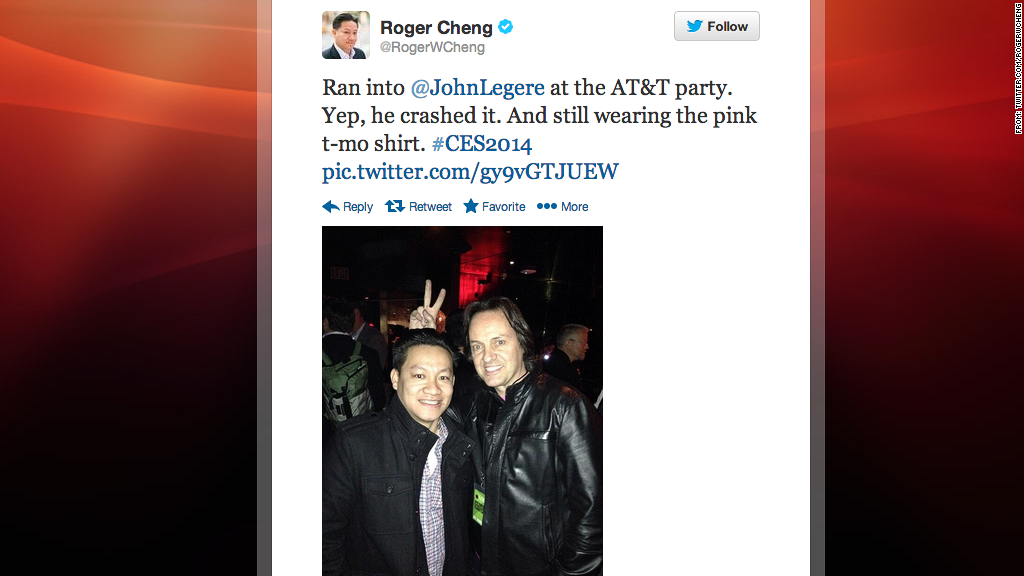 T-Mobile CEO John Legere is known for his antics, especially when it comes to attacking his competitors. This time, Legere tried to crash AT&T's party -- but AT&T promptly kicked out its uninvited guest.
Each year, AT&T holds a developer conference and private concert in Las Vegas, at the same time as the massive Consumer Electronics Show (CES). Legere apparently got entry into the concert, where Macklemore was playing, on Monday night.
"Ran into @JohnLegere at the AT&T party. Yep, he crashed it. And still wearing the pink t-mo shirt," tweeted CNet executive editor Roger Cheng, who included a photo of the pair at the concert. Just 20 minutes later, according to Cheng, security escorted Legere out.
Neither T-Mobile (TMUS) nor AT&T (T) immediately responded to requests for comment.
Related story: AT&T offers T-Mobile customers $450 to switch
But on Twitter, Legere retweeted dozens of tweets and links praising him for the stunt, which received lots of coverage in the tech press.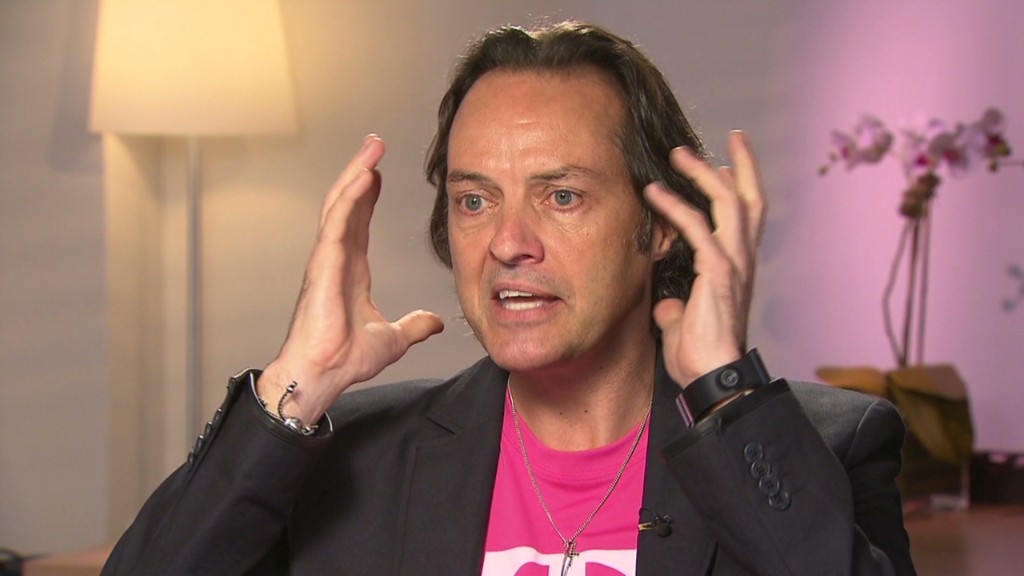 T-Mobile's business methods have taken aim at the top three major U.S. carriers: Verizon (VZ), AT&T and Sprint (S).
In March 2013 T-Mobile's launched its "uncarrier" strategy that eliminates contracts, instead letting customers pay lower monthly rates and buy their own phones. Then T-Mobile unrolled the the "Jump" program, which allows customers to upgrade phones twice a year instead of every two years. Finally, T-Mobile dropped international roaming fees.
Just last week, AT&T fought back by offering T-Mobile customers $450 to switch. T-Mobile customers who switch to AT&T would receive a $200 credit per phone line, plus the chance to trade in their smartphones for up to $250.