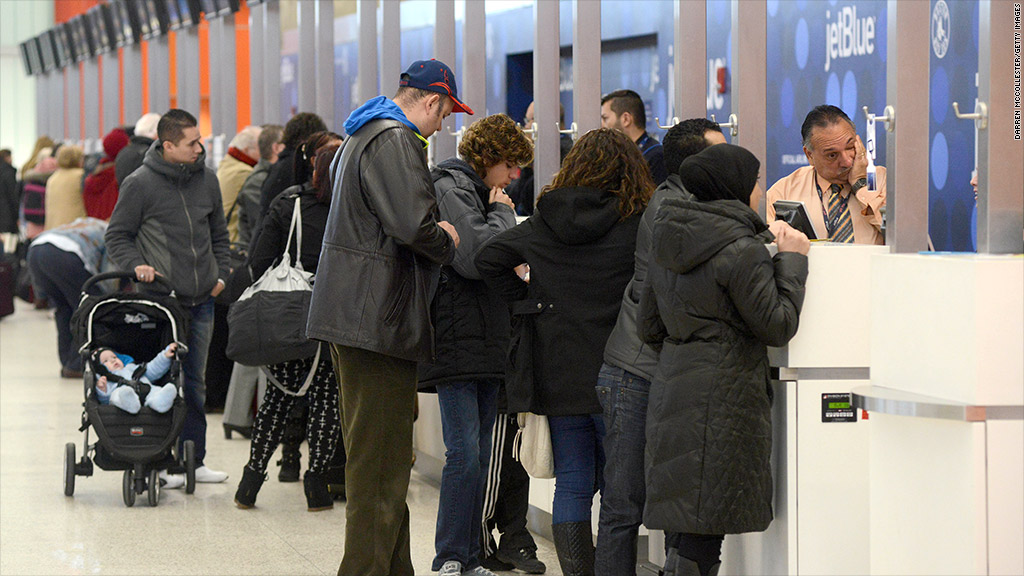 JetBlue Airways' recovery from several days of hellish service problems continued on Wednesday, but its efforts to satisfy angry customers are just getting started.
The airline was operating pretty much a full schedule. Most of the canceled flights were out of Buffalo, N.Y., where snow was disrupting operations.
The combination of bad weather from last Friday through Monday and new FAA rules on pilot fatigue forced JetBlue to essentially shut nearly its entire operation in New York and Boston from Monday afternoon to midday Tuesday.
The airline said it will compensate about 150,000 affected passengers with $50 credits or 5,000 frequent flier miles for each canceled flight. It said it will also review compensating stranded customers for their out-of-pocket expenses.
JetBlue (JBLU) said it is still working to rebook the affected passengers who still need to travel on new flights and it expects to complete the booking process by Thursday. But many of those passengers say they are being told it could be the weekend before those flights actually take place.
The airline's Facebook page was laced with comments from passengers angry about the compensation plans, and about JetBlue not moving faster to get passengers to their destinations on other airlines if necessary.
"JetBlue needs to seriously reconsider its position. Will not reimburse our expenses, will not book on another airline and can't get us home from Orlando until Thursday!!" wrote one customer. "This after deleting our reservation and not proactively rebooking our flight as stated in the flight cancellation email. This after calling over 13-hour period and finally getting the honor to hold for nearly two hours in the middle of the night. Until now we were loyal fans."
Some passengers complained that the JetBlue website was not keeping them up to date about cancellations, forcing many to go to the airport to learn that their flights had been canceled. Others wrote about the site dropping their reservations.
JetBlue spokesman Anders Lindstrom said that there were some IT problems with the site earlier in the week due to a surge in traffic but that those problems had been fixed.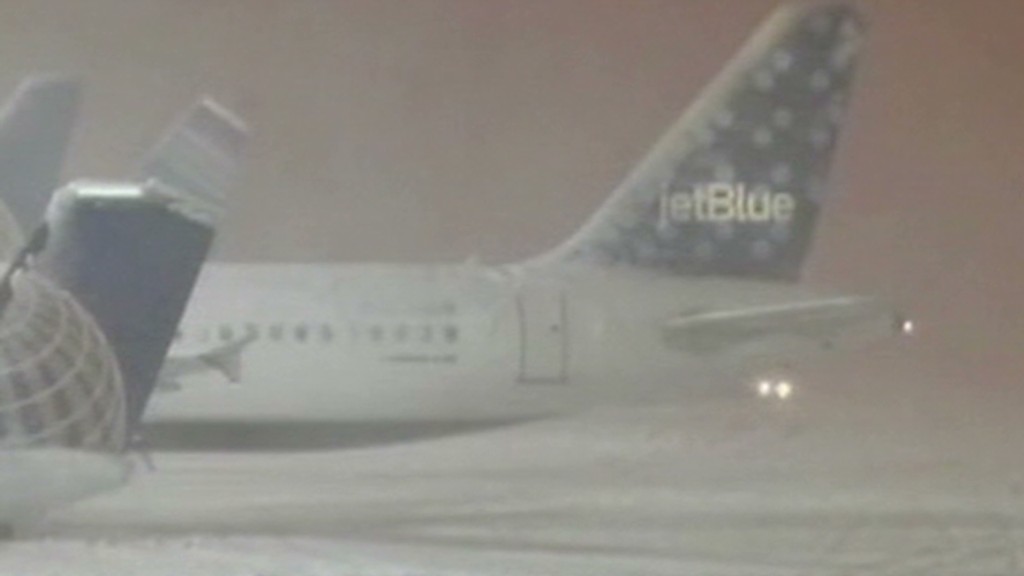 Customers said they were not satisfied with the compensation.
"Do the right thing JetBlue reimburse the customers you have inconvenienced and give them two free tickets," wrote another passenger. "I'm sure you guys are thinking that way. No more thinking about it just do it."
Another passenger wryly wrote: "Hi JetBlue please call me to apologize for the past 4 days. The estimated wait time for me to answer is 3 hours and 30 minutes."
Related: Compensation for those caught in the JetBlue vortex
But there were some customers defending the airline in their postings as well.
Indeed, one travel industry expert said he believes most JetBlue customers will continue to fly with the airline in the future, despite the problems.
"Consumers have very short memories," said Mark Murphy, founder of TravelPulse.com. "JetBlue is mostly a leisure travel airline. If they did that to me as a business carrier, I would book away from them. But leisure travelers are really price driven. As long as the price works, they'll get the customers back."
JetBlue has developed a reputation for good service in its 14-year history, despite some high profile problems.
In the first three quarters of 2013, U.S. Transportation Department stats showed JetBlue had the fourth lowest rate of passenger complaints in the industry, behind only Southwest Airlines (LUV), Alaska Airlines (ALK) and Delta Air Lines (DAL).
JetBlue's rate of 0.67 complaints per 100,000 passengers is a fraction of the complaints of some of its rivals -- for example United Airlines (UAL) had 2.3 complaints per 100,000 passengers. JetBlue also had one of the lowest rates of canceled flights, according to DOT data.