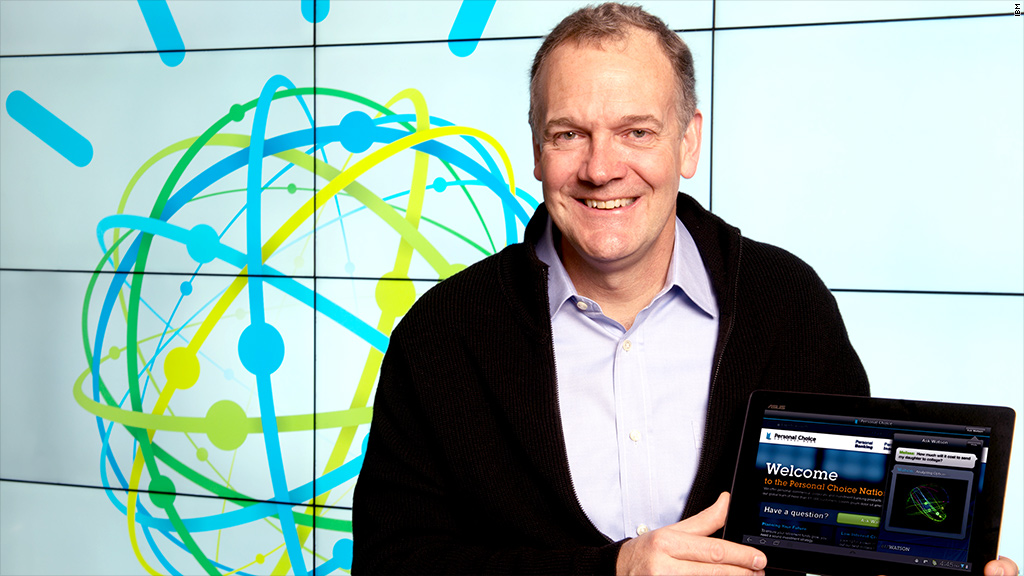 Remember IBM's Jeopardy-winning Watson computer? It'll soon be your co-doctor, personal shopping assistant and much more.
IBM (IBM) has big plans for Watson, artificial intelligence that can understand questions and gets smarter by the minute.
The company announced Thursday it's investing more than $1 billion to create the Watson Group, a 2,000-employee division that will be housed in IBM's own building in New York City's East Village. That includes $100 million Big Blue will use to fund startups that launch creative uses for Watson.
But there are already major players lined up to use Watson. IBM unveiled a partnership with DBS, one of Asia's largest banks, to have Watson analyze financial research and help deliver personalized investment advice.
Related story: New BlackBerry CEO may have golden touch
The world also got a closer look at how two top hospitals, Memorial Sloan-Kettering Cancer Center and the Cleveland Clinic, have had physicians teaching Watson to recognize different types of cancer and treatments. The goal is to one day soon -- maybe even in 2014 -- tap Watson's learning power to deliver better, personalized care to patients.
"This will change the face of healthcare," said IBM CEO Virginia Rometty at Thursday's event. "This is a new era of machine-human collaboration."
So what is Watson exactly? It's a computer system that learns by reading books, articles, or whatever you feed it.
"It's learning to reason, to think through things. And even when it reads contradicting information, it has to sort that out, just as we do," said Mike Rhodin, who leads the new Watson Group unit.
Show it a patient's medical records, and Watson can tell you it's 95% certain that one type of chemotherapy is better than all other options.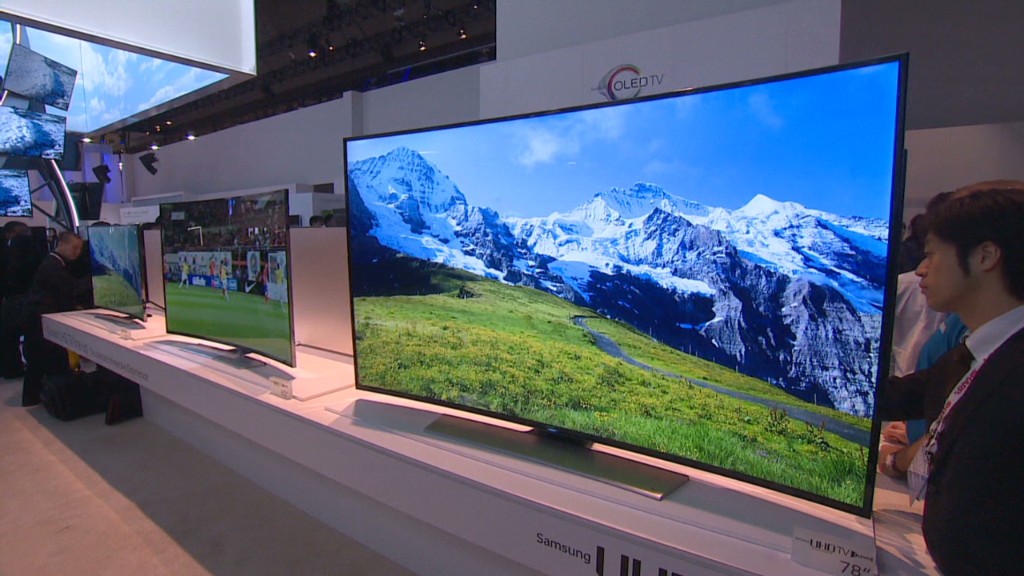 But it's more than just advice, explained José Baselga, Sloan-Kettering's chief physician. Watson can do what other doctors can't: digest and remember vast amounts of data and keep up to date on the latest research. For example, Watson could analyze patients' health backgrounds well enough to warn against treatments that might have a rare but deadly side effect.
There also isn't just one Watson. There are several dozen versions that IBM can tailor to a specific industry or topic. Most live in IBM's server farms across the country. But they can live anywhere, because IBM scientists have made the Watson system so efficient that it can occupy just a small portion of a computer server.
Related story: WWE launches its own streaming network
Then there's the potential for Watson to help consumers. Unlike other all-knowing computer networks, like Google (GOOG), Watson can answer normally-phrased questions with relevant answers.
Suddenly, everyone can get a personal assistant. Rhodin said that would do away with operators on company call centers. Fluid, a software company, is betting that online shopping will improve if customers can just pose questions as they would with a sales associate.
That's particularly helpful with complicated purchases. Shopping online for the proper camping gear requires serious research and advice from experienced hikers. Fluid is already working with The North Face so customers can ask detailed queries (like "What's the right backpack on a 4-day trek through the Northwestern wilderness?" for example) and get relevant answers.
In similar fashion, Terry Jones, who founded Travelocity and Kayak, says he's working on revolutionizing the travel industry again. This time, he hopes to use Watson to create software that can mimic a travel agent. Imagine a website that accepts statements like, "I need an adventurous, sunny vacation with my spouse and kids," and spit out an answer like, "How about Costa Rica?"
Everyone involved says teaching Watson is the biggest challenge. Right now, it takes several meetings between engineers and business executives to make sure they're teaching Watson correctly. Partners say it can be costly and annoying, but they expect the process to ease up as Watson gets smarter.
"It's not like buying a new copy of Microsoft Office and putting it on people's desktops," Rhodin said.
But IBM considers it a success so far. Watson-related business are growing rapidly enough that IBM revised its 2015 goal of revenue from "business analytics" from $16 billion to $20 billion.