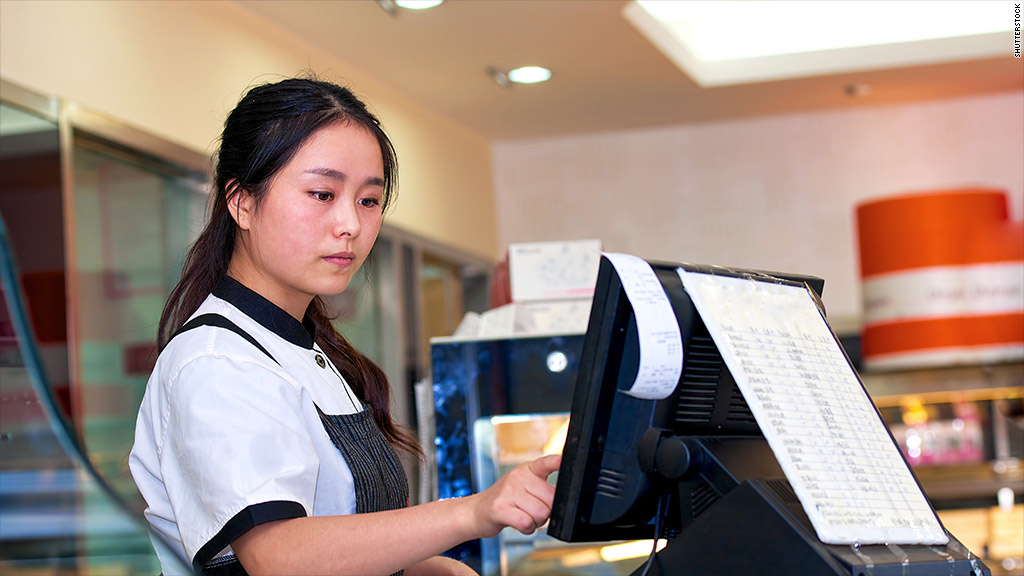 Four years into America's economic recovery, the biggest gains in job growth continue to come from low-wage sectors such as retail and food service, while jobs in higher-paying sectors such as health care and information remain scarce.
On Friday, the government's monthly jobs report showed that 55,000 positions were added in the retail sector in December, including clothing sales and workers at supermarkets and convenience stores.
The professional and businesses services sectors added a net of 19,000 jobs in December. But that gain came with a big boost from the 40,000 additional temporary positions that offset a 25,000 decline in accounting and bookkeeping jobs.
This isn't just a one-month trend. For the year, the retail sector added an average of 32,000 jobs per month, second only to professional and businesses services, which added 53,000 per month.
Job growth in health care, meanwhile, averaged 17,000 a month, while construction added just 10,000 jobs monthly. The information sector didn't add any jobs.
"We're still waiting for the middle and higher wage earners to participate in the jobs recovery," said Russell Price, senior economist at the financial services firm Ameriprise.
Related: 2013 ends with weakest job growth in years
That's problematic because it means there's less money in consumers' pockets that they can then go out and spend, furthering economic growth.
The average weekly wage for a retail sales employee in 2012 was $576, according to the Bureau of Labor Statistics. For a registered nurse, it was $1,097.
Price said it's natural that companies hire for lower wage positions during the early stages of a recovery because there's less risk. This past recession was so severe, he said, that four years since the jobs recovery began could still be considered the early stages.
He believes things will get better in 2014, pointing to recent strong readings in manufacturing activity, consumer spending, the European economy and a reduction in so- called "fiscal headwinds" -- the risks emulating from Washington, including the drag imposed last year by the expiration of the payroll tax cut.
Other economists aren't so sure.
The lack of hiring for higher-wage positions "indicates businesses aren't willing to make a significant commitment to move forward," said Sung Won Sohn, an economist at California State University-Channel Islands' Smith School of Business.
Sohn believes businesses aren't willing to make a hiring commitment because there's still too much uncertainty -- over everything from global economic growth to the political situation in Washington.
"Who knows, this spring there may be more shenanigans over the debt-ceiling debate," he said. "These uncertainties don't just fall off. If they do diminish, they diminish gradually."