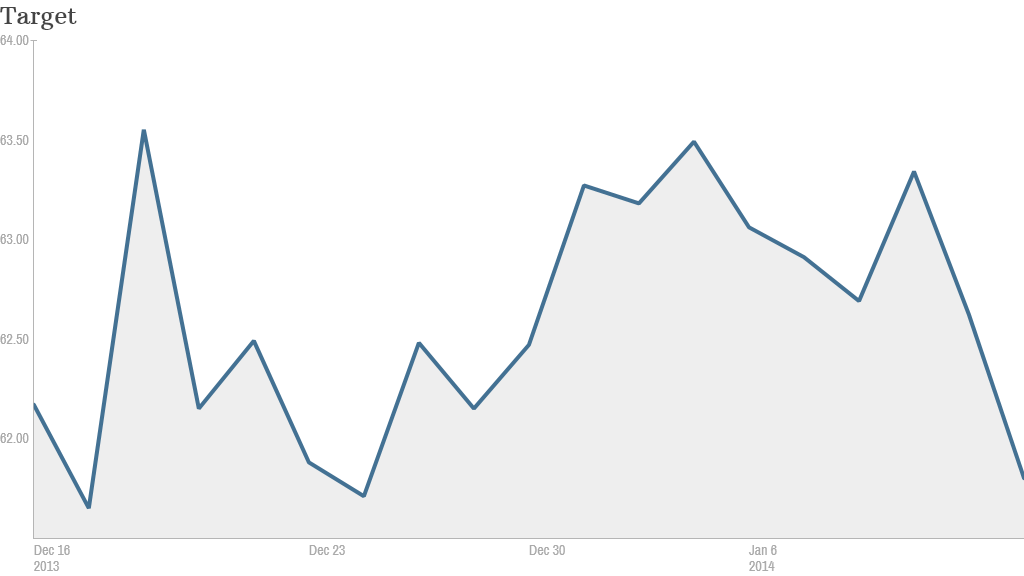 Target is working to woo back customers, but what about investors?
The retailer lowered its fourth quarter earnings estimates Friday, revealing that its massive data breach resulted in "meaningfully weaker-than-expected sales" in December.
Target (PBCFX) shares are down about 2% since that announcement. And they're down about the same amount since Target first disclosed the hack late last month.
That's hardly catastrophic. And Wall Street can't seem to agree on what financial damage the hack attack will ultimately wind up causing for Target.
According to Michael Montani, an analyst with ISI Group, the issues surrounding the data breach are already built into the stock price.
"Perhaps this negative news could form a good base where the stock starts to move up again," said Montani, who gives Target a "buy" rating.
He cites strong cash flow and an attractive dividend yield of 2.7% as reasons to own the stock.
Related: Target and Neiman Marcus hacks: The latest
But many others disagree.
"Target violated a bond it built with the customers over many years," said Brian Sozzi of Belus Capital Advisors. "It's going to take a while to gain that trust back."
Sozzi thinks Wall Street is underestimating what he calls the "Main Street mob."
"I've talked to a lot of Target customers," he said. "People are afraid that money could be extracted from their account by someone sitting overseas hitting a button on their computer."
But regaining customers' trust is just part of the equation. The financial hit to the company could really sting.
In addition to spending heavily to update its technological infrastructure, Target will have to set aside money for possible lawsuits, government enforcement proceedings, and reimbursements to customers for credit card fraud.
Goldman Sachs estimates that will cost Target nearly $1.2 billion. Still, Goldman is bullish on Target.
Wall Street's most influential investment bank forecasts a roughly 16% rise in the stock by the end of the year, driven by a growing U.S. economy and strong loyalty from teen shoppers.
Related: Target hack is a wake-up call on privacy
But even beyond its hacking problems, Target had a tough 2013. The retail giant struggled to gain traction in Canada and reported third-quarter earnings in November that badly missed analysts' forecasts.
For the full year, Target shares rose about 7%. That's respectable. But rival Wal-Mart (WMT) gained more than 15%. And other retail stocks did even better. The SPDR S&P Retail (XRT) exchange-traded fund surged more than 40% in 2013.
The recent weak performance could put Target's stock buyback in jeopardy, according to analysts at Deutsche Bank.
If the company is able to move on quickly from its hacking problems, then Target's stock probably should bounce back. But that's not yet certain. And the longer the problems linger, the more worried consumers may be about going to Target.
"The brand has been the largest enduring asset, so the uncertainty is how quickly, and to what extent, the company can repair its reputation," analysts from William Blair said in a research note Friday.