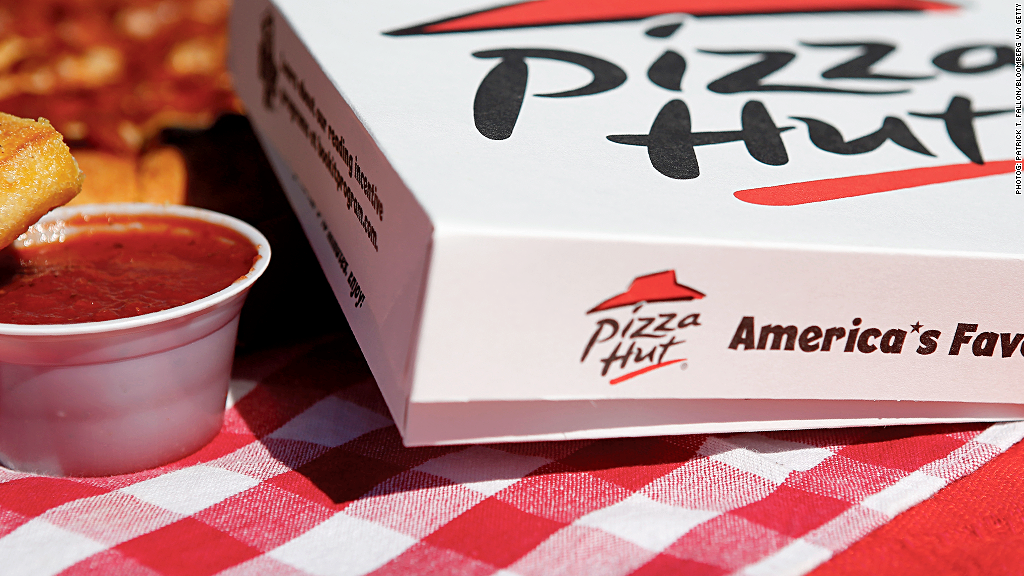 The new frontier in the pizza chain wars: single slices.
Pizza Hut, one of the top-three U.S. pizza chains, entered the single-slice pizza arena Tuesday at its York, Neb., and Pawtucket, R.I., locations.
If customers like it, Pizza Hut will eventually expand to locations nationwide, said spokesman Doug Terfehr.
Terfehr called the move a step toward "the next generation of what the restaurant can be like when it comes to ordering pizza."
Pizza Hut rival Domino's already sells pizza by the slice at 50 of its nearly 5,000 locations nationwide.
Ordering a single slice of pie is nothing new at many smaller pizza shops, but it's uncharted territory for the chains. The big three -- Pizza Hut, Domino's (DPZ) and Papa John's (PZZA) -- sell about one-third of the nation's pizza, according to data compiled by CHD Expert and reported by PMQ Pizza Magazine. Pizza Hut holds the largest slice, with about 15%.
For years, pizza chains have competed with each other by introducing different crusts, developing side dishes, simplifying online and mobile ordering, and slashing delivery time.
But they face competition from medium-sized made-to-order pizza shops, along with the likes of Subway, which offers personal-sized pizzas, and Chipotle (CMG), which is testing pizza outlets that offer 10 different pizza combos as well as customer created ones.
They also compete with other convenient options such as supermarkets that offer prepared foods, and niche pizza shops that offer healthy options.
Related: Pizza delivery by drone? Not happening
Terfehr said single slices at Pizza Hut would give customers another option and wouldn't disrupt the current business model, which focuses on fast delivery of pizza, including options like cheese-stuffed crusts. He said the Nebraska and Rhode Island restaurants were picked because of their "diverse locations" and different customer tastes.
Pizza Hut, KFC and Taco Bell are all owned by Yum! Brands (YUM).