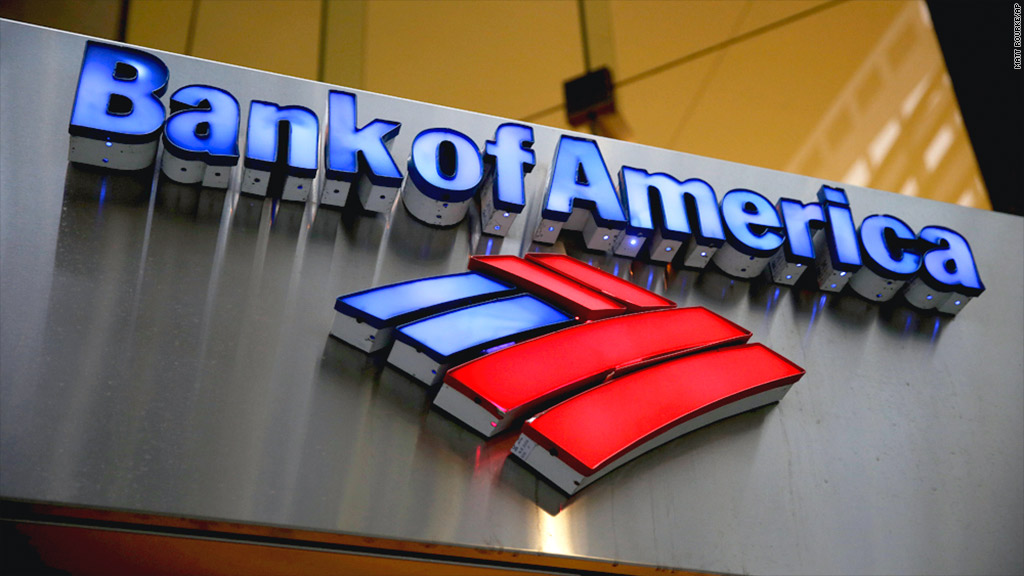 Bank of America impressed Wall Street Wednesday with better-than-expected earnings and revenue for the fourth quarter, continuing a trend of solid results from the nation's largest banks.
The bank reported net income of $3.4 billion, or 29 cents per share, on revenues of $21.7 billion. Analysts had expected Bank of America to post a profit of 28 cents per share on revenues of $21.08 billion, according to FactSet. The results were also a significant improvement from the same period a year ago, when the bank took a charge related to a nearly $12 billion settlement with Fannie Mae (FNMA).
Shares of Bank of America (BAC) climbed 3% to their highest levels since May 2010. So far this year, the stock is already up 11%, ahead of all its major rivals. Citigroup (C) and Wells Fargo (WFC) are up between 2% and 5%, while Goldman Sachs (GS) and Morgan Stanley (MS) are barely higher. JPMorgan Chase (JPM) is in the red for the year.
Bank of America CEO Brian Moynihan attributed the strong numbers to solid performance in the bank's "core businesses."
The company's consumer and business banking division, which includes branch banking and loans for small businesses, reported a $2 billion profit, up nearly 40% from a year earlier.
Bruce Thompson, the bank's CFO, added that Bank of America is beginning 2014 with one of the strongest balance sheets in the company's history.
"Capital and liquidity are at record levels, credit losses are at historic lows, our cost savings initiatives are on track and yielding significant savings, and our businesses are seeing good momentum," Thompson said in a press release.
Bank of America was the third of the big six banks to report earnings this week. JPMorgan and Wells Fargo also topped forecasts. But all three banks reported significant drops in mortgage lending due to rising interest rates. Bank of America said Wednesday that mortgage origination volume plunged 46% from the fourth quarter of 2012.
However, improving credit quality has helped bolster results at all three banks so far. Bank of America's provision for credit losses, the funds set aside for the allowance of bad loans, was reduced to was $336 million from with $2.2 billion a year earlier.
Bank of America also reported solid revenue from its fixed income, currency and commodities trading arm. Revenue from stock trading also rose during the quarter. Investment banking was also a strong point.
Bank of America, the second largest U.S. bank by assets, has been aggressively cutting costs since Moynihan took the helm in 2010, largely by reducing its headcount. As of the end of 2013, the company had 242,117 full-time employees, down 9% from a year ago.
Most of the reductions were made in units that produce new mortgages and deal with delinquent mortgages, as well as by shuttering bank branches.
The bank expects to continue cutting costs this year and in 2015, by closing more bank branches.
Unlike some of its peers, including JPMorgan and Citigroup, Bank of America has yet to settle with the Federal Housing Finance Agency over allegations that it misled investors about the quality of mortgage-backed securities sold prior to the financial crisis. Moynihan seemed to allude to that in the press release by saying that "work remains on past issues."
Plus, the bank set aside $2.3 billion for litigation expenses during the quarter, more than twice as much the amount it set aside a year ago.
Still, Moynihan remained optimistic.
"We've been on a journey of simplifying our company," Moynihan said during a conference call with analysts. "As a result of all this work, earnings have improved significantly, but we still have not approached the true earnings potential of Bank of America."
For the full year, Bank of America delivered a profit north of $10 billion, its best performance since 2007.
Big banks will continue to open up their books this week. Citigroup and Goldman Sachs are scheduled to report earnings Thursday morning, while Morgan Stanley is slated for Friday.