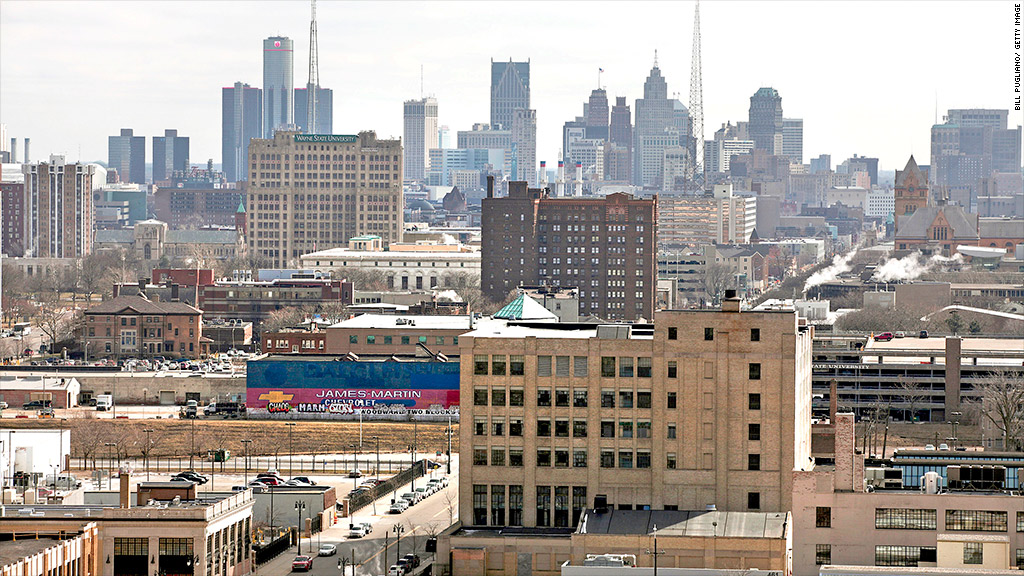 The judge in the Detroit bankruptcy case struck down a controversial proposed settlement in which the city would have paid two big banks $165 million.
In 2009 the city reached a deal with Bank of America (BAC) and UBS (UBS) promising the banks the future flow of casino tax money in return for $300 million. Judge Steven Rhodes ruled that the deal likely would not be allowed to stand under the city's bankruptcy reorganization. He also rejected a proposed settlement would have resolved the original deal for $165 million, even though the bankruptcy court's mediator had recommended that Rhodes approve the settlement.
The decision was a major victory for the city's employees and retirees who face deep cuts in pension benefits as part the bankruptcy. It means that the big banks are essentially unsecured creditors along with the retirees. Had the judge upheld the settlement, the banks would have collected money ahead of the pension plans as part of the bankruptcy process.
"The decision is the right decision," said Mark Diaz, president of the Detroit Police Officers Association. "It's an important victory."
Spokespeople for Bank of America and UBS declined to comment on the decision.
Related: $330 million deal could save art in bankrupt Detroit
Kevyn Orr, the Emergency Manager who is overseeing the city's finances, said he was reviewing the decision.
Michael Sweet, a bankruptcy attorney and an expert in municipal bankruptcies, said he was surprised by the judge's move, given the mediators' recommendation to approve the deal.
Related: Casinos, not cars, are keeping Detroit afloat
"It sounds like what the judge is saying is you can put as much lipstick on the pig as you want, but it's still a pig," he said. Sweet said the banks now have a couple of very unattractive alternatives open to them.
"They're left with taking a much smaller share [of funds] as an unsecured creditor, or appealing at extraordinary cost and an uncertain outcome," he said.
Rhodes did allow the city to go ahead with a separate plan to borrow $120 million from Barclays (BCS) to help fund ongoing operations. That loan will also be paid with future casino tax collections.