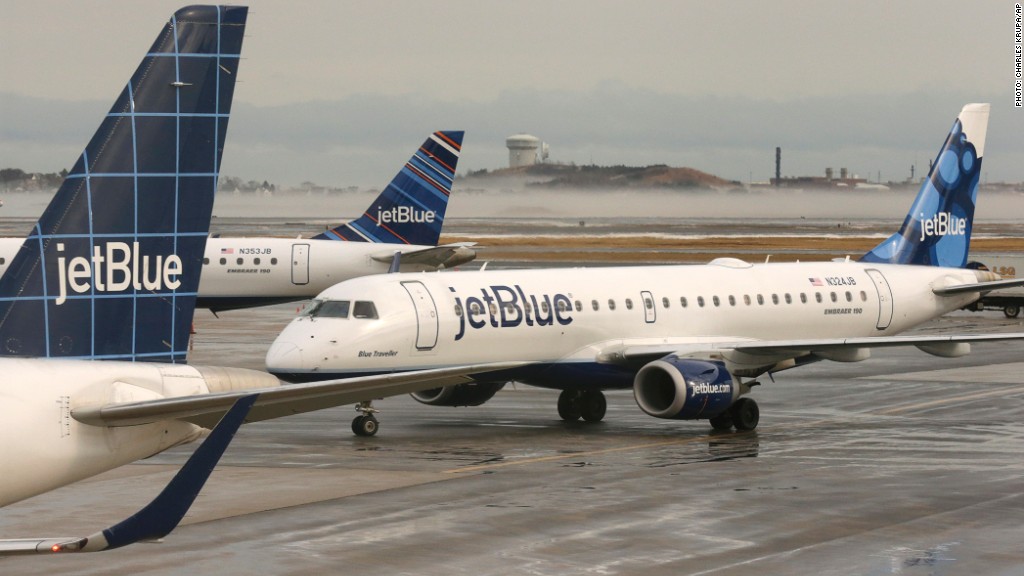 JetBlue Airways' tough January got more difficult Tuesday as the airline was forced to cancel a large percentage of its flights once again.
JetBlue (JBLU) said it started canceling flights on Monday evening because of an approaching storm heading for its hubs in New York and Boston. On Tuesday, it canceled 300 flights out of its daily schedule of 850.
Additional cancellations were slated for Wednesday morning, some because planes were unable to return to Northeastern airports that were closed Tuesday. All told, the airline expected to cancel 475 flights and return to operations by Wednesday afternoon.
"We're more affected than others due to concentration in the Northeast," said JetBlue spokeswoman Jenny Dervin. "But this is an industry event, not a JetBlue event."
There were widespread cancellations being reported at other airlines, and the FAA had ordered a ground stop of all traffic at Newark Liberty Airport. But no airline has as much of its operations concentrated in the Northeast as JetBlue.
Related: Snow can't stop hot airline stocks
In early January bad weather in New York eventually led JetBlue to shut down virtually all of its flights in New York and Boston, which account for about 45% of its traffic. It ran out of pilots with enough hours of rest to staff its flights. When it resumed a day later it was left with angry customers unable to be booked on other flights, in some cases for almost a week.
That won't be a problem this time, Dervin said.
"We'll be able to get customers where we need to go a lot easier because we're not returning from a holiday travel period," she said. "That was the biggest factor in difficult recovery from the last event."
Related: Pilot safety rules could cut flights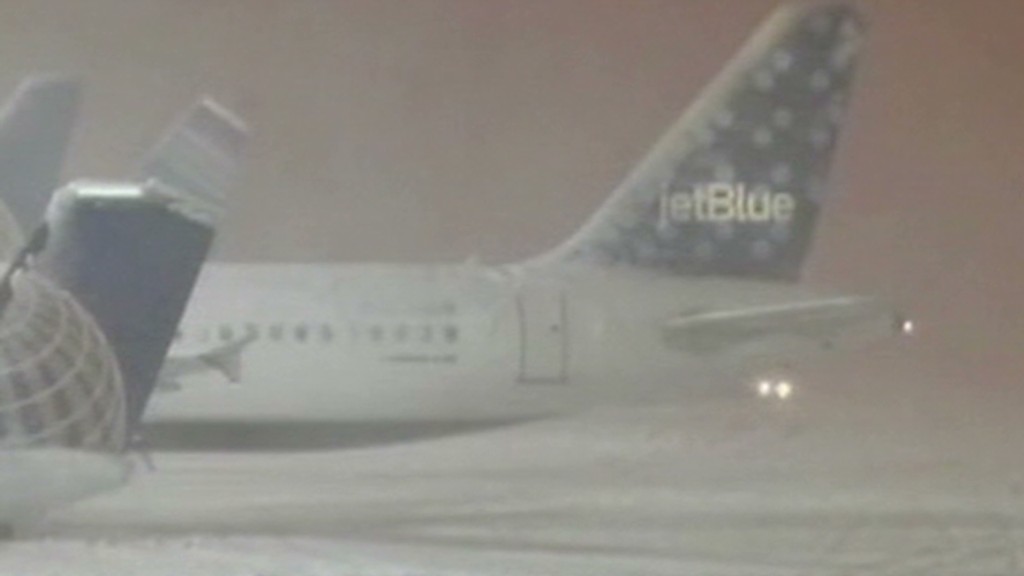 Tuesday's storm was forecast to dump between 3 to 9 inches of snow from Virginia all the way up to Massachusetts. But it is a faster moving storm than the one that snarled air traffic for days in early January, so the airline should be able to recover more quickly.
JetBlue and other carriers are also waiving rebooking fees for Northeast travelers who want to change their flight plans, along with refunds for passengers who don't make their trips on the airline.