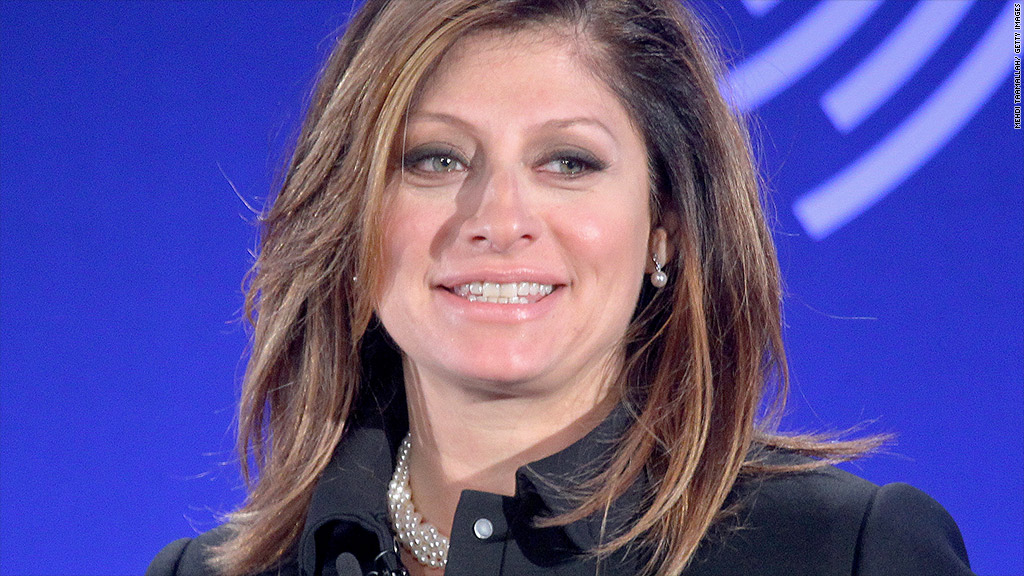 Maria Bartiromo, the veteran television interviewer, will officially join the Fox Business Network next week after 20 years at its bigger rival, CNBC.
The move has been widely expected since Bartiromo left CNBC in November. But for contractual reasons, it was formally announced for the first time on Wednesday.
It reunites Bartiromo with her former boss Roger Ailes, who ran CNBC for a period in the early 1990s when she was a rising star in the business news world.
Fox said that Bartiromo will host two programs: a weekday program during "market hours" on Fox Business and a Sunday morning program on Fox News. Both programs will begin by the end of March.
For Bartiromo, the weekday program will be a return to form: at CNBC, she anchored "Closing Bell" from 3 to 5 p.m. Eastern. (At Fox Business she may anchor earlier in the day.)
But she'll have a smaller audience: "Closing Bell," as Fox's own news release acknowledged on Wednesday, was "top-rated," a title that the six-year-old Fox Business has failed to take away from CNBC. Bartiromo may represent Ailes' best chance yet to change that.
Related: 5 things we've learned about Fox's Roger Ailes
Then again, business news on television has been weak across the board for a while now, which some attribute to trends like the availability of financial information on the Internet.
The unnamed Sunday morning program on Fox News, which will focus on business, will expose Bartiromo to a wider audience than Fox Business can supply. Fox News draws about a million viewers on Sunday mornings, while Fox Business draws fewer than 100,000. (Bartiromo previously had a syndicated weekend program called "On The Money.")
Bartiromo's first day at Fox will be February 1.
In a recent interview, Ailes said that he and Bartiromo had spoken casually about a possible spot for her at Fox "for last five years, off and on, but we don't see each other very often."
He added, "I finally decided that she'd be terrific in our lineup, and it happened to fit her timing and her contract. And she'll be seen on Fox News. She's a star, and she'll do some fill-in anchoring."
In a statement on Wednesday, Ailes said, "I tapped Maria to report live from the floor of the New York Stock Exchange while at CNBC, and I am delighted to have her join me once again alongside our star lineup at Fox Business."