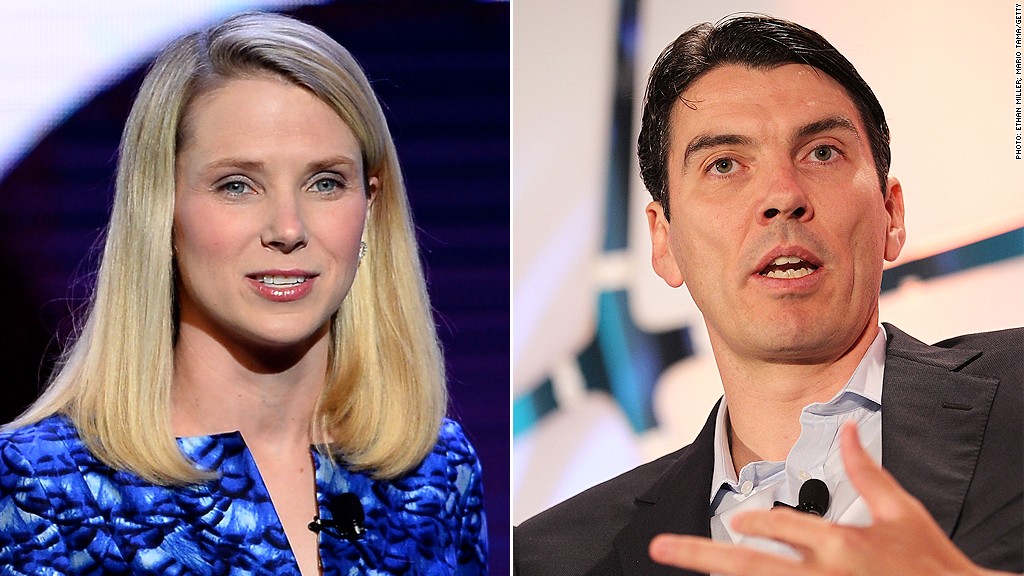 AOL's stock has soared recently, partly on rumors that it might merge with Yahoo. Though the two similar companies would seem to make a good marriage, their combined struggles could mean an AOL-Yahoo merger wouldn't be a match made in heaven.
Neither company has suggested a deal is in the works. But there has been a lot of chatter about it -- mostly from a Toronto-based hedge fund manager with stakes in both firms.
"There's no question in my mind," said the fund manager, Ironfire Capital's Eric Jackson. "These companies are going to merge."
AOL (AOL) is up 5% over the past week -- though some of that is also due to the company selling its majority share in the money-losing local news site Patch.
Yahoo (YHOO) and AOL do seem like a good pair: Both are in the same business of selling online ads pegged to news or entertainment content. A new, combined company could reduce costs by cutting staff, since one advertising team could sell the content of both companies, said Jackson.
AOL owns some potentially lucrative media brands, including the Huffington Post, TechCrunch and Engadget. And after Yahoo's Editor-in-Chief Jai Singh stepped down last week, AOL content chief Arianna Huffington would seem to have an office ready for her at Yahoo.
Related: Ousted Yahoo exec's golden parachute may be a record
Yahoo CEO Marissa Mayer is under pressure to grow the company's core advertising business. Though Yahoo's stock has soared lately, that has more to do with Yahoo's stake in some lucrative Asian assets than the performance of its ad sales, which is sluggish.
"It would be a way of saying 'we are growing,'" said Jackson, who believes Yahoo could buy AOL tax-free by using the proceeds from a sale of Yahoo Japan. "I think it will be too tempting to pass up."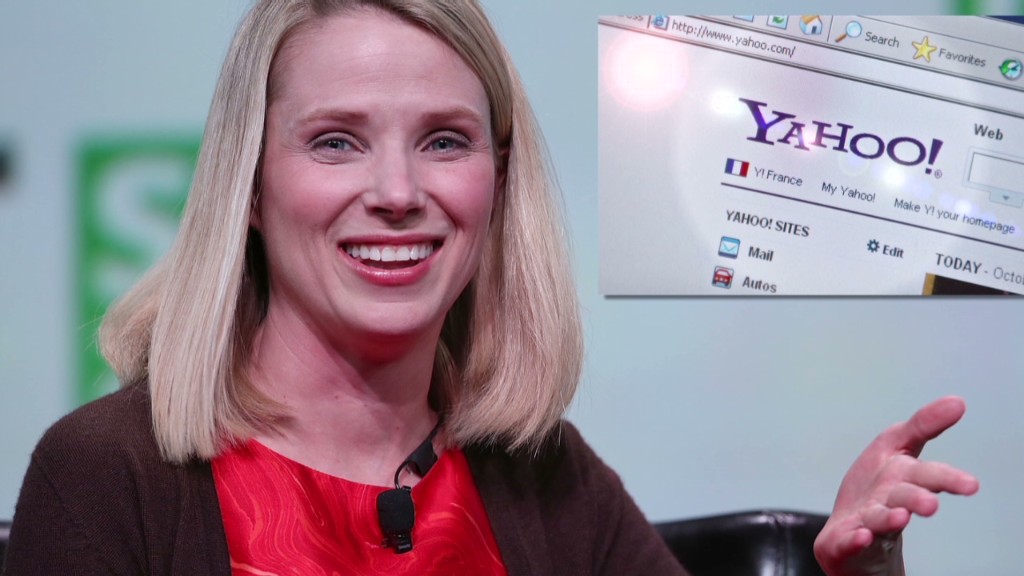 Still, some analysts don't think a deal is likely.
First, there's the matter of what exactly Yahoo would be getting. The main challenge for both firms, analysts say, is to make more money off the millions of people that already visit the sites. Increasing an audience is important, which the AOL deal would do, but the bigger issue is that Yahoo and AOL haven't been selling ads to their existing customers effectively.
This is especially important in the face of growing competition from the likes of Google (GOOG) and Facebook (FB), which tend to have more information about their users and are hence more attractive to advertisers.
"Yahoo would be buying content, and we're not sure what value that would add," said Rick Summer, a senior equity analyst at Morningstar. "We'd be very lukewarm on the deal."
And then there's the question of leadership. Both Mayer and AOL CEO Tim Armstrong are high-profile CEOs with strong personalities. Yahoo recently fired its chief operating officer, Henrique de Castro, leaving a potential opening for Armstrong. But industry analysts say it's unlikely that he would want to take a No. 2 role.
"Who's going to step down?" asked Victor Anthony, an internet media analyst at Topeka Capital Markets. "They both have something to prove, and neither one has really proved it yet."
A Yahoo and AOL pairing looks good on paper, but a merger might just make two struggling companies into one, bigger struggling company.