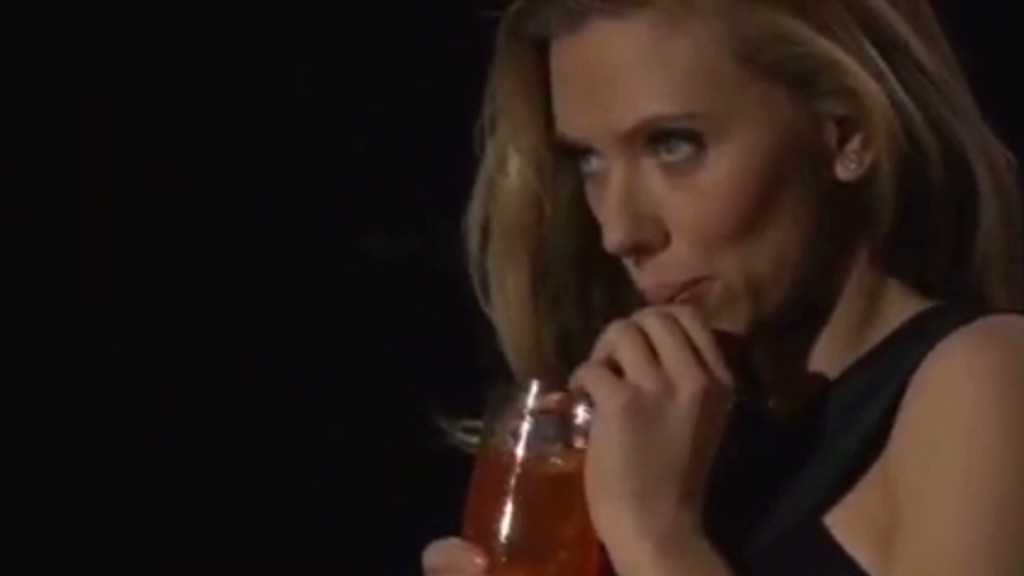 SodaStream tweaked its rejected Super Bowl ad at the request of Fox. Scarlett Johansson gets to stay, but references to competitors Coke and Pepsi are out.
"One of the lines of the ad was asked to the removed," wrote SodaStream spokeswoman Nirit Hurwitz, in an email to CNNMoney, identifying the rejected line as: "Sorry, Coke and Pepsi."
The SodaStream ad was initially rejected by Fox, which will broadcast the Super Bowl on Sunday. But now that Coca-Cola (KO) and PepsiCo (PEP) are on the cutting room floor, Hurwitz said that the ad is cleared to air.
"A censored version of the ad with Scarlett Johansson will therefore appear on game day, and will exclude this mention of competitors," she said.
Related: ScarJo sizzles in SodaStream spot
A spokesman for Fox declined to comment.
SodaStream (SODA) makes machines for producing carbonated beverages at home. The Israeli company's original Super Bowl ad for last year was also rejected by CBS (CBS) for touting its use of reusable bottles as greener than the bottles used by Coke and Pepsi.
"With SodaStream, we could have saved 500 million bottles of game day alone," said last year's rejected ad, which depicted deliverymen for Coke and Pepsi making a mess with exploded bottles.
Related: Behind the scenes of Apple's '1984' ad
Advertisers are paying up to $4.5 million for a 30-second spot, a record high. As Super Bowl ad spots have grown more expensive, some advertisers have drummed up cheap publicity by submitting ads that were promptly rejected, often because of raunchy or inappropriate material.
SodaStream spokesman Yonah Lloyd denied that the ad was intentionally submitted with the purpose of being rejected. He told CNNMoney that the line, "Sorry, Coke and Pepsi," which is spoken in the uncensored version by Johansson, "is a legitimate form of comparative advertising."
"SodaStream is a real player in the carbonated beverage industry, competing with Coca-Cola and Pepsi," said Lloyd, in an e-mail. "We want consumers to know that there is a smarter alternative to these Big Soda companies, and we see Fox's directive to be nothing less than pure censorship."
Related: Boycotting SodaStream: Righteous protest or empty gesture?
SodaStream is a fast-growing company that inspired a boycott from some consumers because it has a factory located in the Israeli-occupied West Bank. Defenders say the company employs Palestinians and Israeli Arabs, and houses both a mosque and a synagogue.
In the 48th Super Bowl, the Seattle Seahawks will face the Denver Broncos at MetLife (MET) Stadium in East Rutherford, N.J.