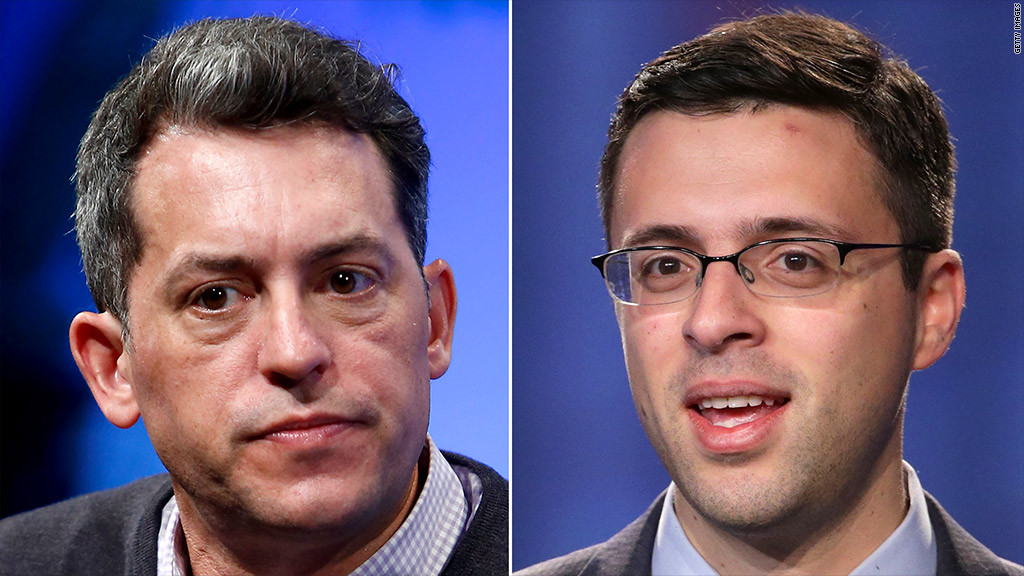 Ezra Klein's announcement last week that he was leaving The Washington Post sparked a flurry of speculation about where he'd set up shop. On Sunday night he answered the question in a blog post: "Vox is our next."
The idea is a modern news site -- heavy on context and explanation -- and he's partnering with Vox Media, which runs a portfolio of digital publishers, including the Verge and SB Nation.
"Today, we are better than ever at telling people what's happening, but not nearly good enough at giving them the crucial contextual information necessary to understand what's happened," Klein wrote. "Our mission is to create a site that's as good at explaining the world as it is at reporting on it."
To better understand the game plan of the venture, codenamed "Project X," I reached out to Vox CEO Jim Bankoff.
I'm guessing that you've been an observer of Ezra and Wonkblog for some time. What would you say he's figured out that other journalists haven't?
At Vox we are attracted to talented journalists and storytellers who know how to engage audiences that first and foremost consume their media on the web and mobile.
We are creating media brands that appeal to the wired (and wireless) generation. This medium is a craft onto itself, as is TV, radio and print.
The best practitioners combine the timeless qualities of compelling voice, truth telling and hard work with a native application of the many powerful tools (data, social, multimedia to name a few) that digital offers.
When did you and Ezra start speaking about a possible business venture? What interested you in it?
We've been talking on and off for a few months now, but I think it's safe to say that not only did we share a vision around the potential for a new kind of news site, but it was also apparent what a strong cultural fit it would be. We can do great, groundbreaking work and have fun doing it.
Ezra reportedly sought $10 million plus from The Post for a new venture; is Vox committing that amount to this?
We are not disclosing our investment, but suffice it to say these rumored amounts are way off and way high. Moreover, Vox already has many of the core pieces in place, including a leading proprietary modern media platform, Chorus, as well as a full set of creative brand advertising products, killer sales, technology, design, business teams, etc.
So Ezra and team will be already starting with a very strong infrastructure.
Is the built-in infrastructure, etc the main reason why the "eight figure investment" figure is way high?
Well, as I said, I never heard of an eight figure investment being contemplated to begin with (beyond unsourced rumors that are way off), but our existing infrastructure does contribute to making this initiative stronger and more cost efficient as it does with our purchase of Curbed, Eater and Racked.
How many staffers will you and Ezra seek to hire for the new site?
Haven't determined an exact number, but we are going to be aggressive about recruiting a talented team of staffers that we expect to grow over time as it did with The Verge and our other brands.
At first blush I don't know how many connections there will be between Project X and Vox's other sites. Are there supposed to be? Or in your mind is it a free-standing new site that just happens to be bankrolled by Vox?
The connections are more behind the scenes on the product platform, sales, and analytical infrastructure sides than forward facing. We believe in building big consumer media brands in major categories. This one will be our 7th along with SB Nation (sports), The Verge (tech/culture), Polygon (games), Eater (food/dining), Racked (retail/shopping) and Curbed (real estate/home).
While the properties focus on different topics, the audiences are very similar: sophisticated, web savvy, affluent adult audiences at scale that the brand marketers that we work with are seeking to engage.
Unlike portal sites and newspapers, we believe that vertical brands (when done well) command authority with audiences and advertisers that generalist sites do not. Although from a business perspective, we get tremendous efficiencies from our shared product and business platforms.
What's the revenue model for a site like this one; does it differ at all from your existing six brands because of the type of explanatory journalism content?
The revenue model is consistent with the overall Vox business model, which is to create experiences that connect brand marketers with the most valuable, sophisticated modern audiences.
We believe that premium brand advertising (as opposed to direct response oriented standard ad banners) is an enormous growth opportunity, but up till now, Web advertising has been lackluster for audiences and marketers.
We work with brand marketers, leveraging our technology, design and other capabilities to help them tell their stories to digital audiences at scale. We expect this site, like the others at Vox will garner a large, digitally savvy audience and feature high quality integrated advertising.
Additionally, like with our other brands, we see opportunity in other forms of experiential marketing and sponsorship models such as live events and conferences.