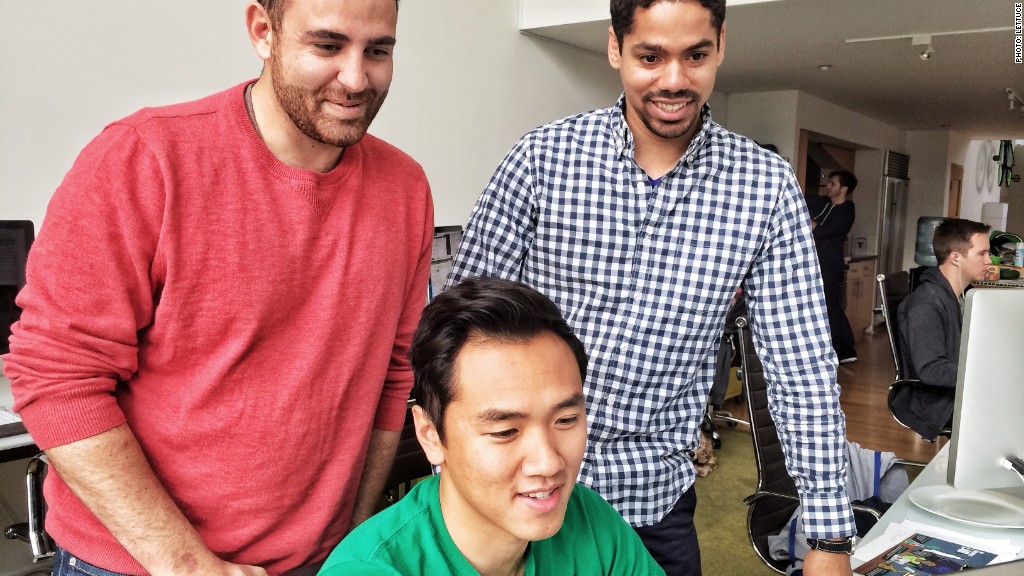 If your company had $750,000 in annual sales after just three years, would you switch to an entirely new business if a more promising idea came along?
Raad Mobrem did. Cofounder and CEO of Lettuce, a Los Angeles-based firm that makes inventory management software, he started out making dog toys -- and then realized there was even more demand for his company's in-house order system.
Not surprisingly, the toughest part of pivoting was simply deciding to do it.
"I've always been focused on doing one thing really well," Mobrem said. "So at first, it was hard for me to see demand for our software app as anything but a distraction from our 'real' business."
Mobrem started that business, called Dura Doggie, in 2008. As a mechanical engineering major at the University of California at Santa Barbara, Mobrem took an entrepreneurship course and got an A-plus on a business plan for a pet toy firm. With Frank Jones, a college friend who'd already graduated, the pair decided to make Mobrem's idea a reality.
Related: Hardest part of being the boss? Firing people
They did, and it took off fast, with Dura Doggie's pet toys on the shelves of more than 2,000 retail stores across the U.S., Canada and Asia. There was just one problem, and it was a big one.
"We were taking orders and processing them really inefficiently. It was all done on paper, so some orders weren't even legible," Mobrem said. Dura Doggie was also spending about $3.50 per catalog, which they gave away. "For a start-up that was trying to stay lean, it seemed crazy."
So Jones developed a mobile app that not only replaced the catalogs but also processed orders, tracked inventory and validated credit cards. It caught on.
"People kept coming up to us at trade shows to watch us do everything on iPads," Mobrem said. "One company offered us $50,000 to customize something similar for them."
Throughout 2010, those requests kept coming in. So in early 2011, Jones, who was Dura Doggie's chief technical officer, started spending all his time on the inventory-management platform, figuring out how to customize it for outside clients.
Related: The right way to leave your business behind
Mobrem was lucky in two respects. First, the cofounders found an eager buyer for Dura Doggie, so they were able to make a clean break without warehouses full of inventory to sell off. Second, the same three investors they'd had from the outset (one of whom is Mobrem's dad) stayed on board, committing nearly $2 million for Lettuce's launch.
Pivoting from one industry to a totally different one has been tricky.
"Be prepared for the rules to be unfamiliar," Mobrem advised. "Don't get discouraged if it takes some time to adjust."
One difference between dog toys and high tech, he said, is "the etiquette of approaching potential investors. In most businesses, you can cold call investors, but that isn't how it works in tech, where you can't get a meeting without first being introduced through a mutual acquaintance."
Another big adjustment: Tech employees, of whom Lettuce now has 16. "You have to treat software developers like rock stars," he said.
Unlike the workers who filled orders at Dura Doggie, software engineers "expect a lot of praise and recognition for their work," he explained. "They're proud of what they do, and they need to know that you appreciate it."
Related: The danger when one client is 80% of sales
Lettuce isn't profitable yet, and Mobrem won't reveal the firm's revenues. Still, he said the potential market for inventory-management software is so big, he's glad they made the change.
"If you see a way to get into a business that could be even bigger and better than the one you have now, be realistic," he said. "Take emotion out of it, put your fears aside, and just look at the numbers."
If he'd done that when Lettuce's first app showed promise, he would have taken the plunge "five or six months sooner -- which, in the software world, is a long time."