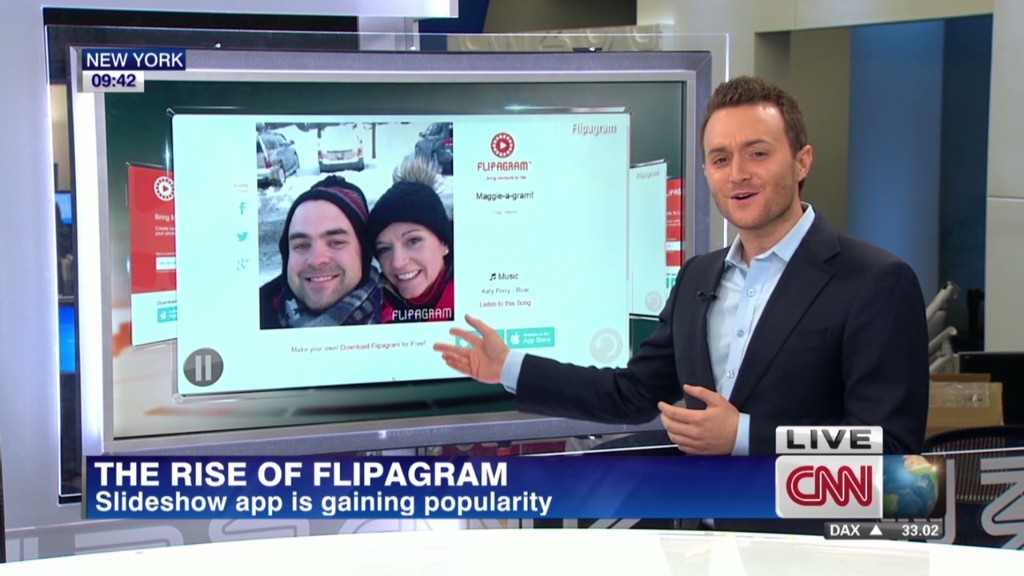 The most downloaded free app on iTunes right now isn't Facebook, Twitter or Snapchat -- it's Flipagram, yet another competitor in the increasingly crowded field of photo and video sharing apps.
Flipagram allows you to select multiple photos from your phone and create a short slideshow. Instead of just capturing a single moment through one photo, the creators of Flipagram see it as a way for users to tell stories with mini-movies.
Photos from a vacation with family or an outing with friends can turn into a single Flipagram. Plus the app lets you set slideshows to music, which you can choose from your phone or from the app itself. You can buy the music you hear on a Flipagram through a link on the app.
Celebrities like Britney Spears and rapper Macklemore have already started using the app. Spears recently used Flipagram to promote the launch of her Las Vegas show.
Unlike its rivals, Flipagram doesn't have its own social network yet (the company says it's coming). But Flipagrams can be posted to Facebook and Instagram -- you might have already seen your friends' Flipagrams showing up on your feeds.
Related: Sony gets rights to Sandberg's 'Lean In'
The company claims there are "tens of millions" of people using Flipagram, but it wouldn't disclose the exact amount of registered users.
Flipagram says it isn't fixated on making money off of their idea just yet. In fact, the app's makers made it free to download after originally charging 99 cents for the software.
Instead, Flipagram's team says it is currently focused on improving the app and growing its user base.
"If we do that well and continue this type of growth, I think there are manifold ways of making money," Farhad Mohit, CEO of Flipagram, told CNNMoney.
Mohit said the Flipagrams themselves could become an important revenue stream for the company. Just as Britney Spears used the app to promote her concert on the platform, Mohit said advertisers could make Flipagrams in the future.
"Commercials are mini stories, so over time we will see many different use cases," Mohit indicated.
Mohit isn't one of the founders of the Flipagram, but the creators came to him to help steer the company. Mohit is an Iranian-American who helped to create Shopzilla.com, a shopping comparison website that Scripps (SNI) bought for $525 million in 2005.
The path to a payday for many hot apps is being acquired by a bigger company like Facebook (FB) or Yahoo (YAHOY), but Mohit said he believed that the app could be profitable down the road on its own.
For now, Flipagram has to prove that it is more than just the app of the moment. Time will tell if it has the staying power to avoid becoming just another one of the plethora of photo sharing apps that people download, use a few times and then delete.