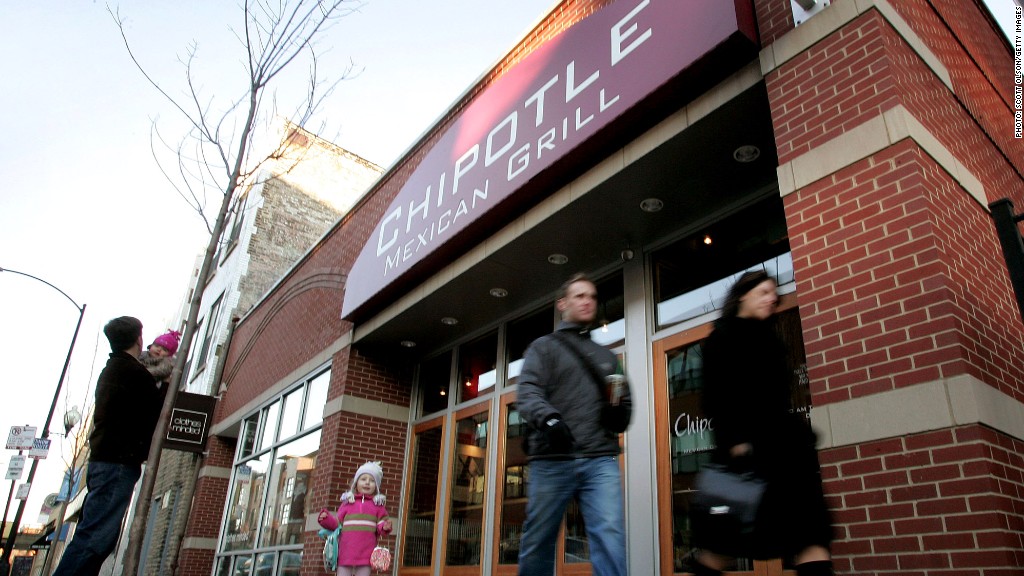 Chipotle shares are muy caliente.
The burrito chain's stock surged nearly 13% in after-hours trading Thursday following fourth-quarter results showing the company's strong growth continuing.
Chipotle (CMG) posted $844 million in sales, up 21% versus a year prior, and $80 million in earnings. The company is expanding aggressively, opening 56 new restaurants in the fourth quarter, and now has nearly 1,600 locations.
Related: Which country has the cheapest Big Mac?
Chipotle was spun off from McDonald's (MCD) in 2006, and shares have been on a tear ever since, rising over 60% in the past year alone.
McDonald's meanwhile may be losing its luster. Its stock has been in the doldrums as it's struggled to match new menu offerings from competitors like Burger King (BKW) and Wendy's (WEN).
Related: Burger King tests Chicken and Waffle sandwich
There are still some Chipotle skeptics out there -- hedge fund moguls David Einhorn and Jeffrey Gundlach have made cases against the stock in the past year and a half.