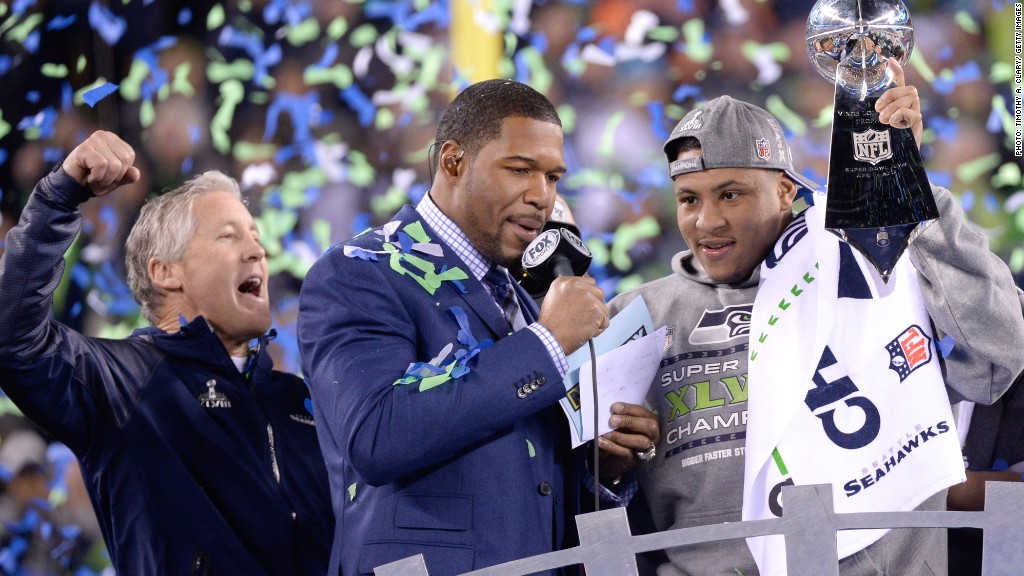 It may not have been much of a game, but Sunday's Super Bowl still managed to set another ratings record.
The Seattle Seahawks' 43-8 blowout of the Denver Broncos drew an average audience of 111.49 million viewers in the U.S., according to Nielsen, surpassing the previous Super Bowl record of 111.35 million from 2012's game between the Giants and Patriots.
Fox (FOXA), which broadcast the game, said it garnered more viewers "than any television program in U.S. history."
The action was also playing out on Twitter, according to Nielsen SocialGuide, which said 5.6 million U.S. users sent 25.3 million Super Bowl-related tweets over the course of the broadcast.
The game's advertisers attempted to cash in on this trend, with 57% of Super Bowl commercials featuring hashtags, according to Marketing Land, up from 50% last year. The big winner in this group was Esurance, a division of Allstate (ALL), whose "#EsuranceSave30" hashtag was mentioned in roughly 1.85 million tweets, Nielsen said.
Related: Super Bowl ads get serious
Esurance's ad, which featured The Office's John Krasinski, aired immediately following the game, which the company said saved $1.5 million versus an in-game ad.
Twitter users who tweet the "#EsuranceSave30" hashtag between the end of the game and 4:00 a.m. ET Tuesday are automatically entered in the company's contest to win a $1.5 million prize.
"Since they like passing on their savings, that's what they're gonna do right now," Krasinski said in the ad.
The contest wasn't all good publicity for Esurance, however, with a number of Twitter users posting the hashtag along with insulting or offensive messages.
"Esurance sucks #EsuranceSave30," @klovin_14 wrote.