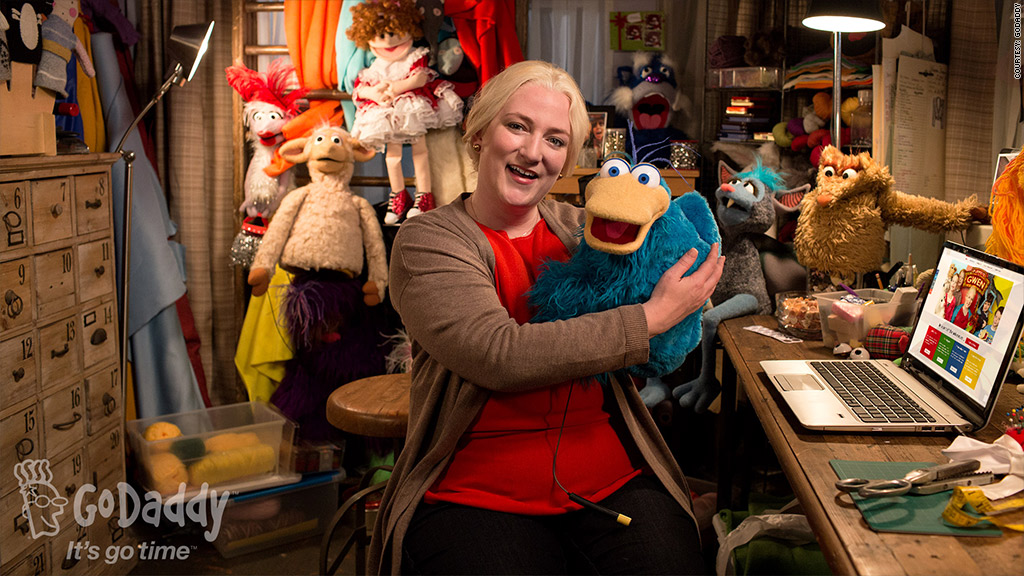 Yes, that was a real person with a real dream of starting her own puppet business in GoDaddy's Super Bowl commercial.
In the ad, Gwen Dean, a machine engineer from New York, has a message for her boss who is supposedly home watching the game.
"Hi Ted, I quit," Dean says, looking squarely into the camera.
But who's Ted? And what company did she quit?
Dean told CNNMoney that she is a licensed refrigeration machine operator who worked for a company that cools large office buildings in New York City, but neither Dean nor GoDaddy would disclose the name of the company.
According to Dean, Ted texted her immediately after the commercial aired to congratulate her.
A GoDaddy spokeswoman said Dean, 36, was paid for appearing in the commercial, and will receive GoDaddy website building services for a limited amount of time.
Dean said she was gearing up to leave her day job and launch her puppet business full-time when friends encouraged her to respond to a blind inquiry from a marketing agency. The ad was looking for someone planning to quit a job in order to turn a hobby into a business. In November, Dean was notified that she was selected by the agency, Deutsch New York, and GoDaddy to appear in the Super Bowl commercial.
Since 2008, Dean said she had been trying to juggle her day job while running the small business on the side. Her business, Puppets by Gwen, makes puppets and puts on shows at birthday parties, schools, and hospitals.
Now, she hopes to expand her puppet production and book shows outside the New York City area. Dean said she has already been asked to perform as far away as Oklahoma since the ad aired during the Super Bowl.
"I feel like I've traded in my day job for my daydream," she said.
Dean isn't the only small business owner to reap the benefits of a Super Bowl ad this year. Debbie Sterling's toy startup GoldieBox was the first small business to ever have its own ad air during the game.