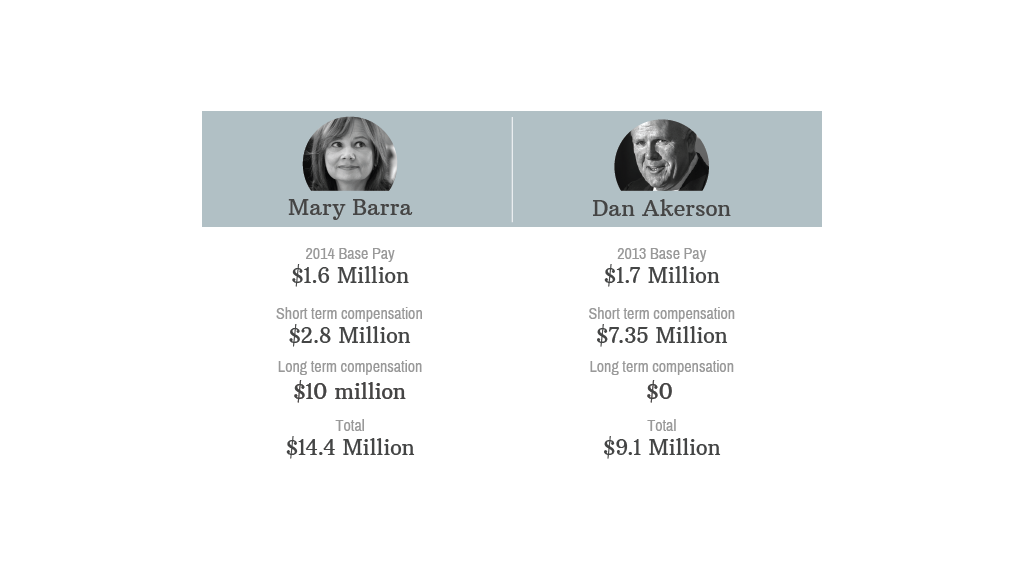 The pay of General Motors' first woman CEO, Mary Barra, has become a source of controversy for the automaker, as some critics claim she's getting just a fraction of her male predecessor's pay.
But critics are comparing only part of Barra's pay package to all of former CEO's Dan Akerson's pay. GM says that when it discloses Barra's long-term compensation later this year, it will be clear that there is little difference between their total pay packages.
Total compensation for both of the executives can be broken down into three parts: base pay, short term compensation and long term compensation.
Related: Mary Barra named GM CEO - first woman
Base pay: Barra has a base of $1.6 million, while Akerson's base was $1.7 million in 2013 when he was CEO. That $100,000 discrepancy is explained by the fact that Akerson served as chairman as well as CEO, according to spokesman Greg Martin, while those roles will be split during Barra's tenure.
Short term compensation: Barra, who is 52, will receive up to $2.8 million in short-term stock bonuses. Akerson got $7.35 million in short-term compensation for the last year he was CEO, all of which was in stock. That short-term payout was particularly large to make up for the fact that Akerson didn't get any long term compensation in his last year at the helm, since he was close to retirement.
Long term compensation: Akerson may have gotten zip in long-term compensation, but Barra will get a long-term stock bonus as CEO. The details about that piece of her pay package have not yet been announced. They'll be included in the proxy that GM will file in April.
The totals: Akerson's grand total was $9.1 million in his final year as CEO. But nobody knows what the total value of Barra's compensation will be this year.
Related: Cool cars from Detroit auto show
One thing we do know: Barra is in a better position than Akerson was to get a fat long-term bonus. Pay for Akerson and other top GM execs had been subject to federal limits after the U.S. Treasury Department bailed out the automaker in 2009. The good news for Barra is that the U.S. sold its remaining GM (GM) shares in December, which leaves its compensation committee free of any constraints.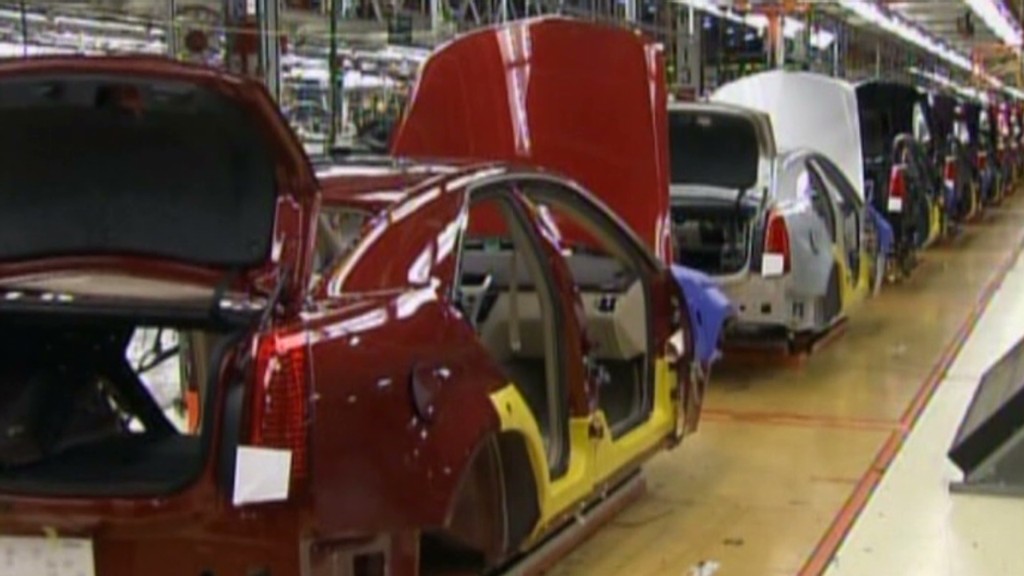 The controversy started this week with a column written by Elizabeth McDonald on Fox Business.com. She attacked GM for paying Barra only 48% of what Akerson got.
McDonald noted that President Obama praised Barra's promotion to CEO in his State of the Union address, a speech he also used to call out the fact that on average women get 77 cents for every dollar earned by men as "an embarrassment."
The liberal web site ThinkProgress cited the Fox piece and also attacked GM on Barra's pay, although it spared President Obama any criticism.
Barra is a 33-year veteran of GM, but she has never served as the CEO or president of any unit there. She most recently was head of product development at the company.