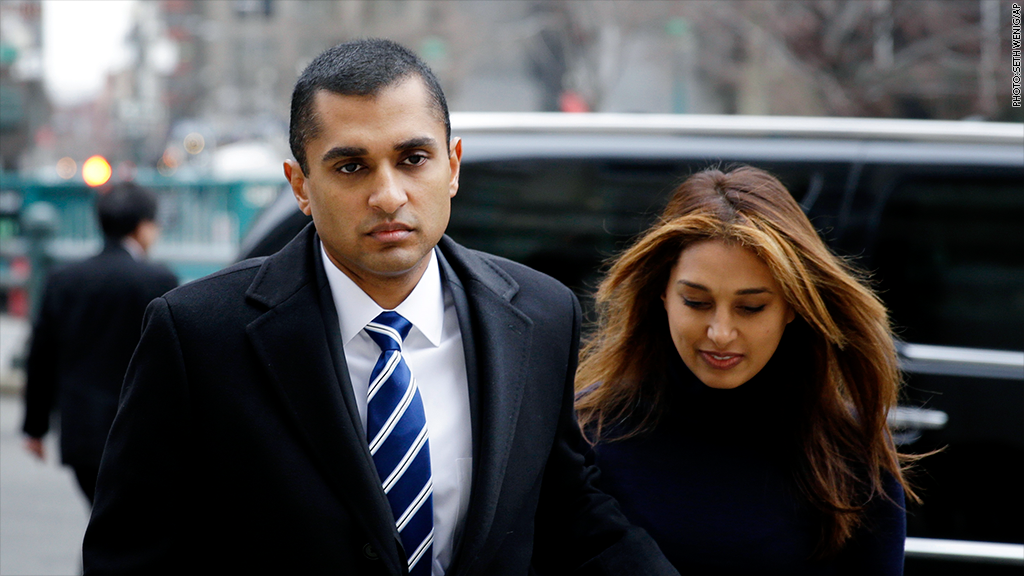 The federal trial of Mathew Martoma, a former portfolio manager for SAC Capital charged with insider trading, goes to the jury on Tuesday.
Federal prosecutors from the Southern District of New York have charged Martoma with two counts of securities fraud and conspiracy to commit securities fraud. He allegedly obtained inside information about the drug stocks Elan and Wyeth in a pump-and-dump scheme worth $276 million.
The most serious charge, securities fraud, carries a sentence of up to 20 years.
Martoma is one of 87 defendants caught up in a federal crackdown on insider trading. Their ranks include eight at SAC Capital, a hedge fund in Greenwich, Conn., founded and run by billionaire Steve Cohen.
The feds say that Martoma held numerous meetings with a neurologist, Dr. Sidney Gilman, to gain inside information on an experimental Alzheimer's drug. That allowed him to dump the stocks before the failed experiments were released.
"[Martoma] needed an early warning system," said federal prosecutor Eugene Ingoglia in closing statements on Monday. "Dr. Gilman is Mathew Martoma's canary in a coalmine."
Related: Martoma got booted from Harvard Law
The apparent success of the drug's early trials prompted Martoma to make the Irish biotech Elan and the New Jersey drugmaker Wyeth (now owned by Pfizer (PFE)) his top stock recommendations, said the feds. He allegedly convinced SAC Capital to buy 10 million shares of Elan and 6.8 million shares of Wyeth, then valued at about $700 million.
But in 2008, the feds said that Gilman informed Martoma through a series of phone calls and emails as well as an in-person meeting that the drug was headed for imminent failure. The feds say this allowed Martoma to warn SAC Capital to discreetly unload millions of shares over several days preceding a medical conference on July 28, 2008, where the dismal results would be published.
SAC Capital garnered $276 million in profits and avoided losses, in what U.S. Attorney Preet Bharara has called "the most lucrative insider trading scheme ever charged." The following year, Martoma was given a $9.3 million bonus.
"What the evidence shows is insider trading, pure and simple," prosecutor Ingoglia said to the jurors.
But defense lawyer Richard Strassberg picked apart the feds' heavy reliance on Gilman, claiming that he was lying on the witness stand, and had a faulty memory. He also criticized the feds for a lack of "hard evidence," since their records of phone and email communications between Martoma and Gilman, and between Martoma and Cohen, do not contain specific references to insider trading.
Related: Steve Cohen's divorce case from 1988 drags on
"The phone record doesn't show what they talked about," said Strassberg. "They haven't proven anything about the calls. It's all just speculation."
The defense lawyer said that his client Martoma is "just a grain of sand" in the feds' effort to take down "someone who's not even in this courtroom - Steven Cohen."
Martoma, who has three children and whose wife Rosemarie was present for the trial, faces long odds. Of the 87 insider trading defendants, 78 have been convicted or pleaded guilty. None have been acquitted.
"Steve Cohen is not on trial," said Strassberg. "Mathew is not Steve Cohen. The attempt is to put the focus on someone who is not at trial."
Related: Latest SAC case has Martoma facing long odds
Seven of Martoma's former SAC co-workers who were charged with insider trading have already pleaded guilty or been convicted, including Michael Steinberg, who is awaiting sentencing after his conviction last year. He could face up to 20 years in prison for dumping shares of Dell (DELL) and Nvidia (NVDA) in 2008 based on inside information about the companies' lousy earnings.
Cohen himself has not been charged with a crime, though the feds have been circling him for years. The Securities and Exchange Commission filed a civil suit against him last year, accusing him of failing to properly supervise employees who committed insider trading. He has denied the allegation.
SAC Capital itself pleaded guilty to criminal insider trading charges last year, agreeing to pay a fine exceeding $1.8 billion and to close its doors to outside investors.