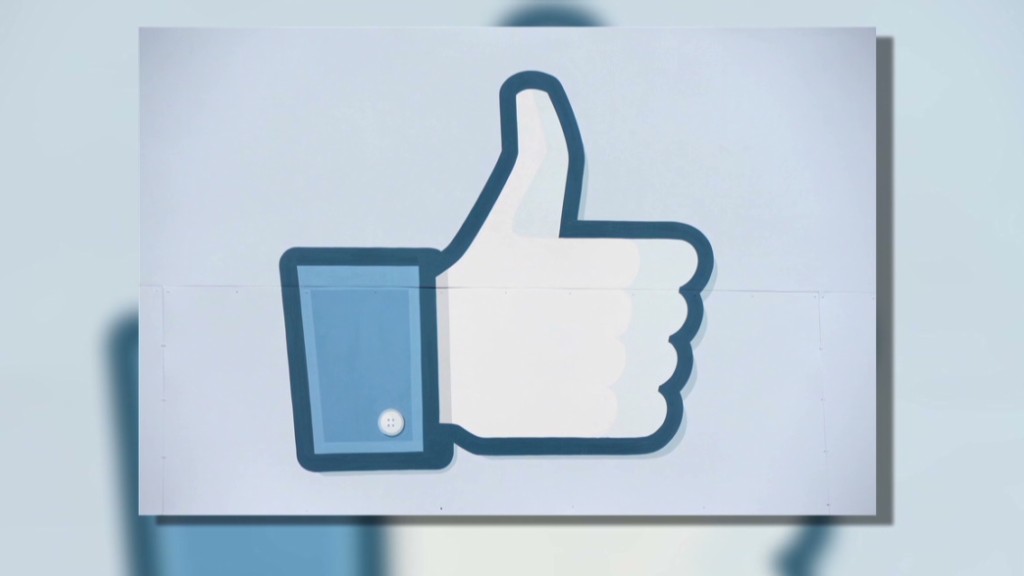 Facebook has spent the past 10 years building a business upon your personal information.
The social network knows a lot about you. Clearly, it knows what you've told it -- your age, location, martial status, job, etc.
But it also knows what you like. This is based partly on obvious things -- you clicking the like button -- but also on less obvious ones. What you talk about in your postings, what content you share, even how long your cursor hovers over a particular image.
"They know more about your tastes and preferences than any company ever has," said Nate Elliott, a social media analyst at the research firm Forrester.
The trick for Facebook -- which makes 90% of its money by selling ads -- is figuring out how to use this information to capture more of the $500 billion-plus spent on advertising each year, and to do it without alienating its user base.
Related: 5 key moments that changed Facebook
In San Mateo, Calif., just 11 miles north of Facebook's Bay Area headquarters, Molly McCarty uses Facebook to post ads for clients. Working for a company called 3Q Digital, McCarty's clients include the the eyewear startup Warby Parker, the e-reader app Scribd and the American Red Cross.
Some of the features Facebook (FB) has recently introduced that McCarty is most excited about include the ability to target ads to people based on their activity outside of Facebook and even offline. She also enjoys the ability to upload a list of customer profiles from her clients and have Facebook generate a new list of potential customers with similar profiles.
To get a record of off-Facebook activity, Facebook partners with data collection firms to generate profiles. This can include data on Internet searches as well as recent credit or debit card purchases. For the profiles of similar people, Facebook mines its databases to come up with people that match certain demographic parameters -- like age, sex or marital status.
Facebook is pretty transparent about this, and explains it in a special ads section on its web site.
To the relief of privacy advocates and probably regular Facebook users everywhere, McCarty doesn't get a list of actual people's names or contact info. Facebook is not compiling files on individual users. Instead, it collects all the data, divides it into categories, makes it anonymous, and sells it to advertisers in "buckets" of metadata, said Elliott.
For someone like McCarty, those targeted lists are gold. The number of people that click on the ads is high, and cost per sale for her customers is low.
"It's one if the strongest tools we have," said the 24-year old McCarty. "We know those people are going to perform very, very well."
Related: Facebook uses offline purchases to target ads
Having users interact more with the ads on the site is clearly one of Facebook's main objectives.
"Our goal is to have ads that are as relevant and timely as the content your friends share with you," the company's founder, Mark Zuckerberg, said last week on a call with analysts and reporters.
Already, the company sees itself as a competitor to Google (GOOG) -- a place where advertisers will go to appeal to people right before they buy a product.
"We offer the opportunity to get to people before they even search," said CEO Sheryl Sandberg on the same call.
By this, Sandberg meant the company had predictive technology what can tell you're about to search for an item, even before you search for it, said Bob Pearson, president of the technology consultancy W20 Group.
Pearson explained it as such: Your mouse hovers over an image of a pickup truck a little longer than usual one day. A few days later, you post something about pickups or 'like' someone's photo of their truck. The next thing you know, there's an ad from Chevy in your feed.
"They are ahead of what the consumer is actually thinking," he said.
Facebook will have to be careful to avoid two things -- saturating the consumer with too many ads, and collecting and sharing too much data from its users.
By most accounts it seems to be doing a good job on both. But the pressure to continue growing ad revenue will only mount. Facebook recently started including ads in users' news feeds -- a move the company said is paying off financially but some analysts think may be driving away users.
Soon the company will begin putting video ads in those feeds. The video will play automatically, but the sound will be muted and users will have the ability to scroll past it. It's unclear if users will view those ads in the same vein as content from friends, or as more of an annoyance.